I'm sure some of you have noticed a few Ch-ch-ch-changes around here…
(sorry but that hook always stuck with me)
This summer is all about family time, tons of sewing and fine tuning the details!  And let's be fair… this little blog needed some style!
Since I so not a "tech girl" when it comes to coding, I enlisted the help of Courtney from  Sweet C's.  She has the made the process super easy.. even for me!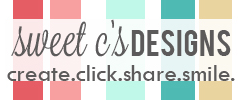 There are still things to tweak so, if you notice something slightly different at your next visit, there is no need to get your eyes checked.  It's just me, behind the screen, making a few adjustments.
ps- don't you just love the little image in your browser bar!