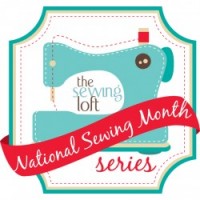 Let's recap this weeks fab tool line up.  To start with, I love looking at my seam ripper in a whole new way and not with *bleeps* in mind!  Not to mention that I have been completely inspired to pull those 3 bias tape makers out of my tool box to come out and play! (I see hand bags in my future.)
Week 3 line up on National Sewing Month Series:
9/17 Nancy Zieman from Sewing With Nancy
9/18 Pat Sloan from Pat Sloan Blog
9/19 Kellie from Nest of Posies
9/20 Jessica from Twin Fibers
9/21 Gina from Shabby Creek Cottage
And check out these AHH-MAZ-ING prize package sponsors!! They have come together to create a prize package that is sure to get your creative juices flowing!  That's right, at the end of the series there will be a fantastic giveaway!!  3 lucky fans will walk away with boat load of loot that will keep them stitching in style.  As promised, each week I will reveal a prize package.
1st Place Prize Package 
1st Place Runner Up Prize Package is loaded with amazing goodies worth over $350 from these amazing sponsors.
Sponsors Include:
Carol Van Zandt | Cool 2 Craft  | Create Kids Couture | Jo-Ann Fabric | Little Lizard King
Patchwork Posse | Pellon | MCA Applique | MonkeysBug | Riley Blake Designs
Sewing With Nancy| The Sewing Loft |The Warm Company
Prize package includes an assortment of tools, patterns, fabrics, gift cards and sew much more.  I can not wait to see what the lucky winner stitches up.  To tell you that I am excited for the lucky winner would be an understatement! I can not wait to reveal the complete prize package and start the official giveaway!
I would love to hear what tool inspired you this week and what fun projects you are stitching up during National Sewing Month.  Yesterday, I raided the scrap basket and created something fun… more details on that coming soon.