Even though today's special guest is sailing the high seas, she still made time to share her favorite tool in the work room with us.  Now, that's what I call stitching dedication!!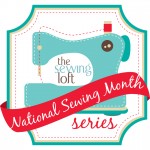 Please give a warm welcome to Pat Sloan. A woman of many hats- Artist, Pattern Designer, Radio Talk Show Host, Quilter, Writer, the list goes on!  When Pat is not traveling the states to teach us new tips and tricks behind the machine, she can be found sharing her adventures on her  blog.
Cutting Table
When asked what her favorite tool in the workroom was, the answer was clear, her cutting table.  Actually, she went a little further and said, "My FAVORITE tool is my cutting table.. I can not LIVE without a table!"  Let's take a look at her set-up.
A few of the reasons she loves her table so much include:
the handy drawers.
additional storage for fabric. (every inch counts!)
looking out the windows while working.
Another fun fact about Pat's table-
She made it herself! That's right, it's a DIY project reclaimed from her 1st formica dining set.  Pat had the legs removed and added a few cabinet bases below to make it perfect.  Clever, clever girl!!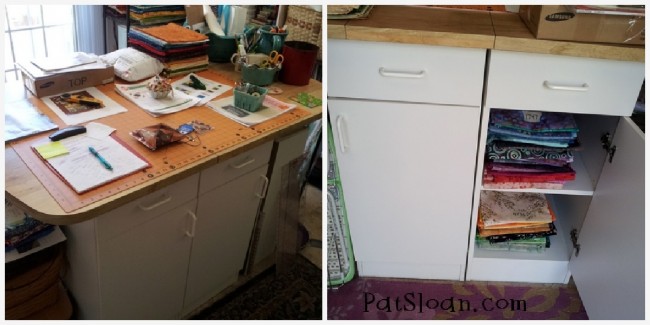 I think it is super important for stitchers to have a designated cutting space.  You know, not just a corner on a crowded table or an empty patch of floor.
Things to remember when looking for or creating your cutting table:
Your height! That's right, your table should be correct in height to your body. Leaning over too far can cause terrible back aches.
Surface.  You want to make sure your work area is wide enough to lay out your large projects.  Small space, no problem.  I have seen many tables with folding arms that provide a compact storage solutions with maximum cutting space.
Durability.  This tool is one that needs to stand the test of time!  You will be leaning on it, cutting, ironing, and so much more.  You want it to last!
So, when you are ready to get cutting, Pat has you covered with a boat load of fun patterns and projects on her site. Here are a few:
CLICK HERE to look at them all.. there are several pages!
National Sewing Month continues with Kellie from Nest of Posies tomorrow.  I can not wait to see what fun project she shares tomorrow.