Oh my goodness! Today's post is so yummy that I am excited to hit the publish button.  Angelina is here from Jo Jo and Eloise sharing one of her favorite things in the workroom- elastic!
Hello Sewing Loft Readers and Friends!
This is Angelina from JoJo & Eloise and I am so excited to be celebrating, National Sewing month with you. To be honest, I never knew so many National days even existed before, that is until I became a Blogger. LOL!!!
Today I am going to be sharing ELASTIC with you. I Absolutely LOVE this stuff!
It seems as though Thomas Hancock had a lot to do with the founding of Elastic. You can read some of that HERE.
And, can read more about the invention of Elastic Bands, HERE.
The one great thing about these National Days, is it gets you EXCITED to learn more about its History.
Elastic has so many uses from, Clothing, Accessories and even Crafting.
However!! Today I am going to be sharing, one of my Favorite usages, for this AMAZING stuff we call, ELASTIC!
SKIRTS…
With ELASTIC waist!
This skirt pictured above, is a Body Pillow Cover that I found at Target. I LOVED the fabric so much and decided to turn it into a skirt for my daughter, using an Elastic Waist. You can read more about that HERE!
One of the GREAT things about ELASTIC is, your garment has a Longer wearing life. Zippers are used for a much more fitted look and wear. But with an Elastic you may get a couple more months and maybe even up to a year worth of longer wear.
This Layered skirt was made this past Spring. I used Elastic on the BACK of the waistband, instead of all the way around.
This skirt below was made from a Pillow Case. I used an extra WIDE piece of Elastic all the way around the waist.
I LOVE the look it gave this skirt.
This fun Fish Towel Wrap can be worn as a Full Cover or a Skirt, with its ELASTIC waist.
I have so many other projects like this End of the Rainbow Skirt, on my blog along with so many other Great Sewing and Craft things.
I would LOVE for you to stop by and visit.
Thank you so much Heather for having me over, it has been FUN!!
I love how Angelina transforms a standard pillowcase into a fashion skirt with the magic of elastic.  Elastic
(affiliate link) is a power workhorse in our wardrobes and helps make the fit process a breeze. This is one undervalued tool in my sewing space.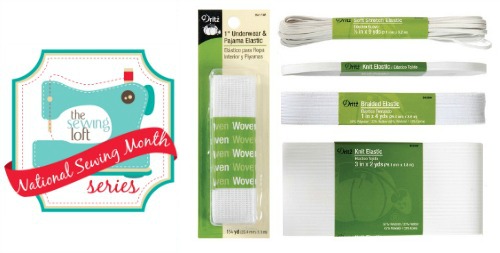 But the real star of today's posts The photos make me smile every time!  If you are on Instagram you need to follow her.  The photos are fantastic and make me smile everyday!
Caroline from Sew Can She is up next tomorrow sharing an unexpected tool in her workspace.  Can not wait!

National Sewing Month is one series that you do not want to miss.  To have the latest posts delivered to your in-box sign up here or follow us on Bloglovin'.