Today's post is more of a tongue in cheek at what is happening with current affairs.  Becky and I were chatting joking about what we should be doing with all of our free time now that the US government is in shutdown mode.  Here's a quick snapshot of our list.
Keep busy during the Shutdown| 9 Days 9 Projects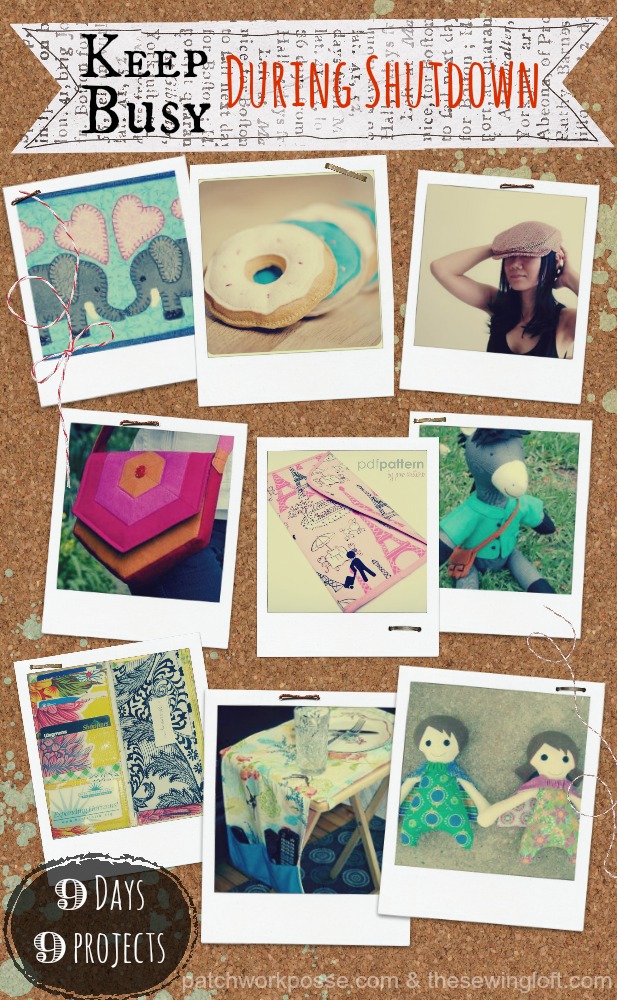 Here is a list of a few projects we picked up and thought would be fun, in random order.
Money Cash Envelope | Newsboy Cap | Passport Holder | Super Hero Doll | Elephant Mug Rug |TV Tray Placement | Reuben the Donkey | Felt Doughnuts | Hexagon Messenger Bag
i.e.- Passport ticket- quick get out of dodge….
What do  you think? How did we do?  We'd love to hear how you would use them.
Or better yet, what do you think we should do for day 10?  Free free to add a project in the comment section.

**Joking aside, this is all in good fun…. I am in no way a political gal and am just trying to infuse a little humor into a bad situation. Fingers crossed, there is no day 10.
Hello! Are you new to The Sewing Loft?

If so, I'm glad you stopped by and hope that something has inspired you to keep your needle moving!  Don't miss a single project and subscribe via email HERE! Bonus- free embroidery pattern with newsletter sign up.

Another great way to connect with me is via Facebook, Pinterest, Twitter , Google + or Follow my blog with Bloglovin.  I'm looking forward to getting to know you and creating together!