Happy Mail Day!! It's always great to get small unexpected gifts in the mail but for me, I just love it when they include one of my projects.  That's right, this weeks WIP started gosh, like 8 months ago.
Yup. that's how long it can take to have your work featured in print.  From pitch to print, it can take forever!
WIP = Work In Print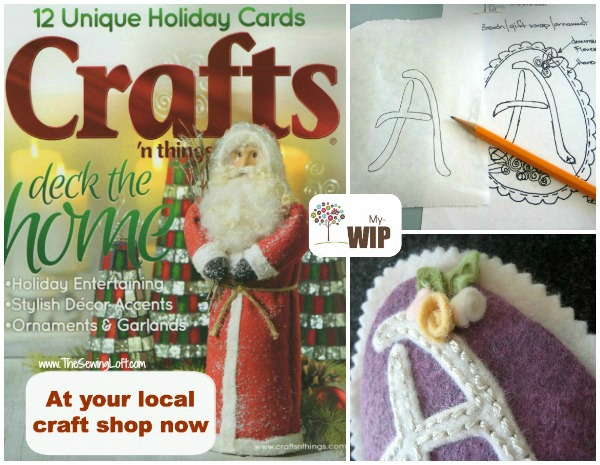 Now, these are just a few sneak peeks.  I created two designs for Crafts n' Things that could be used as gift tags, brooch or even an ornament.  Hope you like it.  The issue is jam packed with fun projects from gingerbread houses tree skirts, mantel decor and everything in between.  It's holiday time!

Hello! Are you new to The Sewing Loft?

If so, I'm glad you stopped by and hope that something has inspired you to keep your needle moving!  Don't miss a single project and subscribe via email HERE! Bonus- free embroidery pattern with newsletter sign up.

Another great way to connect with me is via Facebook, Pinterest, Twitter , Google + or Follow my blog with Bloglovin.  I'm looking forward to getting to know you and creating together!