It's your old friend TJ from Studio Mailbox here.  This month I decided to provide you not only with a kooky meme, but also a poem about it! This proves there are no lengths I won't go to deliver you a monthly dose of sewing humor.
The name reminded me of those old Garbage Pail stickers.  Remember those gory illustrations with the mean undertones?  *shudder*  It made me wonder what would Anita Needle would look like.  Would she have needle fingers like Edward Scissorhands?  Would she be a pin cushion doll with needle arms and legs?  Wait.  That doesn't make sense.  Why would she need a needle if she was already made of needles?   Anita would have to be a thread looking lady or a lady with lots of holes and a pile of patches in her hand.  I don't know about you but I'm riveted.  (Psst – if you'd really like to see how I depicted her, be sure to click the link above)!
For now let me introduce her background story, in rhyme of course. I hope you like her!
Anita Needle by TJ Goerlitz
Anita Needle is my friend.
Her gracious nature has no end.
My tattered clothes are what I lend,
since the rips and holes she'll always mend.
Some would say this is quite rude.
I however think it's shrewd.
Is she bothered – who would know?
Frankly I do not think sew.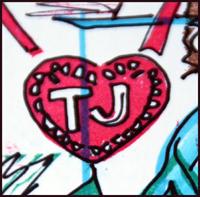 She's here all week folks!! No, no, actually I'm not.  I'm only here once a month.  But you're always welcome to visit me on my facebook page, on my blog or how about checking out my Sew Awesome board on Pinterest?  Until next month, keep on stitchin' y'all!!