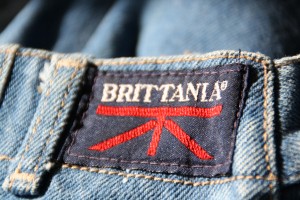 Hello Friends of First Friday!  It's TJ from Studio Mailbox here to share with you where I'm at on my denim quilt project.  Thanks to everybody who piped up and took the time to comment on this project sew far.  *cymbal crash*
Now that I'm finally working through my hoarded stash I have quickly realized a few key things:
1) Some of this stuff is O-L-D (can you say acid wash?)
2) Some of this stuff is from cool brands (Helllllooo Gloria Vanderbilt, Brittania and Hunt Club)!  Dudes I've just got to figure out how to use some of these pockets…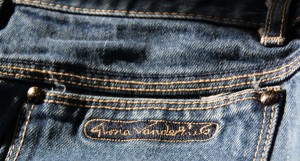 3) Some of this stuff is pretty grubby or holey. I'm thinking yes to the pieces with patched holes and no to the dirty denim.  Then I second guess myself and imagine how cool a quilt would be with paint splattered or stained denim.  It would almost be an insurance policy for when somebody eventually spills on it – there would be no reason to get upset, because it's already stained.  35% of me is convinced this is actually my genius at work.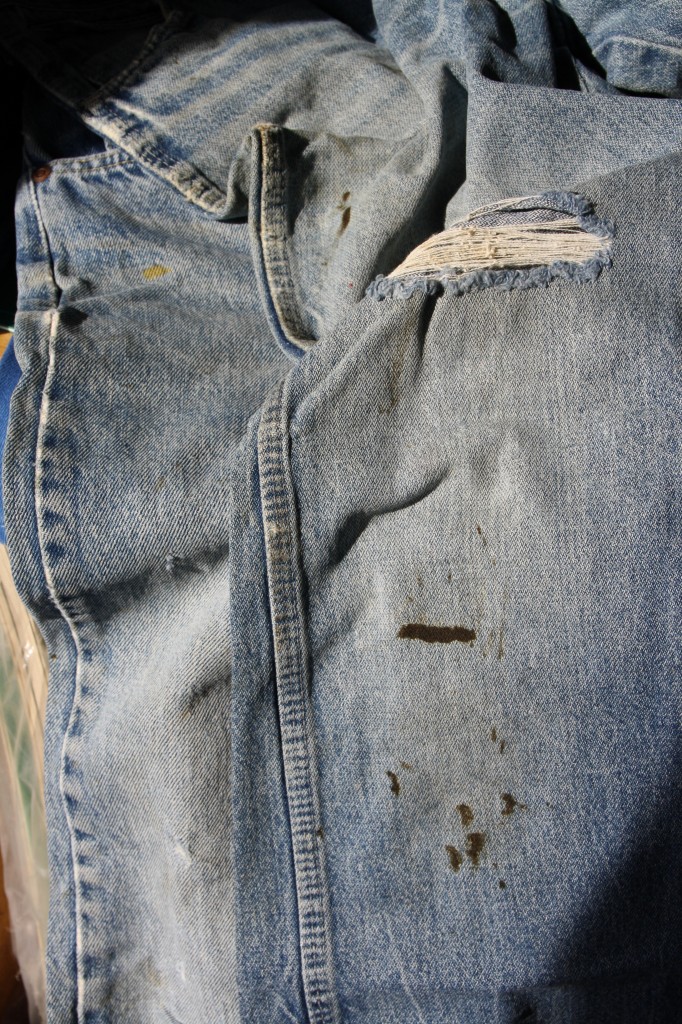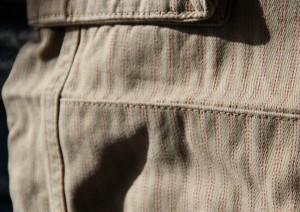 4) Some of this stuff is not classic denim blue.  I've got grays, camo, a rusty red, a hunter green and some weirdly intense blue skirt that I'm pretty sure went through some kind of special dyeing process.  One pair of "jeans" are actually more like pinstripe parachute pants with elastic bottoms if you can believe it.  I've slept on it a few weeks now and have decided that I'm probably not going to include any of the colorful denim.  Then I wake up and think how mod it would be to have a completely blue quilt with ONE red square set in it as if I'm super hip and hadn't noticed.
I am struggling to narrow down what I really need.  The good news is that a TSL reader named Terri piped up in my first post and reassured me that I have MORE than enough to make a quilt.  For some reason I was really worried that I might be stuck begging friends for old jeans which would throw a wrench in things.  It's good to know I have room to be selective now that it's time to pick colors.
I have always loved the quilts that are cleverly pieced together from lightest to darkest shades.  Is there a special sewing term for that? I want to say variegated but I know that's wrong.  Maybe it's 'hombre.'  That's what I'm calling it!  Hombre.  I'm going to make an hombre quilt!
So far I've sorted piles by shade.  It reminds me of a time I did a huge project with my art teacher friend Anita.   We sat down with hundreds of mosaic tiles and sorted them into bottles.  We spent HOURS and had tons of fun with the transition tiles that could be thrown into either the blue OR the green bottle, the ones that could be either yellow OR brown, etc.  Those in-betweeners really challenged us.  Now it's happening all over again because as I made a pile of 'darks'  I quickly realized that some of my black/grays are lighter than some of my dark blues.  This throws me into some kind of hue value mental spiral.  How can this be? Scientists who sew probably can't even explain it so I guess I'm just going to have to work through it.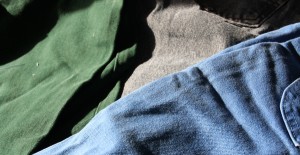 I'm pretty sure I'm going to ditch the rusty red, green, pinstripe and camo pieces.  I think I'll stay open to including the gray and maybe even the acid wash jeans! Then again, that could be a mistake.  There's an old blue/white pinstripe in there too but those have already been cut up using that crumpled template you see in the disintegrating plastic shopping bag.  Wow I bet those are accurate hey?  Hmm. Do you think maybe it's time to upgrade to a proper heavy plastic quilting template?  Do you want to know something really funny?  A dirty admission? When I started this project I don't think there were any such thing as plexiglass templates because they weren't invented yet.  Let that sink in.  It was normal to have to make your own templates!  Sheesh, maybe there is a payoff for taking my sweet time with this quilt. Who knew… just give it a few decades and they'll invent all kinds of neat new stuff (as I throw my head back with evil laugh).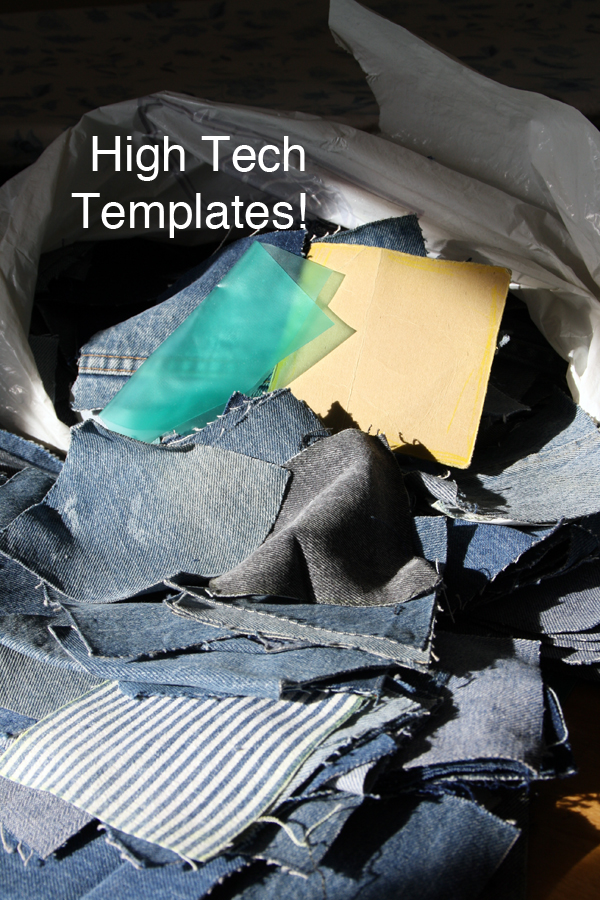 The majority of what's on hand is mid-tone blue.  I've got a little light denim and a little more dark denim.  I've started an inspiring denim board on Pinterest AND just in case I was wrong about the pairs I tried on when I first unpacked the boxes, I tried a few more on again… Seriously.  What is wrong with me?
Next month I promise I will actually cut something up.  GULP.  But first be sure and let me know what you think… would you include the crazy colors?  Part of me likes the camo!  Would you stick to one shade of blue or mix it up?  Would you go random or intentional with the colors you'd include?  What about the denim with holes or patches?  Yay or Nay?  Am I just making this way harder than it has to be?  Does this even matter?  Give me your .02.  And I promise to report back in a mere 4 weeks with some progress.  Until then, keep pushing those feed dogs forward!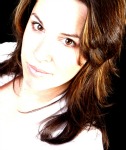 TJ Goerlitz is a mixed media artist who pretends to be a seamstress whenever possible.  Come connect with her on her site, Studio Mailbox, her Facebook page, or in Pinterest.  Join in the story of the denim quilt every first Friday of the month where she will share her progress (or non-progress) right here with the readers of The Sewing Loft.