Are you a bag lady like me?  (don't laugh but I have bags for almost everything under the sun!)  If you answered YES, this tote bag post is for you!  I have rounded up a list of over 100 free tote bag patterns from around the web.  Just click on the link, grab your materials and start sewing!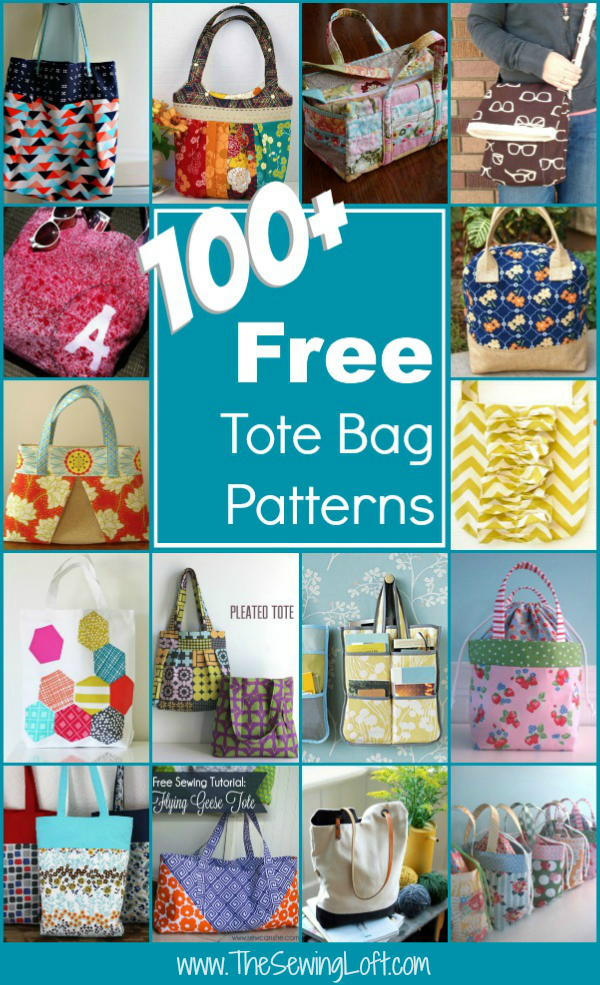 100+ Free Tote Bag Patterns

1. Mini Quilted Tote
2. Betsy Bag
3. Buttercup Bag (fat quarter friendly)
4. Carry Tote (micro mini)
5. Ellie Travel Case (pictured, I MUST make this!)
6. Fat Quarter Tote (fat quarter friendly)
7. Half Tote (fat quarter friendly)
8. Hexi Mini
9. Lunch Tote (pictured)
10. Pleated Purse

13. 1 Hour Bag
14. 2 Hour Tote
15. Canvas Tote
16. Cargo Duffle
17. Carpet Bagger (looks fantastic!)
18.  Cross Body Tote
19. Detour Diaper Bag (not your standard bag. I would totally use this for an everyday.)
20. Fold & Go Market Tote (great for making and keeping in car)
21. Giant Beach Bag
22. Hobo Bag
23. It's a Cinch
24. Jumbo Bag
25. Jumbo Tote
26. Minimalist Tote (pictured)
27. Napkin Tote Bag (refashion)
29. Origami Bento Bag (fat quarter friendly)
30. Out of Town Tote
31. Perfect Tote
32. Pool Tote
33. Rope Bag (so easy!)
34. Shopping Bag
35. Sling Bag
36. Summer Tote
37. Tank Top Tote (refashion)
38. Tied Handle Tote
40. Waterfront Park (pictured)
41. The Weekender (Oversized and WOW! Advanced skills)
42. Yoga Bag

43. Bucket Bag
44. Boxy Bag (pictured)
45. Conversation Bag
46. Crazy Quilt Bag
47. Easy Breezy Tote
48. Fold Over Messenger (pictured)
49. Flying Geese Tote (pictured)
50. Flyerion Bag
51. Hailey Bag
52. Hexagon Tetris (pictured)
53. Hexi Haven
54. Indie Bag (pictured)
57. Patchwork Bag
58. Patchwork Tote
59. Promenade Market Tote (fat quarter friendly)
60. Retro Messenger Bag (sturdy)
61. Ruffle Tote
62. Timber Mosaic (2 sizes)
63. Urban Jungle Bag 
64. Weekender Travel Tote (pictured)

65. Canvas Tote Bag
66. Ado Diaper Bag
67. Bia Bag (perfect any day bag)
68. Bias Tape Tote (pictured)
69. Garden Tote
70. One Strap Bag
71. Park Bag (love!)
72. Pocket Bag
73. Pocket Beach Bag
74. Pocket Tote
75. Ruby Lou Bag (super cute! especially for the little girl in your life)
77. Triple Tote

81. Personalized Bag (pictured)
82. 20 Minute Tote
83. Beach Bound
84. Bow Tote (1 hour)
85. Camp Chair Tote
87. Carries Flowers (so pretty)
88. Casserole Tote
89. Gym Bag
90. Guitar Tote
91. Mesh Beach Bag
92. Moose Bag
93. Notebook Bag
94. Pleated Tote (pictured)
95. Sand Toy Tote
96. Sling Tote
97. Spring Tote (pictured)
98. Summer Satchel
99. Sweetheart Bag
100. Tee Shirt Tote (refashion)
101. Towel Tote (so easy)
102. Tutu Bag (love this for any little girl!)

Learn how to create rolled handbag handles
Create easy purse handles with bias tape
Now, how's that for some creative inspiration?  I just knew there were amazing tote bag patterns out there and I was determined to find them!  Every tote bag project listed is a free pattern and will help you with step by step instructions.  Did I miss one of your favorite tote bags?  If so, leave me a link in the comments and I will be sure to include them on the list.  Don't forget to Pin This tote bag patterns round up post for easy reference.
Looking for even more ideas? Check out these Craftsy classes for easy video training that you can watch any time of day, even in your pj's!

ps- Still want more creative ideas to stitch through your stash? Check up these other round up posts.  Remember, all the projects and patterns are FREE!
Hello! Are you new here?

Do you want to learn more about sewing? If so, be sure to sign up for our newsletter HERE and never miss a stitch! Daily Sewing Tips, Everyday Projects and Fantastic Inspiration delivered straight to your mailbox!

Bonus– free download with newsletter sign up.

Feel free to connect with me on Facebook, Pinterest, or Instagram.  I look forward to getting to know you and stitching up a storm!