It's pretty safe to say that most quilters these days use rotary cutters to slice through their fabric stash on the daily but, what's a girl to do with the dull rotary blades? Well, after chatting with a few friends during my last group meeting, it turns out most people keep them. To be fair, I'm not really sure why. I mean, I get it, we all want to be prepared for that emergency situation requiring semi dull blades but reality, it's time to find a better way.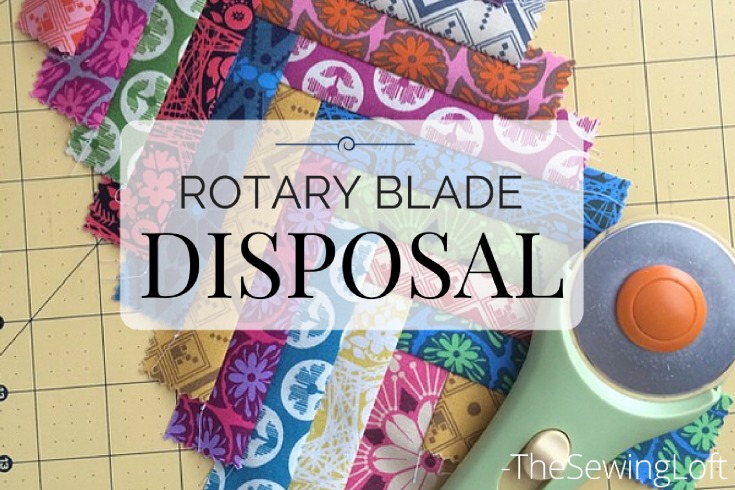 So, I kept the conversation going and put together a list packed with ideas. Not only will you find ideas to reuse your dull blades tips for storage and safe disposal as well!
CREATIVE USES
When your blades no longer cut fabrics as precisely as they once did, you have a couple of options. You can try to sharpen them yourself, but it's likely the blade will not return to its original razor like edge. The better bet is to designate dull rotary blades for other uses. Warning… some of these ideas are pretty crafty!
Cut paper, cardboard, vellum and template plastic.
Put them in a spare rotary case and mark with a "P" for paper. Buy a new rotary cutter for yourself and use the old one for the old blades for crafting only. Tie a ribbon on the handle so you know (and everyone else will know) it's only for paper and crafting.
Other things that can be cut are school projects for science fairs, book reports, or art projects.
Use them to cut apart your sheets of photos each time you order portrait packages from photo studios.
How about grinding or filing the blade edges until they're blunt and use them to make a mobile, chandelier, wind chimes, etc.
Once blunt you could paint them, add glitter, rhinestones,and string mini lights through them to make a unique garland.
You could also use them with other small sewing tools and notions (old thimbles, buttons, lace, measuring tape, etc.) to embellish a sewing-themed wreath.
Grind the edges completely dull, paint with glow paint, and set them in small cement shapes. Cover the hole with a small colored stone. Instant garden decor.
Or you can paint them a shiny silver after dulling the edges and hang them up in your yard to keep the birds out of your berries.
The skies the limit as to the creative possibilities and uses for used rotary blades, so have fun!
STORAGE
Once you have done everything possible to use and reuse your rotary blades it's time to either send them to be recycled or throw them in the trash. Rather than dealing with just a single item at a time, below are several ways you can store multiple items safely until the container is full.
For rotary blades you can store used, dull ones in one of the plastic containers the blades or needles originally came in. Just mark the container as Used or Old so as to not confuse those with your new, sharp ones!
Rinse and dry out a plastic disinfecting wipe container with a snap shut lid. Most have a slit opening already cut that makes it easy and convenient for you to pop in those worn out blades.
Store them in an old tin can with a very tight lid. Once it is full glue the lid to the can.
Several brands of mints and gum come in both metal and plastic tins that have a semi-circular tab that lifts up on the lid. These openings are typically fairly wide and make it safe and easy to drop in used rotary blades.
If you are a diabetic you can dispose of your blades in your sharps container, same as you do your needles. You can also purchase sharps containers from your local pharmacy.
Fill a small jar with blades. When full, hot glue it shut.
There are so many different containers to store your used blades, but always remember to mark on the container what is in it. This will keep someone from opening the container or reaching their hand into it. Also, remember to seal any container that you use with duct tape or glue so it does not open after you have disposed of it.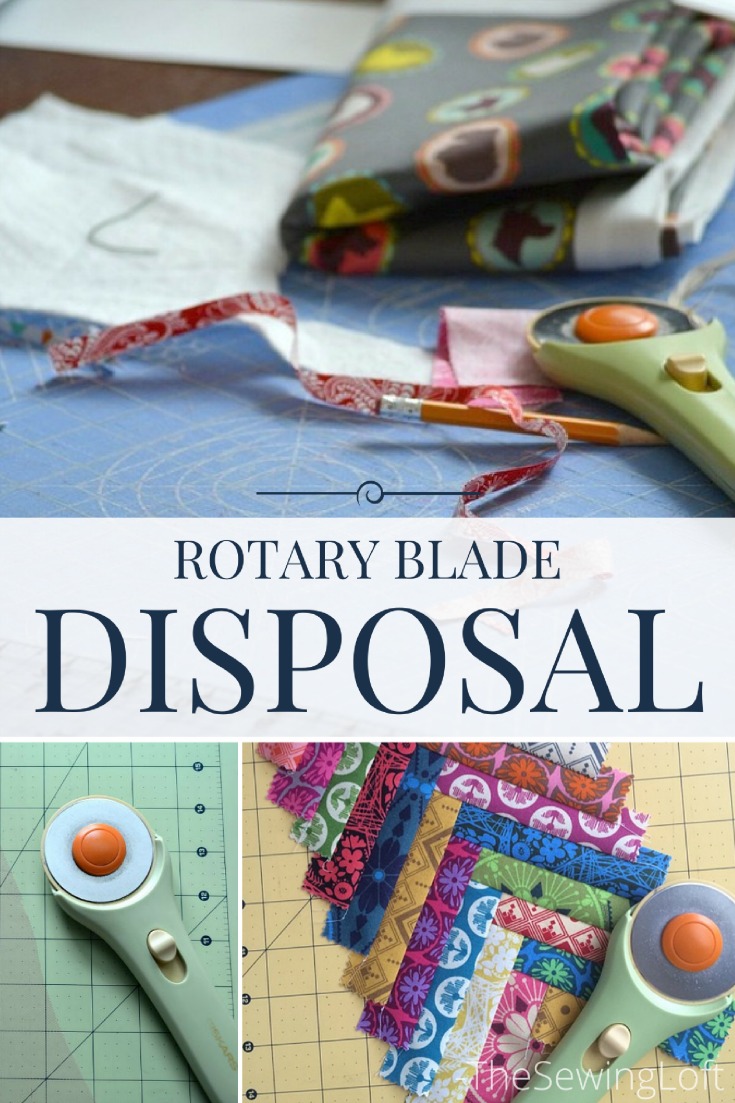 DISPOSAL of DULL ROTARY BLADES
When you're ready to say good-bye to your blade, always have a sharp one ready to go. This makes it easy to dispose of the old blade in the container or packaging of the new blade. One needs to be just as careful when disposing of blades as a nurse is when tossing a needle. Unattended blades can cut the garbage bag, or the garbage handler. They can sift down in garbage trucks and wedge in weird places, damaging the trucks gears and other things.
Other disposal options include sending your used blades to a company that specializes in sharping scissors and blades. Two such shops are Just Wright Sharpening who trades you a newly sharpened blade for your dull used rotary blade and L.P. Sharp Company who replaces your used blades with new rotary blades. Both businesses charge a fee plus shipping to them (both offer free return shipping with a minimum order). If you keep your dull rotary blades, you can put them back in the little flat container they came in and mail them in a bubble envelope to LP Sharp for recycling. By doing this, you'll receive a hefty discount on new blade purchases!
Take used rotary blades to your local recycling center or to a scrap metal business. Be sure to call first to make sure your facility will accept these items.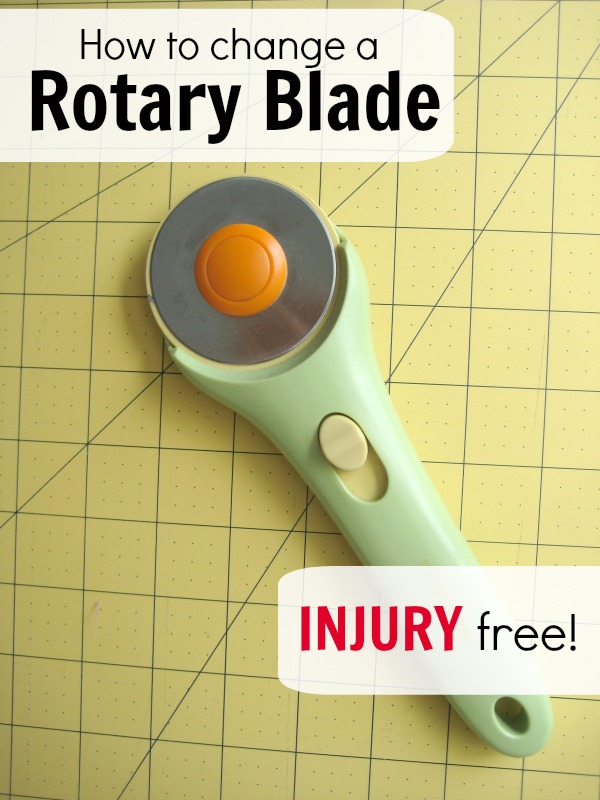 I love that my rotary cutter sharp or dull has become at least as useful as my hot glue gun was years ago!  Just remember the blades may be to dull for fabric but still sharp enough to cut ones finger so be careful when changing those blades.  Find more tips on how to change your rotary blade here.

Hello! Are you new here?

Do you want to learn more about sewing? If so, be sure to sign up for our newsletter HERE and never miss a stitch! Daily Sewing Tips, Everyday Projects and Fantastic Inspiration delivered straight to your mailbox!

Bonus– free download with newsletter sign up.

Feel free to connect with me on Facebook, Pinterest, or Instagram.  I look forward to getting to know you and stitching up a storm!