It is no secret that I love my scraps.  Well today, I am going to share a fun project that will not only use your scraps but help you store them going forward.  Allow me to introduce the Scrap Bucket Pattern.
This baby made its debut at Sew South last weekend and I was so excited to see all the variations everyone created.  The pattern is easy to make and totally limitless!
Scrap Bucket Pattern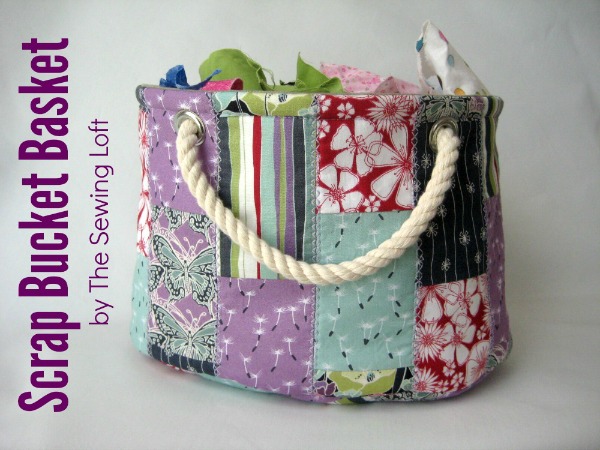 This project is for all levels.
Skill Level- 1 1/2 Button

Supplies:
1/2 yard of

main fabric

1/2 yard of heavy weight fusible (Pellon TP971F)
1/2 yard of lining fabric
1 yard 3/8″ cotton rope
Tools:
sewing machine
hammer
tape
*Use 3/8″ seam allowance for all seams.
Basic Instructions:
Print out pattern pieces and tape together to create the base of bucket.  Following manufactures instructions, adhere fusible to wrong side of main fabric and cut out pattern pieces. 
Machine quilt fabric to fusible as desired and mark matching points on bucket base.
With right sides together, fold rectangle in half to match short sides of rectangle.  Join seams together with a straight stitch.  Press open.
Position the seam to one side of the bucket base and pin right sides together, matching your marking points. Join seams with a straight stitch. Press to "lock" stitches in place. Clip every 3/8″ to 1/2″ to allow for a smooth curve.


*Tip: It is best to pin 4 markings first and then ease in the space between. This will help control the shape and allow ease to gently incorporate into the seam when sewing.

Repeat the process to join the lining; leaving a small opening at the center of side seam.
Join lining to basket by turning the lining right side out and slip it inside the bucket.  Right sides should be kissing here.  Pin in place.  Stitch all around the top edge.  Turn right side out and press along seam.  Top stitch through all layers 1/2″ below top edge.
Press lining seam allowance: pin and straight stitch opening closed.  *This can be machine or

stitched by hand

.
Mark eyelet placement 6″ on center, 3/4″ below top edge.  Following the manufactures instructions for the eyelets, trace the inside of washer.  Clip out circle.  
Slide the eyelet barrel through the hole from right side of bucket, place washer over  the barrel to create a fabric sandwich.  Grab your setter tools and hammer and set eyelets in place.  
Cut two pieces of rope 18″ long.  Tie one end in a knot and thread through the eyelet from the inside of bucket out: then back through the other eyelet. Tie in knot.
There are so many possibilities with this scrap bucket pattern.  Add a pocket, make the sides fold over, bind the top edge with contrast…. the sky is the limit.  Just check out what everyone made during my class at Sew South last weekend.  LOVE THEM!!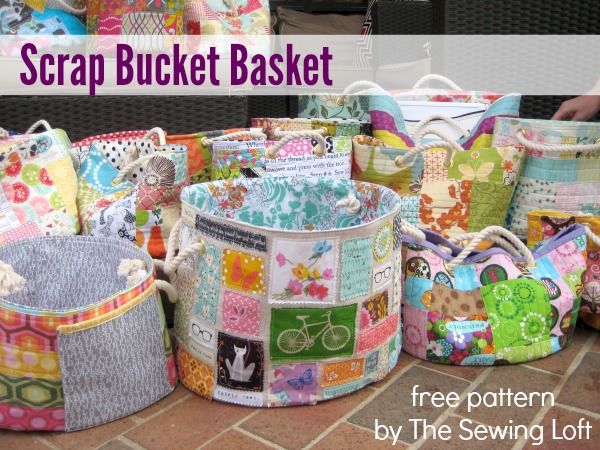 Additional Tips: 

When sewing the side to the base, I like to place my left hand in-between the layers and help smooth out the fullness.  This also helps to guide the fabric when joining seams.
It is better to cut your eyelet hole smaller and stretch the opening over the hardware.
Hammer the eyelets over concrete works best.
A piece of tape wrapped around the rope end will prevent unraveling and make quick work of threading the eyelets.
Remove tape from rope before tying knot. Pull knot as close to edge as possible.
Don't let the 1 1/2 button rating fool you.  It is an easy pattern but sometimes sewing curves can be challenging.
We have these buckets all over the house.  Think magazine storage, toys, scarves and of course, scraps!  What would you store in your scrap bucket? I'd love to know.

ps- Be sure to check out my past scrap basket busters to use up your scrap fabric!
Hello! Are you new to The Sewing Loft?

If so, I'm glad you stopped by and hope that something has inspired you to keep your needle moving!  Don't miss a single project and subscribe via email HERE! Bonus- free embroidery pattern with newsletter sign up.  Another great way to connect with me is via Facebook, Pinterest, Twitter, Google+ or Follow my blog with Bloglovin.  I'm looking forward to getting to know you and creating together!