Well, as I mentioned in my last post ….. My scrap basket over flows from time to time!  That means it is time to create something fun to share with everyone!!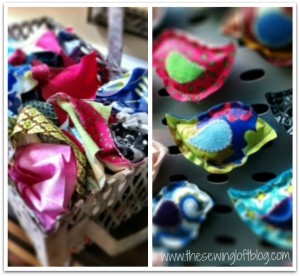 A few weeks ago, my basket was crazy and I just pushed everything to the side and had some fun!
I made these little birds.   You can really do so much with them.  Think about it-
Gift tags
Magnets
Lavender Satchels
Holiday Ornaments
Wall Decor for Nursery  (how super cute!)
Personally, I like the magnets.. So that will be the focus for today's craft!
 Scrap Basket Birds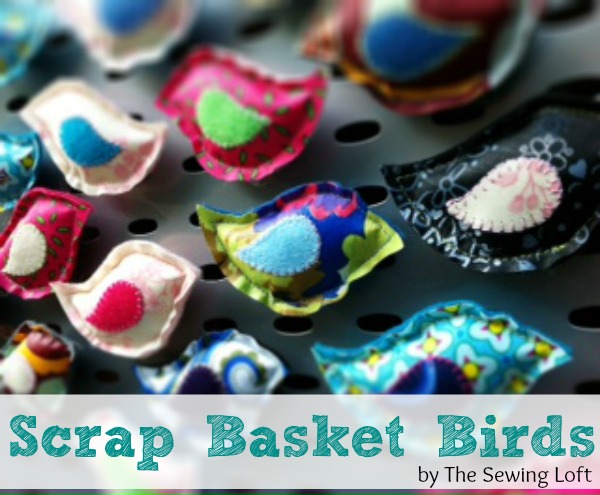 This project is for sewers of all levels.
Skill Level- 1 Button
Materials:
Scraps of fabric
Bits of felt
Poly fill
Button Magnet
Glue Gun
You can really do this with any basic shape but the birds were on my feeder having a feast on project day and were on my mind.
To help manage my scraps, I made my birds small.  This pattern is to scale.

Basic instructions:
Apply a thin layer of Mod Podge to your pressed scraps to "stiffen" the fabric and give it more texture.
After everything is dry, cut 1 bird from fun fabric and 1 bird from coordinating felt.  Cut 1 wing in fabric of choice.  (I used felt)
Stitch wing to body.  For my little guys & gals, I used a decorative blanket stitch on my trusty machine and a contrast thread color.
Then, super simple, match your front and back birdies together and straight stitch them together leaving a 1″ opening at the bottom.  Stuff with poly fill.  Be careful not to over feed your birds they will get fat!! 😉  Stitch the opening closed.
With your trusty glue gun in hand, apply a dab of glue at the center and attach your button magnet.

These little birdies are a fun way to use up your scraps or even reclaim that special printed dress your child has out grown.
What did I say ~super simple! Would love to see what you can create with this… please share photos on my
facebook
page!

Hello! Are you new to The Sewing Loft? 

If so, I'm glad you stopped by and hope that something has inspired you to keep your needle moving!  Don't miss a single project and subscribe via email HERE! Bonus- free embroidery pattern with newsletter sign up.

Another great way to connect with me is via Facebook, Pinterest, Twitter , Google+ or Follow my blog with Bloglovin.  I'm looking forward to getting to know you and creating together!