Let's have some pillow talk!  Hand made pillows are easy to create and can really liven up any space within your home. Not only are they easy to make but they can change the outlook of any space in a flash.  So, I thought it would be fun to share some of my top tips for making pillows.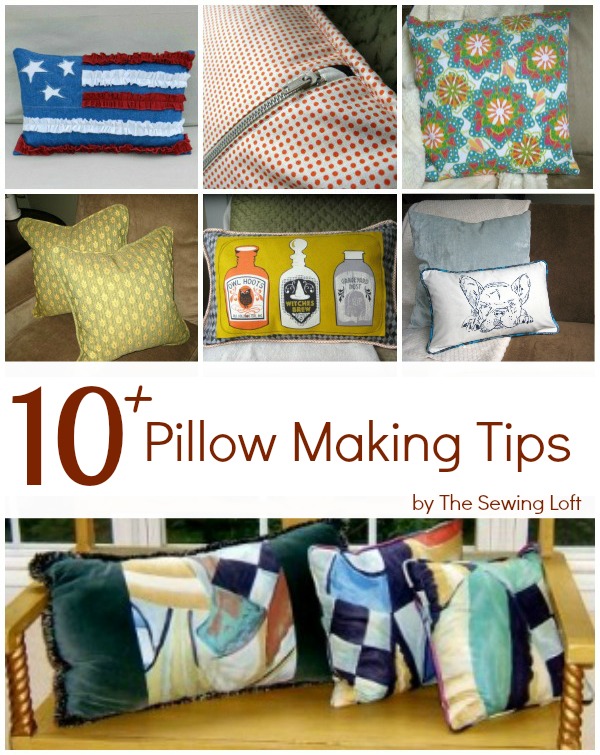 Think of pillows like the silent power player for your home decor. They are inexpensive, require minimal fabric and can be made in under an hour.  To help you amazing pillows, I wanted to share a few tips and tricks to make sure your end results are nothing short of statement.
Tips for making pillows
 Clip corners before turning to reduce bulk.
Use a blunt object to help turn out the corners of your pillow.
Reinforce the corners of your pillow by sewing a double row of stitches around each corner.
Make your pillow up to 1″ smaller than your pillow form. This will give your pillow a plump appearance and help maintain its shape.
To ensure a smooth pillow surface consider adding a layer of batting to your main pillow fabric.  This tip also comes in handy when creating odd-shaped pillows that will be hand stuffed.
Decide your pillow closure before you start your pillow project. Zipper closure, envelope or all stitched up with a basic ladder stitch.
Reduce your stitch length slightly to prevent stitches from showing at seams.
Consider adding coordinating trims, fringe, piping or a flange to the edge of your pillow cover for an added layer of detail.
Turn your zipper closure into a featured detail.
Want to achieve a slightly curved corner?  When sewing the corners of your pillow; mark a point 1/2″ from each corner.  Then draw a line from each side, point to point to slight reduce your square shape. This is your new pattern shape.
Think outside of the box with your pillow cover ideas.  Pillows can be an easy conversation starter to a new guest in your home.
Now that you know my secret tips for making pillows are you ready to get started?  Check out these easy patterns.
Easy Pillow Cover Ideas
Feel free to share your tips for making pillows in the comment section.

Hello! Are you new to The Sewing Loft?

If so, I'm glad you stopped by and hope that something has inspired you to keep your needle moving!  Don't miss a single project and subscribe via email HERE! Bonus- free embroidery pattern with newsletter sign up.  Another great way to connect with me is via Facebook, Pinterest, Twitter, Google+ or Follow my blog with Bloglovin.  I'm looking forward to getting to know you and creating together!