One look at Amy Barickman's latest book, Fabric Flowers and you will fall in love!  This baby is jam-packed with little goodies to keep you inspired and reclaiming your creativity all night long! With each turn of page, I am drooling over the amazing photography and thinking of projects that now 'need' to be embellish with fabric flowers.
It is pure eye candy!  But don't just take my word for it, check out this quick video.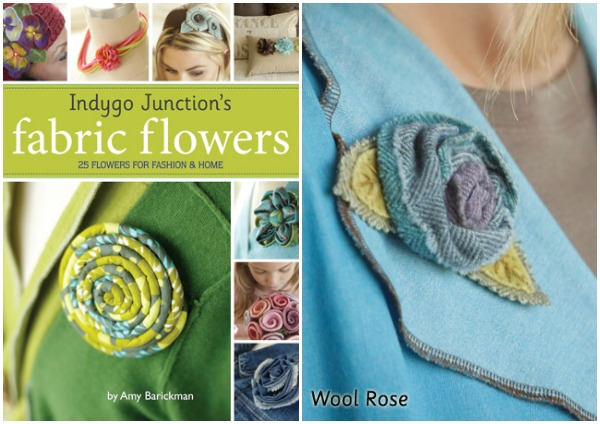 One flower that caught my eye is the Wool Rose. I love the thought of taking an old blazer and transforming it into something special, not to mention that these days I am drawn all things hand stitched.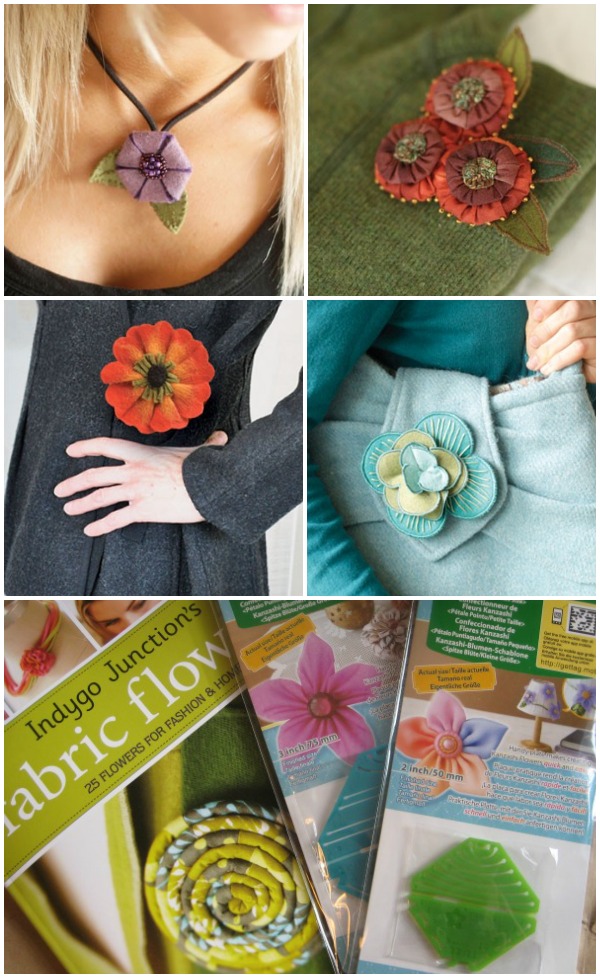 As a special treat, one lucky member of our sewing circle will receive a copy of this book and goodies from Clover delivered right to their doorstep.  Just leave a comment below letting me know what you would embellish with these flowers.
Don't miss a stop on Indygo Junction's Fabric Flowers Blog Tour. A flower a day & 25 chances to win!
2/2/13 – Indygo Junction Kick Off Post
2/4/13 – Kollabora
2/5/13 – CraftFoxes
2/6/13 – Sewing Secrets
2/7/13 – Princess Lasertron
2/8/13 – Dollar Store Crafts
2/11/13 – Tatertots & Jello
2/12/13 – Family Ever After
2/13/13 – This Mama Makes Stuff
2/14/13 – Amy's Creative Side
2/15/13 – Today's Creative Blog
2/18/13 – Lazy Girl Designs
2/19/13 – Skip to My Lou
2/20/13 – The Sewing Loft – You are here
2/21/13 – The Crafty Cupboard
2/22/13 – Fishsticks Designs
2/25/13 – Taradara
2/26/13 – Diary of a Quilter
2/27/13 – Craft Gossip
2/28/13 – How Joyful
3/1/13 – Lindsay Sews
3/4/13 – Flamingo Toes
3/5/13 – In Color Order
3/6/13 – See Kate Sew
3/7/13 – Handmade Charlotte
3/8/13 – Sew Caroline
3/9/13 – Indygo Junction Wrap Up Post, Bonus Giveaway & Free Flower Project
I hope you enjoyed a quick look inside Indygo Junction's Fabric Flowers book!  As a special gift, The Sewing Loft readers can use code FFBK13 to receive a 20%  discount off your next IndygoJunction.com order (offer expires 5/1/13)
And don't forget, with each stop of the tour, there is a chance to win fun goodies. So, be sure to stop by and visit a few other friends.

*Winner will be chosen at random and announced on February 27th. The Giveaway is now CLOSED and the winner has been emailed.