Okay, I know, I've said it before but I have an obsession for pincushions.  So, to help bring you over to my side of the line, I have surfed the web and gathered up some of the most Ah-Maz-Ing free pincushion patterns.  That's right, they are all free!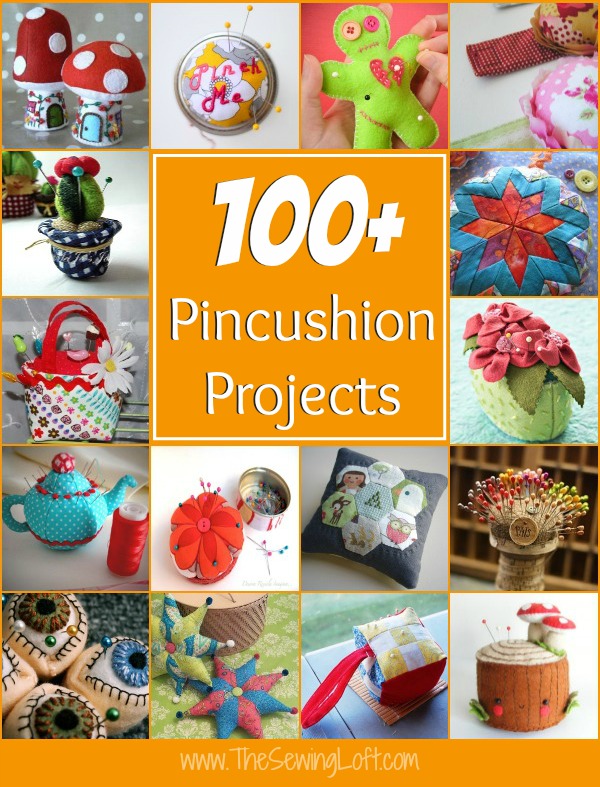 From toadstools to eyeballs, I am confident that there is a pincushion pattern on this list just waiting to be added to your sewing space.   Each one is super cute and the options are endless! It is really hard to pick just one.
100+ Pincushion Patterns

1. Doll 
4. Handy Dandy
5. Hexie Caddy
8. Pretty Purse
9. Puffy Wrist
11. Scrappy Arm Rest
12. Sewing Caddy
13. Stylish Wristlet
14. Thumb Ring
15. Wrist Magnet

16. Birdie
17. Birdie (mini)
18. Blow Fish
19. Chicken 
20. Country Mouse
21. Hedge Hog
22. Kitty Kat
23. Ladybug
24. Little Turtle
25. Owl
26. Porcupine
27. Turtle Love

31. Garden Glory
32. Hand Embroidered
33. Mason Jar
34. Pin It Heart
35. Sunflower

36. Apple Core
37. Cherry Pie
38. Layer Cake
41. Pea Pod
42. Pear Shaped
43. Pretzel 
45. Starfruit
47. Strawberry
48. Toadstool
49. Tomato
50. Classic Tomato
51. Watermelon

54. Basket Weave
55. Boxed Out
57. Folded Star
58. Heart 
59. Hexi Pincushion
60. Pinball Swirl
61. Pincushion Trio
62. Pin Blossoms
63. Pouf Pincushion
65. Sweetheart 

66. African Violet
68. Antique Bonnet
69. Basket
70. Boat
71. Catus
73. Country House
74. Doily Pincushion
76. Dress Form
78. Flower Power
79. Flower Pot
81. Glamper Camper
82. Hexie Pincushion
83. Homespun Hearts
84. Large Bottle Cap
85. Mod Flower
86. Pretty Package
88. Ride Along
89. Scallop Edge
90. Simple Star
93. Square Deal
94. Succulent Flower
95. Tea Light
96. Tea Pot
97. Tiny Tuffet
98. Tree Stump
99. Tree Trunk
100. Valentine's Day
101. Vintage Spool
102. VooDoo Doll
Woo Hoo! How is that for creative ideas? These pincushion patterns are fantastic and free!  That's right, every project on this list includes a free pincushion pattern or tutorial for you to make.  So, be sure to Pin This post for easy reference.

Hello! Are you new to The Sewing Loft?

If so, I'm glad you stopped by and hope that something has inspired you to keep your needle moving!  Don't miss a single project and subscribe via email HERE! Bonus- free embroidery pattern with newsletter sign up.  Another great way to connect with me is via Facebook, Pinterest, Twitter, Google+ or Follow my blog with Bloglovin.  I'm looking forward to getting to know you and creating together!