Scraps, Scraps, Scraps! Ever wonder what do you do with all of those little pieces of leftover fabric bits? Well today's post is going to help keep you inspired with over 100 easy scrap fabric projects.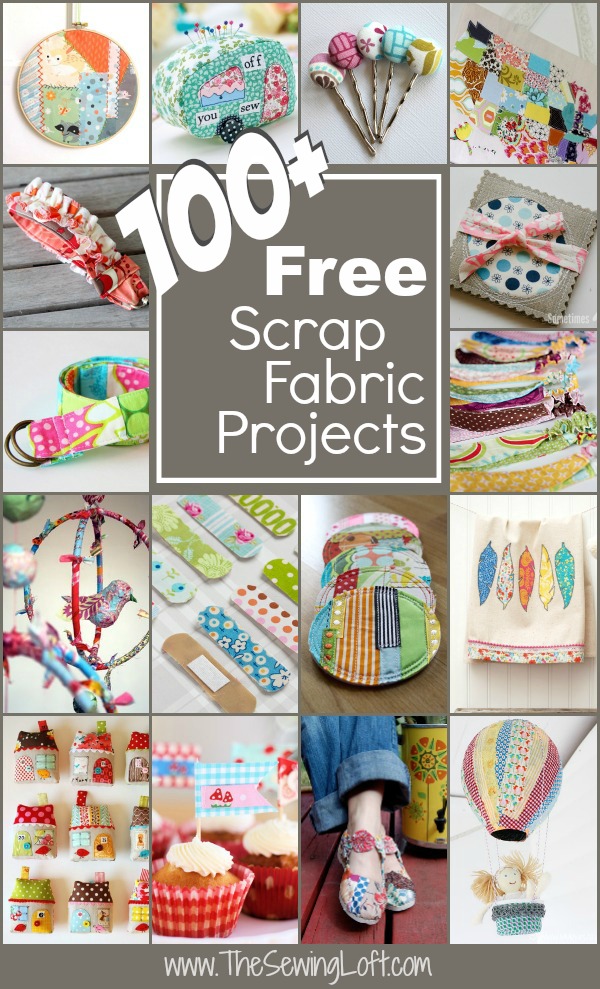 100+ Free Scrap Fabric Projects
There are so many great projects on this list that you will want to take your time and PIN THIS for later.

1. Bows
3. Fabric Feathers Dish Towel pictured
6. Patchwork Trim Towels love these!
10. Tea Towel

11. Advent Calendar
13. Home for the Holidays Ornament this would be a cute pincushion, pictured
17. Scrappy Pumpkin Fall Decor
18. Shamrock

20. Baby Mobile so beautiful, pictured
22. Cake Flags
23. Closet Tags great for kids
24. Coasters 1
25. Coasters 2 pictured
26. Coasters 3 pictured
27. Cord Keeper
28. Covered Magnets genius!
29. Fabric Covered Bed Frame so cool!
30. Fall Wreath
31. Flag Cupcake Toppers these are the cutest!! pictured
32. Hot Pads
33. Lamp Makeover
34. Lampshade
37. Napkin Rings
38. No Sew Basket
40. No Sew Flowers perfect for kids
41. Paper Mache Hot Air Balloons pictured
42. Patchwork Collage Wall Art pictured
43. Peacock Pillow
44. Picture Frame
46. Reusable Snack Bags love the sneak peek window
47. Quilted Bowl
50. Scrap Bucket provides great storage for even more scraps
51. Scrap Map pictured
52. Spring Wreath
54. West Elm Wall Art Knockoff so easy!

56. Award Ribbon
57. Baby Bibs
58. Band Aids crazy cute! pictured
61. Caravan Pin Cushion a MUST make. pictured
62. Coffee Cup Cozy
64. Diaper Strap
67. Envelope It
68. Eye Pillows
69. Fabric Lined Envelopes such a great idea
70. Fabric Postcards
71. Fabric Tape
72. Fortune Cookies
75. Key Chain
76. Key Chain Coin Purses so tiny and cute!
77. Little Birds photo worthy
78. Mason Jar Covers
79. Mini Wallets great to keep on hand for gift giving
80. Mushroom Mug Rug
84. Ruffle Bib
86. Ruffled Key Fob pictured
87. Scented Pins
88. Scrap Bundles great for sewing retreats and swaps
89. Sewing Weights
90. Shoulder Strap Cover I need to make this!
92. Sunglasses Case
93. Tissue Cozy
94. Toiletry Bag
95. Travel Postcards

96. Bracelets
97. Bobbi Pins pictured
98. Double Sided Headband pictured
99. Flirty Bracelet
100. Scrap-pieced belt pictured
101. Shoes pictured

Turn Scrap Fabrics into Yardage
Find even more inspiration on my Scrap Fabric Ideas Pinterest board!
Don't have time to look at each project on the list? Be sure to PIN IT for later because these scrap fabric projects are ready for your stash!

Interested in more projects? Check out our other round ups for free patterns and projects.
Hello! Are you new here?

Do you want to learn more about sewing? If so, be sure to sign up for our newsletter HERE and never miss a stitch! Daily Sewing Tips, Everyday Projects and Fantastic Inspiration delivered straight to your mailbox!

Bonus– free download with newsletter sign up.

Feel free to connect with me on Facebook, Pinterest, or Instagram.  I look forward to getting to know you and stitching up a storm!