It's that time of year when we search for the perfect gift for everyone on our list but let's not forget your favorite sewing & quilting friends. To help out, I put together a fun list of affordable quilter gifts.
If you are looking for budget-friendly gift ideas this holiday season, look no further! I've put together a list of affordable quilter gifts that will cover every sewing enthusiast on your list.
The list includes a range of unique novelty gifts to the perfect must-have tool. Many of the items I personally own and used in the studio. They have been purchased with my own hard-earned cash or are items that were received as gifts from friends. And others are on my personal wish list that I'll be passing along to my hubby this year as a hint-hint. 😜 (feel free to do the same!)
To be transparent, this post contains affiliate links meaning, I receive a small portion of the proceeds at no additional cost to you. The proceeds support all of the free content I share on the site and allow me the time to create these projects for you.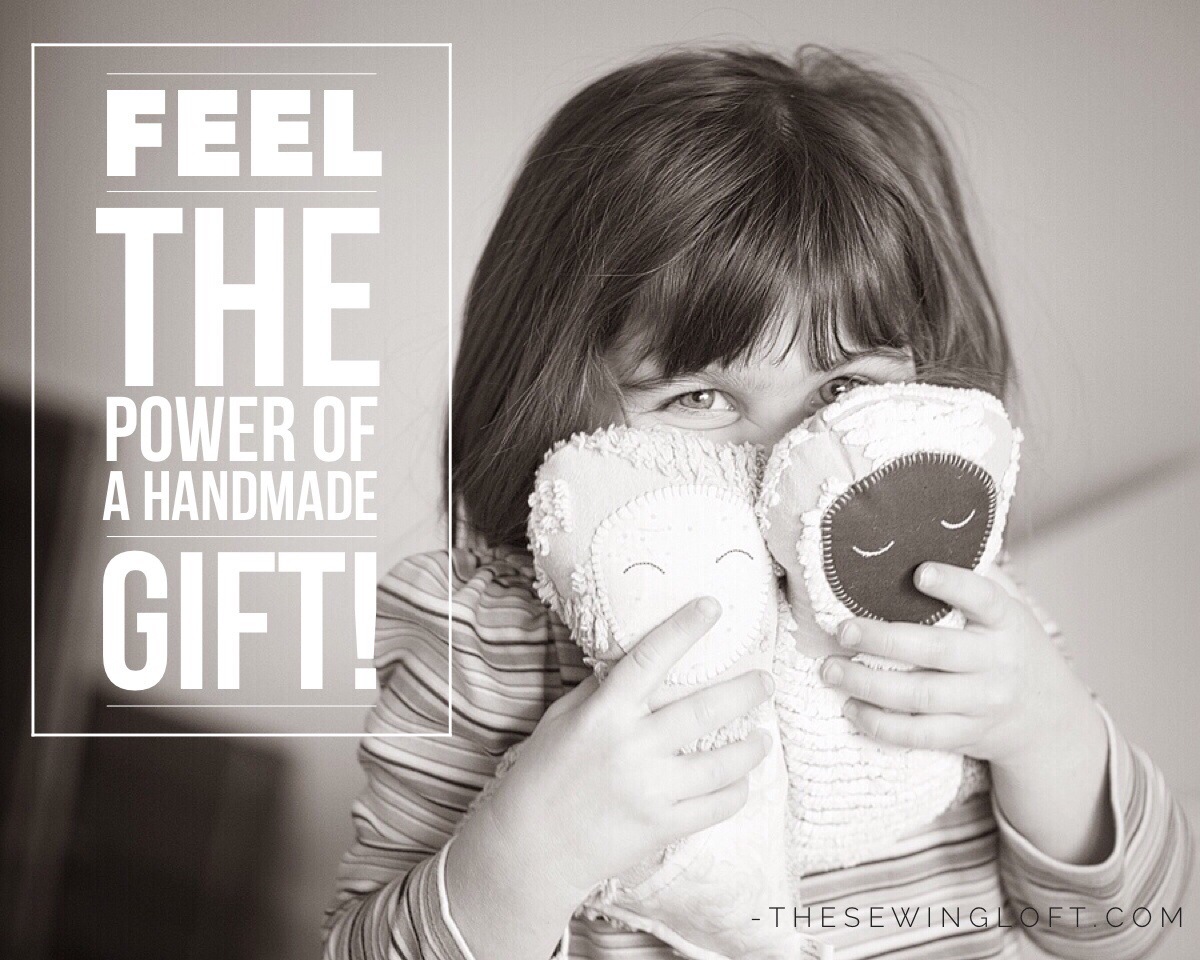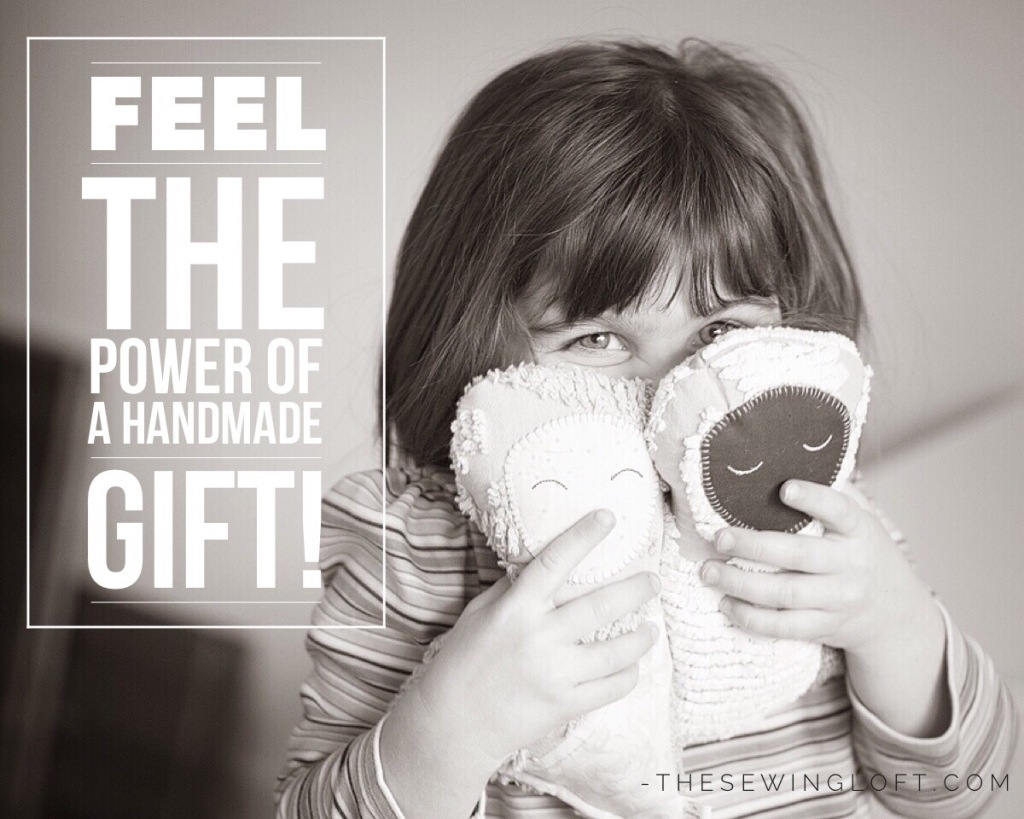 Many quilters spend hours making wonderful gifts for others so, it's especially important that we make them feel just as special when receiving a gift. This simple act of kindness does not need to be hard or expensive.
Unique Quilter Gift Options
Instead, I suggest stepping out of the "sewing box" and looking to the novelty area for that special gift. This area offers a wide range of pricing and a large assortment of uniqueness. I love how these gift options make it easy for us to spoil our friends with cheeky and thoughtful gifts.
Consider wrapping up one of these sewing-themed tee shirts and inspire your favorite buddy to settle in for a day of sewing. After all, sewing mends the soul and this sewing-themed t-shirt will make the perfect gift for any of your creative friends! They will be comfy and cozy while showing off their love of sewing.
Most stitchers tend to be "caretakers" and rarely spend on themselves. That's why these Gingher Stork Embroidery Scissors are a great option. Most folks consider this high-end brand a complete splurge item, however, the price can't be beaten! Any quilter or sewer would absolutely love to receive these as a gift.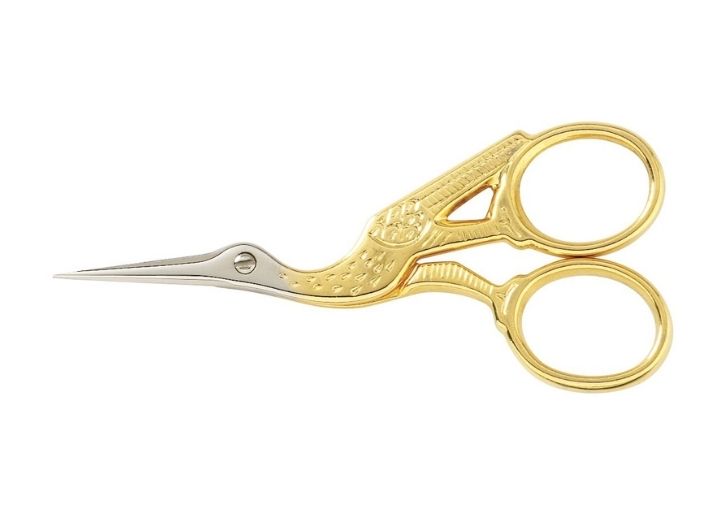 Help fast-track projects with the Oliso M2 Mini Project Steam Iron. This mini steamer is easy to use, lightweight, and takes up way less space than your typical big old closet-stealer! I personally own this little guy in the turquoise colorway. I like to keep the mini iron on the side of my workspace and love how it heats up in a flash. It really helps make quick work of projects like HST's, flying geese, and log cabins. It is a perfect gift for the traveling crafter!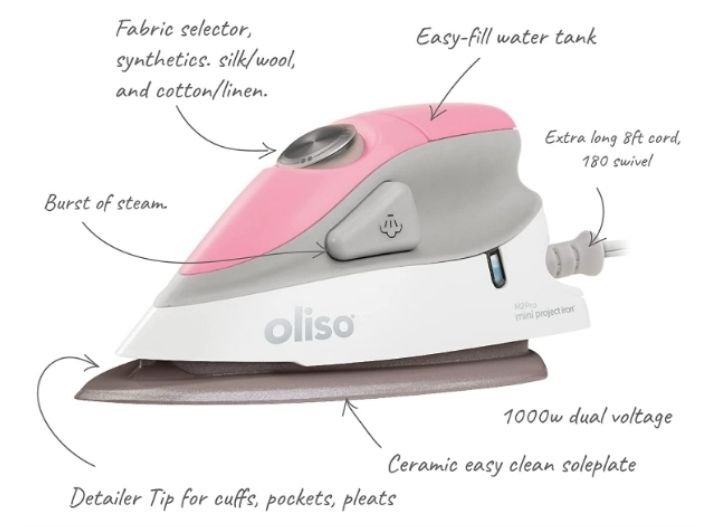 It's no secret that I'm always looking for a better way to untangle my thread drawer and these spool savers are the bomb! The trick is to keep them on all of your thread spools. That's why I love the 100 piece set from Thread Spool Savers. The 100 piece set is plenty to wrap around your colorful thread collection. It truly is the perfect gift of organization and prevents future untangling sessions of loose threads.
When it's time to sew, you can always count on your trusty sewing machine, a good pair of scissors, and your fabric stash. Now, these little powerhouses have been turned into a real work of art with this Sewing Machine Necklace!
A wool pressing mat is one of those items that are beyond nice to have. Not only does this option allow for pressing to happen away from the traditional ironing board, but the wool actually helps in other ways. For example, it can prevent stretching, it retains heat which helps remove those pesky creases and the dense surface allows for items to be pinned in place for stability. The Wool Pressing Mat allows you to press like a Pro!
Allow your friends to reach for that drink in confidence with this One Stitch at a time 12oz insulated tumbler! The attractive container will keep beverages cool for 24 hours and keep things hot for up to 6 hours. The best part is the lid. It will help prevent those moments of complete panic when something accidentally bumps into the cup. It will prevent the entire beverage from spilling over and ruining your project, crisis averted.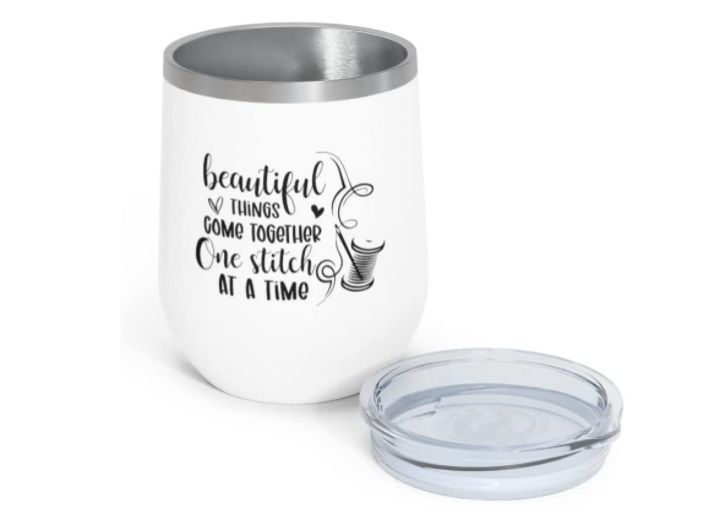 Gypsy Quilter The Original Gypsy Gripper – this is a serious must-have for quilters! Any crafter would love this gift as it will help to keep their fingers safe while using their rotary cutter. The suction base will prevent any possibility of slippage at the cutting table. Plus, it comes in a cute color too!
Don't let lighting be an issue, with these LED lighting strips. The powerful LEDs allow any quilter to see clearly while working on their projects. They attach directly to your machine and can be resized to fit your space. The wonderful lights will help illuminate your space and allow you to see regardless of the lighting in the room.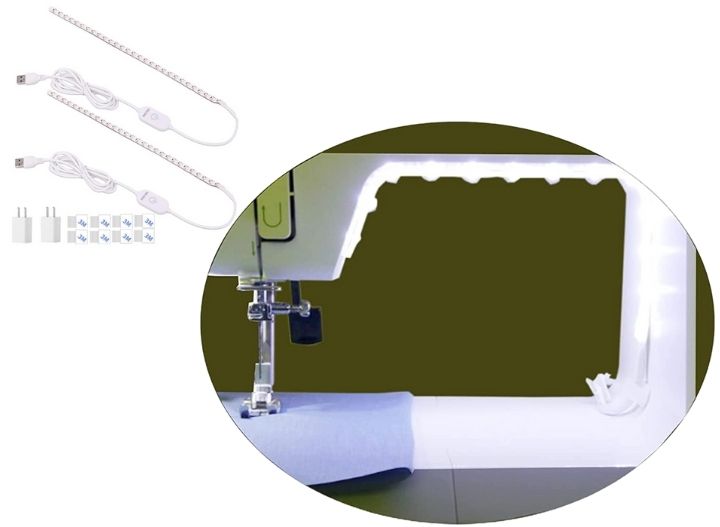 We all know that using fabric scissors on paper is considered a big No-No but sometimes non-quilty folks don't understand. To prevent any "opps" moments, it's best to keep your scissors clearly marked and close by. To help do that in style, I suggest these adorable sewing machine scissor charms. The unique fobs are the perfect way for the fashion-forward crafter and sticher to clearly identify their sheers. They add a pop of color to that essential hand sewing tool with a metal clasp and hang freely while in use.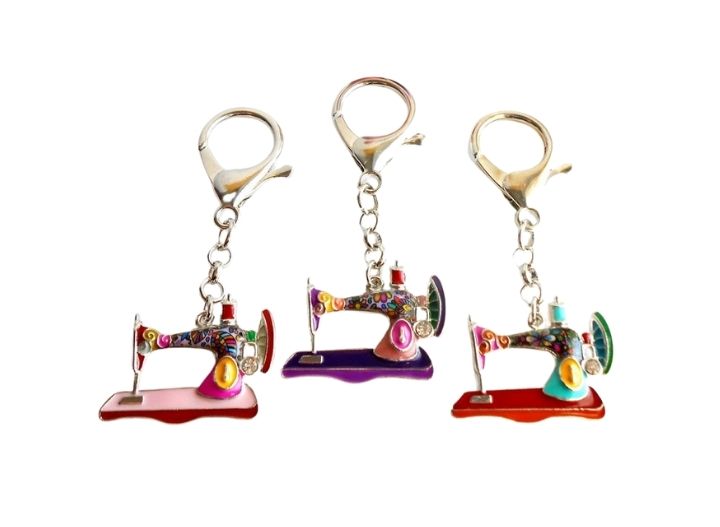 Many quilters tend to kick off their shoes and hit the machine barefoot but during those cooler months, things can get chilly. To stay cozy and avoid any breezy moments, I suggest a pair of Hot Sox Women's Novelty Casual Crew Socks. The little buttons, sewing machines, scissors, and other crafting appliques are so cute!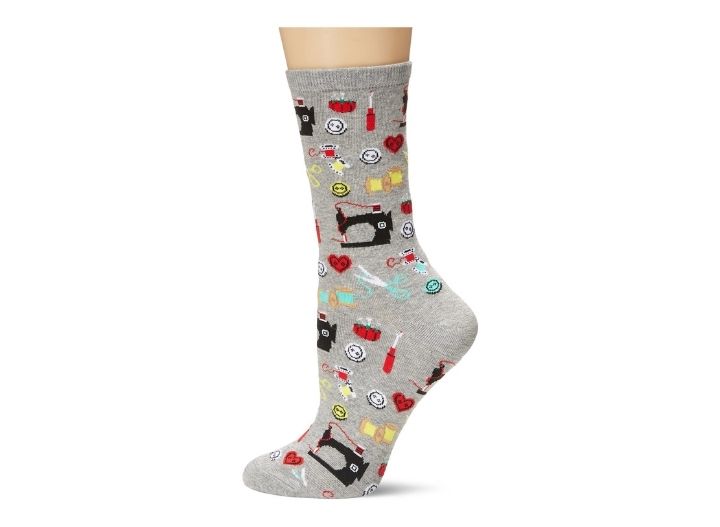 Many say that caffeine makes the world go round but some might even say that it helps keep the machine humming along. That's why this little Coffee into Quilts Mug makes me smile! The themed mug is a great way to start your day off with zing! Plus, it's a perfect gift for your creative friends that also love to drink coffee! They will love curling up with their latest project with their favorite hot beverage in hand with this gift.
Sometimes we need to step away from the project or computer for a reset. To keep my brain challenged, I love the idea of puzzles. The Sewing the Rainbow 1000 Piece Jigsaw Puzzle is filled with colorful sewing notions and a great gift for those cozy days indoors! Any sewing or quilting enthusiast will absolutely love this super fun puzzle that depicts their favorite craft!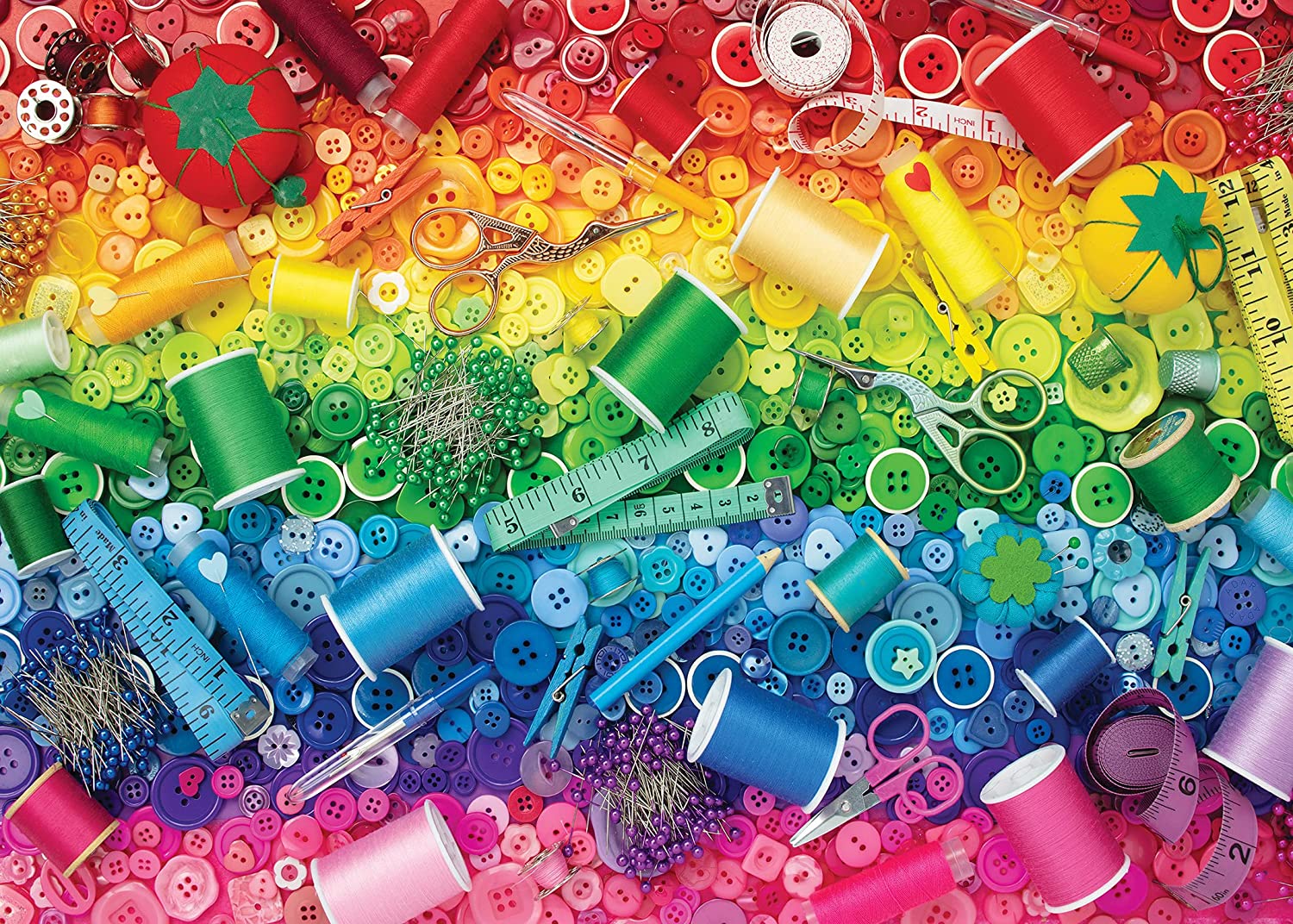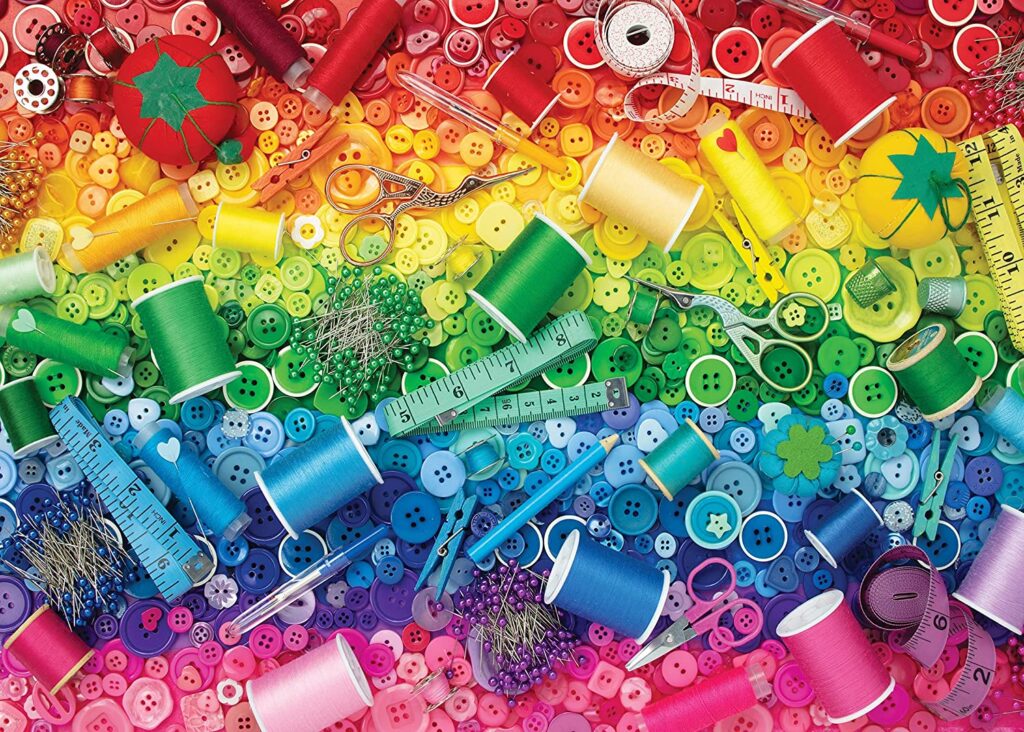 Help keep the project on track with this accessory organizer. The multi-compartment system has 2 detachable bags with clear pockets. These make finding that needed item in a flash. Especially, if it's jack the ripper!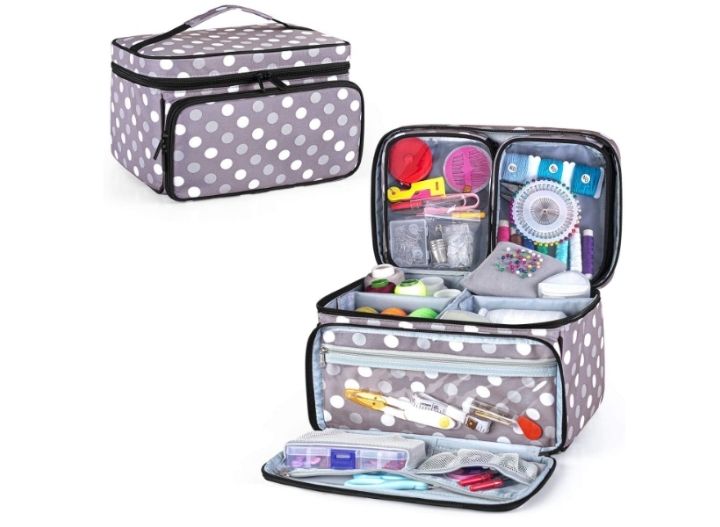 I love stitching up a storm during late-night sew sessions and audiobooks keep me company! The Quilt Shop Murder Mystery series by Taylor Quinn is on my hit list to read/listen to next. The seven title series is available in both printed and audiobook formats. Since I love mysteries, I know that they will keep me powered and engaged. I'm especially intrigued with the Assault and Batting title. Unique gifts like this are out of the box and perfect for those hard to buy for quilter on your list who love to read!
Quilting Cards Blank Note Cards – These quilting cards are perfect for adding a nice little thank your note for your customers or even just a sweet note to a friend or thank you card for an appreciated gift.
Still not sure what to get your favorite sewing buddy? Consider the gift that keeps on giving like a fabric of the month or kit club. Depending on which option you select, they will receive a monthly package of happy mail in the form of fabric, patterns, quilting kits, and more. You can see the full lineup of options here and ps- they even include other creative hobbies.
Budge Friendly Quilter Gifts
Sewing enthusiasts often take their hobby to the next level, creating unique gifts for friends and family members. Spending a little extra time to put together a quilt-related gift will be appreciated more than you can imagine.
Since I know that many of you reading are quilters yourselves, I thought it would be fun to include a few of my favorite gift ideas. The list ranges from large quilts for that special someone, to the quick projects that you can make in batches.
Whatever you choose, I hope you feel the magic of the holidays, give beautifully and enjoy the power of giving!