Our mini quilt swap is in full swing and it's time to stitch on the binding!  (Okay, I really wanted to say: "Time to make the donuts" but that might have been weird.) Back to reality.
Even though you have carefully cut, stitched and pressed together all of those little pieces the last step can really be a nail bitter. So, I thought now would be a great time to review different ways to bind a quilt while sharing easy tips to keep the process smooth and easy!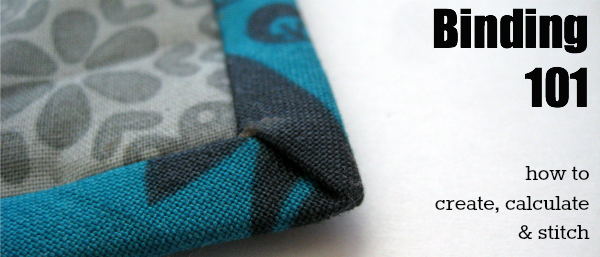 Binding 101
We've got a series of posts to teach you everything you needed to know about binding. Click on any photo below to be taken straight to that post:
Not only is binding functional but it can be decorative.  This last step can really add that pop of color detail to your project.  I like to think of binding as the finishing touch or that statement piece of jewelry in your outfit.
Additional Tips for creating binding:
~A rotary cutter, self-healing mat and quilter's ruler will help keep lines straight and smooth.
~Consider using a heat erasing pen like frixion when marking binding.
~Always make a few extra inches of binding to be on the safe side. There is nothing worse that getting to the end of your project to find out you are a few inches short.
~When hand sewing your binding in place, use a matching thread color and make small stitches.
~Take your time when sewing.  This is the final step on your project. Make it count!
Still have any questions about binding? Share them with us in the comments below!

Hello! Are you new to The Sewing Loft?

If so, I'm glad you stopped by and hope that something has inspired you to keep your needle moving!  Don't miss a single project and subscribe via email HERE! Bonus- free embroidery pattern with newsletter sign up.  Another great way to connect with me is via Facebook, Pinterest, Twitter, Google+ or Follow my blog with Bloglovin.  I'm looking forward to getting to know you and creating together!