In a house full of girls it's easy to say that dolls, dresses and parties rule my world!
So, when asked to preview the new 30 minute Doll Clothes book and be part of Nancy Zieman's tour, I was all in!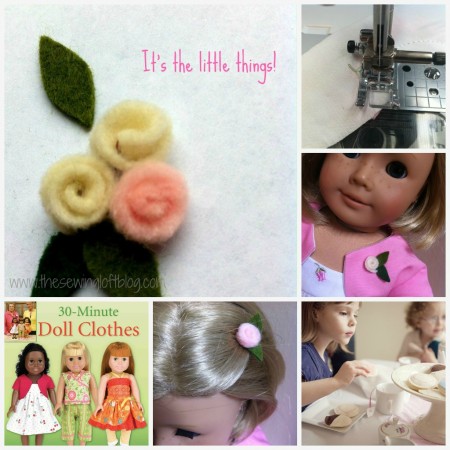 To keep the project personal, I decided to create an outfit from one of my daughter's favorite dresses.  She is growing so fast these days!  But on a bright note, I am all about reclaiming and this was a perfect way to keep that special memories alive!  Plus- bonus, my hem was already finished!!  This saved me so much time.  In fact, it almost felt like cheating!

MY LATEST VIDEOS
The book includes patterns and step by step instructions that are super easy to follow.  To keep my book in tacked, I photo copied the pattern for easy cutting.
A few notes about stitching on small projects-
Take your time.
Pressing & clipping curves are key.
Reduce your stitch length.  This will increase your stitches per inch and help when stitching around small curves.
Projects like this are all about the little things.  For instance, I created a small felted pin for her jacket and matched it with a flower for her hair.  It was super simple and only took a few stitches and scraps. (oh, and don't forget my glasses!)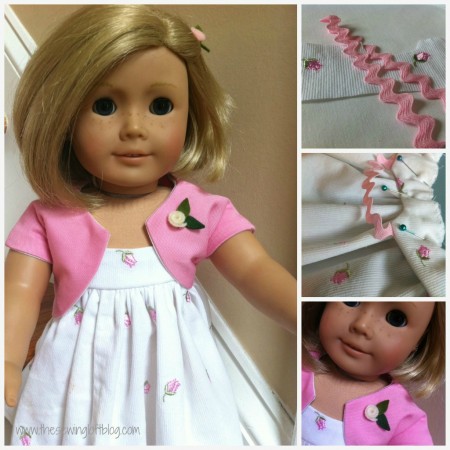 Since my little girl loves to take tea, I thought it only fitting to create a party dress!  Here are a few other sweet treats you will find at our parties.

30 Minute Doll Clothes Blog Tour Continues
6/18 update- adding additional photos