It's July and here in the south the weather is crazy warm but I am starting to think about Christmas.  I know, crazy right?!  Well, it is only 6 months away and I really want to avoid that Holy Cr*p moment when the panic sets in that I have so many things to do.  So, this year I thought it would be best to start small and early.  To make this happen, I team up with a few talented designers for a Christmas in July party.  (Thanks Deby from So Sew Easy for hosting!)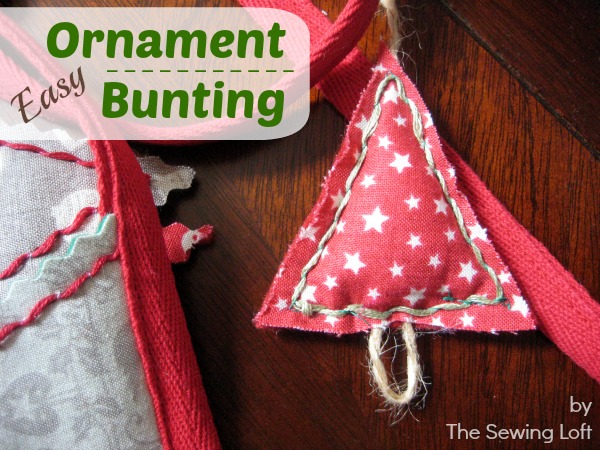 This project is for sewers of all levels.
Skill Level- 1  Button
Supplies:
fabric
felt
1″ ribbon (9ft long)
double-sided fusible
polyfil
embroidery floss *optional*
Tools:
 Easy Ornament Bunting
Instructions:
I used a few different fabrics to create this super cute banner and really used basic shapes.  You can draw any shape you like for your ornaments.
Draw 6 triangles on the paper side of double-sided fusible.  My triangles are 3 1/2″ long.  Follow the manufactures instructions on the packaging and iron fusible to one side of felt. Cut out shapes, flip and fuse to wrong side of fabric.  Cut out with scissors or pinking sheers for an extra detail.
Consider making small ornaments like these

mini trees

to alternate between the bunting flags. I highlighted the patterns found on my fabric and sandwiched my mini ornaments together, leaving the raw edge exposed.
Position triangle bunting along 18″ in from edge and evenly space from there. Spacing will depend on how many hanging ornaments you add to the ribbon.  Pin each shape in place and fold ribbon over and edge stitch in place. 
To give this ornament bunting a special touch, I weaved embroidery thread back and forth between straight stitching.
When finished bunting can be draped along your mantel, hung on your tree, attached to a wreath, even wrapped around a package.  There are so many options!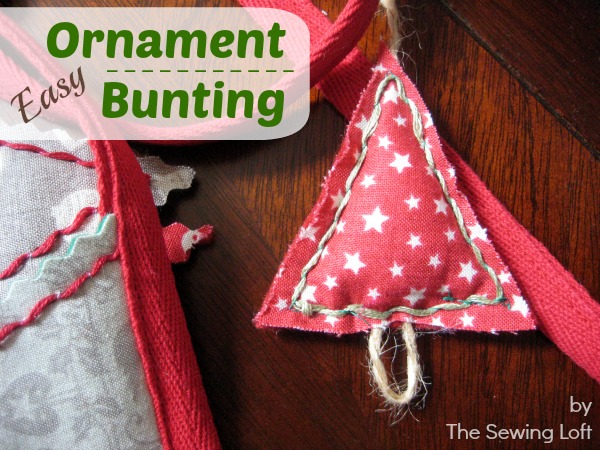 For more easy holiday decor be sure to visit our holiday round-up.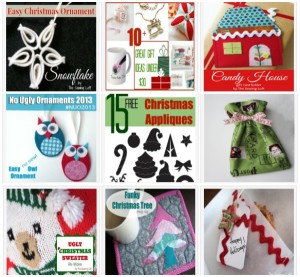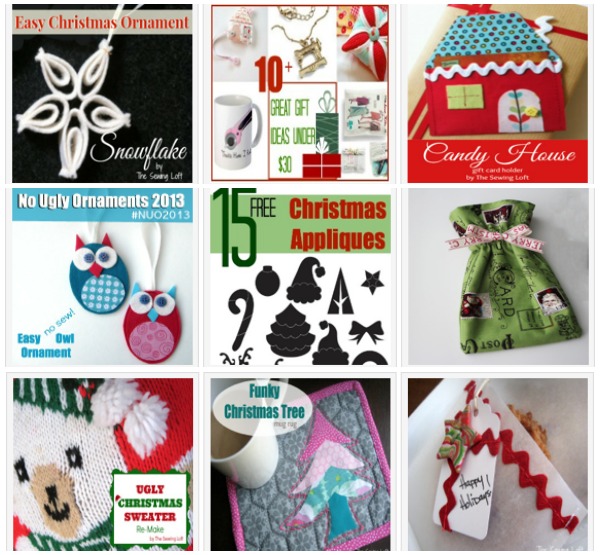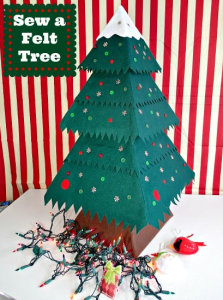 A big Thank you to Deby from So Sew Easy for putting this all together and hosting this pre holiday party! Be sure to stop by and see what other fun things the designers have created.

Hello! Are you new to The Sewing Loft?

If so, I'm glad you stopped by and hope that something has inspired you to keep your needle moving!  Don't miss a single project and subscribe via email HERE! Bonus- free embroidery pattern with newsletter sign up.  Another great way to connect with me is via Facebook, Pinterest, Twitter, Google+ or Follow my blog with Bloglovin.  I'm looking forward to getting to know you and creating together!