In my world, there is a difference between homemade and handmade.  When I think of homemade my mind lingers towards the negative.  I'm not sure why so please don't judge but I tend to think of a DIY gone bad.  But handmade on the other hand screams quality.  I think of the countless hours of attention to detail and love the project was made with.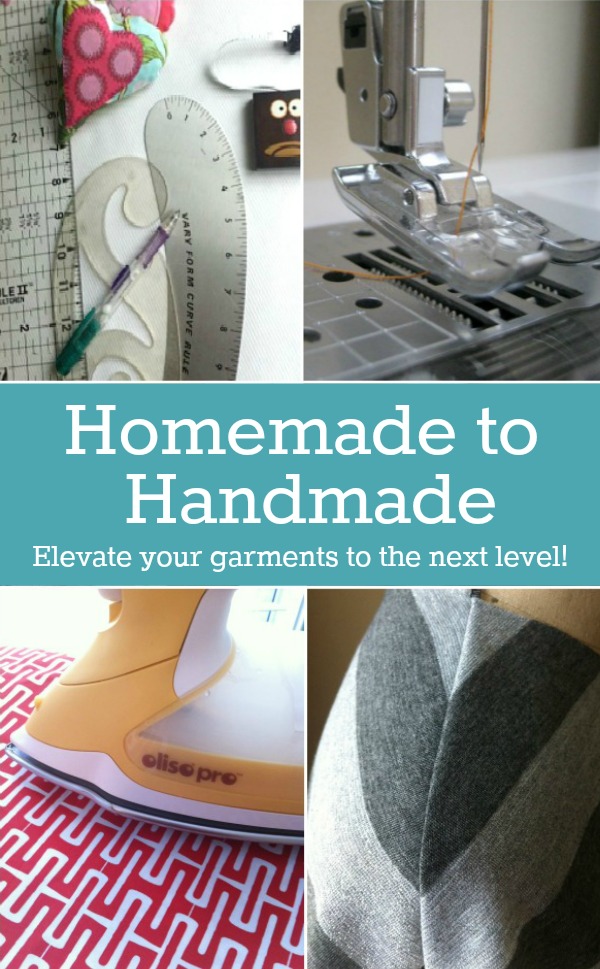 When you wear a garment that you made for yourself, you want it to look original, one-of-a-kind, and tailored to suit your body. You want the people who see you to think you have your own designer working for you, fashioning outfits that are meant to fit and flatter your shape. What you DON'T want is to have someone raise their eyebrows at your outfit and ask, "Did you make that yourself?"
Homemade to Handmade
Here are a few tips to help you make sure your handmade garments don't wind up looking "homemade," in the worst of ways:

Fit: An ill-fitting garment is a sure sign that you didn't make it with care. Here's how to get the best fit for the clothes you make for yourself: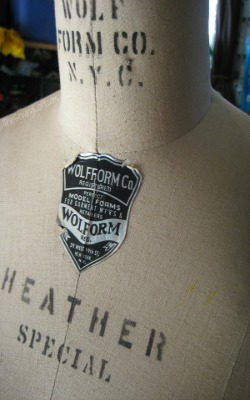 – When you sew a garment for yourself, make a muslin first to make sure the item is going to fit and flatter before you use up the "good" fabric you bought for the project. You can make adjustments to the muslin as needed and it won't matter if it ends up a bit messy, because when you make the actual garment all that practicing and adjusting will mean the finished project looks as good as it can. See an example of using a muslin in our post on skirt pattern drafting here. *A dress form can come in handy for this step but is not necessary.
– When you read a pattern, use your actual body measurements and not just the standard pattern pieces in "your size." The pattern may call for your bust measurement in one size and your waist in another, so you need to adjust and cut your pieces accordingly.
– Know your body shape and use techniques like making darts to adjust the pattern pieces to fit your body well. Don't just sew a pattern because it looks good on a model; think about whether it's the type of garment that will look good on YOU. (A good tip: Try to find a similarly styled commercial item and try it on in a store; then you'll know if that style or shape is flattering before you take the time and expense to sew one for yourself.)

Tools: If you don't have the right tools for the job, your finished project will show it.
– Keep the following items in your sewing arsenal at all times: good fabric shears, pinking shears, small snips or scissors for trimming threads, a good marking pen and a ruler for making straight lines. We've rounded up your must-have sewing essentials for you right here!
– Clean out your sewing machine regularly and remove the dust and fuzz; oil it regularly if your manual calls for that step. Cover your machine if you won't be using it for more than a day, and take it to a mechanic for regular maintenance and repair. Of course, these tips include maintaining your serger, too!
– Always use the right needle for the job. In general, a bigger number for the needle size means the needle itself is larger so it is used for heavier fabrics. Use ball point needles for knits or other stretchy or delicate fabrics and use a heavy-duty needle for denim, leather, duck cloth and other heavier weight fabrics.

Fabric: All fabrics were not created equally; know your fabrics to get the best results in your sewing.
– Watch out for the fabrics you choose: quilter's cotton is meant for quilting, not garment construction. Just because you have a lot of it in your stash doesn't mean it's the best fabric to grab the next time you want to make yourself a dress. Use the type of fabric recommended by the pattern, don't just grab whatever you have in your stash and hope it will work.
– For clothing, I suggest Pre-wash EVERY fabric before you sew it into something, otherwise you may wind up with a nasty surprise when you wash the finished item and it shrinks.
– Position your pattern pieces on the grainline of the fabric in the direction indicated by the pattern. Take care to keep your pattern pieces straight every time (measure with a ruler against a known straight edge) or you will wind up cutting off-grain and your fabric pieces may stretch and distort in unpleasant ways when you sew the garment.

Finishing: The last steps you take in a project may be the ones that really step it up from homemade to handmade.
– Always press your fabrics as you sew, and do it properly. Want some tips on pressing vs. ironing? We've got 'em here!
– Finish your seams, every time. Pinking shears are the easiest method, but it looks more professional to do French seams, serged seams, a 3-step zigzag stitch, or bias tape.
– Reduce bulky seams with proper trimming.
– Sew by hand when it is called for to make the neatest stitches; you'll often find this is the case for the last few stitches of a garment, such as the hemming.
– Use proper hemming techniques to polish off your finished garments. When sewing with knits, use a double needle to mimic commercial hems. For other garments, use the type of hem that would typically be found on that type of garment in the store (link back to post on improving your hemming).
 Still want more? Here are two classes on Craftsy that will help you alter your patterns to flatter your shape and help keep your garments looking amazing!
What tips or suggestions do you have for taking your garment construction from homemade to handmade? We'd love to hear them in the comments below!

Hello! Are you new to The Sewing Loft?

If so, I'm glad you stopped by and hope that something has inspired you to keep your needle moving!  Don't miss a single project and subscribe via email HERE! Bonus- free embroidery pattern with newsletter sign up.  Another great way to connect with me is via Facebook, Pinterest, Twitter, Google+ or Follow my blog with Bloglovin.  I'm looking forward to getting to know you and creating together!