Welcome to the first post in our series on fabric painting and dyeing! Are you ready to transform that old fabric in your stash? Perhaps the easiest method for changing the look of your fabric is to paint it. This method also works really well if you have a piece of fabric or a garment that has a stain on it – paint over the stain and add a little more paint to the rest of the item and- voila!- no more stain!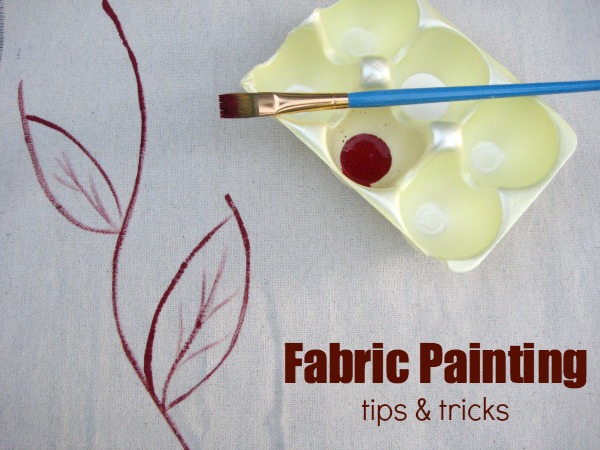 You can purchase fabric paint at any craft or hobby store, and even most of the big-box retail stores. You can even buy fabric paint pens or markers, which might be easier if you plan to do a detailed design.
Fabric Painting Tips & Tricks
Tip: Make sure the paint you buy is permanent through washing and made for fabric – traditional craft paints won't work for this project!

Gather Your Supplies: For this how-to, you'll need:
fabric paint (pens, squirt bottles, markers, etc.)
fabric (can be regular fabric yardage or a garment such as a T-shirt or jeans)
sponge brushes
stencils or stamps (optional)
protective items for your clothing and your work station
scrap cardboard (optional)
How to Paint Fabrics:
Prepare your work station.
Cover your working table with a dropcloth or a few garbage bags. Lay out your fabric in one layer on the protected surface. Note: if you're painting onto a shirt, place a piece of scrap cardboard inside the shirt to protect it from fabric paint bleeding through to the back.

Prepare your fabric.
Read the directions on the fabric paint – do you need to pre-wash the fabric? Will the paint work on wet or dry fabric? Is the type of paint you purchased going to work well on the fabric you're using (check the fiber content on the fabric or garment label)!

Test out your paint on a scrap piece of fabric, or on a tiny area in the corner.
This will help you make sure that the paint goes on the way you want it to, and you can always cut off that corner before you sew with the fabric if things don't go well. If you're painting a garment you might not have this option, so just start small with your painting because you can always go back over it later.

Paint a design onto the fabric.
Squeeze a little bit of fabric paint into a bowl (skip this step if you're using fabric pens or markers). Dip your paint brush into the paint and wipe it on the edge of the bowl to remove excess. Swipe the paint brush over the fabric to paint it  – you can use freehand techniques to paint a more abstract style, or if you want something specific you can use stencils  or stamps just like you would for any other painting project. If you're using markers or pens, just draw directly onto the fabric like you would if it were paper.
Tip: If you want to paint stripes, use painter's tape or washi tape to create a template of straight lines on the garment or fabric and paint along the tape to make your stripes.
Tip: Use the eraser of a pencil to make small polka dots on your fabric – simply dip and stamp. Use the bottom of a plastic cup for larger circles, or turn the cup over and use the rim to make rings.

Allow the paint to dry.
Give the paint plenty of time to dry before you try to move the fabric. Follow the directions on the packaging; you may have to use heat to set the paint or you may need to rinse the fabric in cold water. If you plan to paint the front and back of a garment, let one side dry completely before turning it over to do the other side. Let the paint dry in between colors, too, if you plan to use more than one color
And that's it! This technique is great for making a design onto a plain piece of fabric to give it a little something extra. It would make a fabulous technique to turn a solid fabric into a pair of decorated curtains, or to use on throw pillows, skirts or T-shirts.
The best advice I can give you is just have fun and let your hair down. Things do not need to be "picture perfect".  Heck, you can even doodle!

Have you created a work of art on a fabric canvas? Show it off in our Sewing Loft Flickr Pool!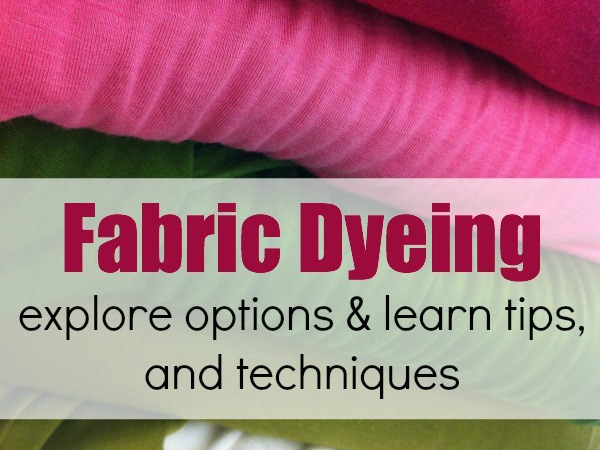 Fabric Dyeing Mini Series Round Up-
We'll see you next time when we'll explore tie dyeing!

Hello! Are you new to The Sewing Loft?

If so, I'm glad you stopped by and hope that something has inspired you to keep your needle moving!  Don't miss a single project and subscribe via email HERE! Bonus- free embroidery pattern with newsletter sign up.  Another great way to connect with me is via Facebook, Pinterest, Twitter, Google+ or Follow my blog with Bloglovin.  I'm looking forward to getting to know you and creating together!