Window treatments are an important part of any room in the house. They provide privacy, allow you to adjust the temperature and lighting, and at the same time increase the aesthetic appeal of a space. The type you choose has a big impact not just on the interior decor but also the level of comfort and convenience in your home, and because window treatments can also be a significant expense, careful consideration should be given to all factors before selecting which type to install.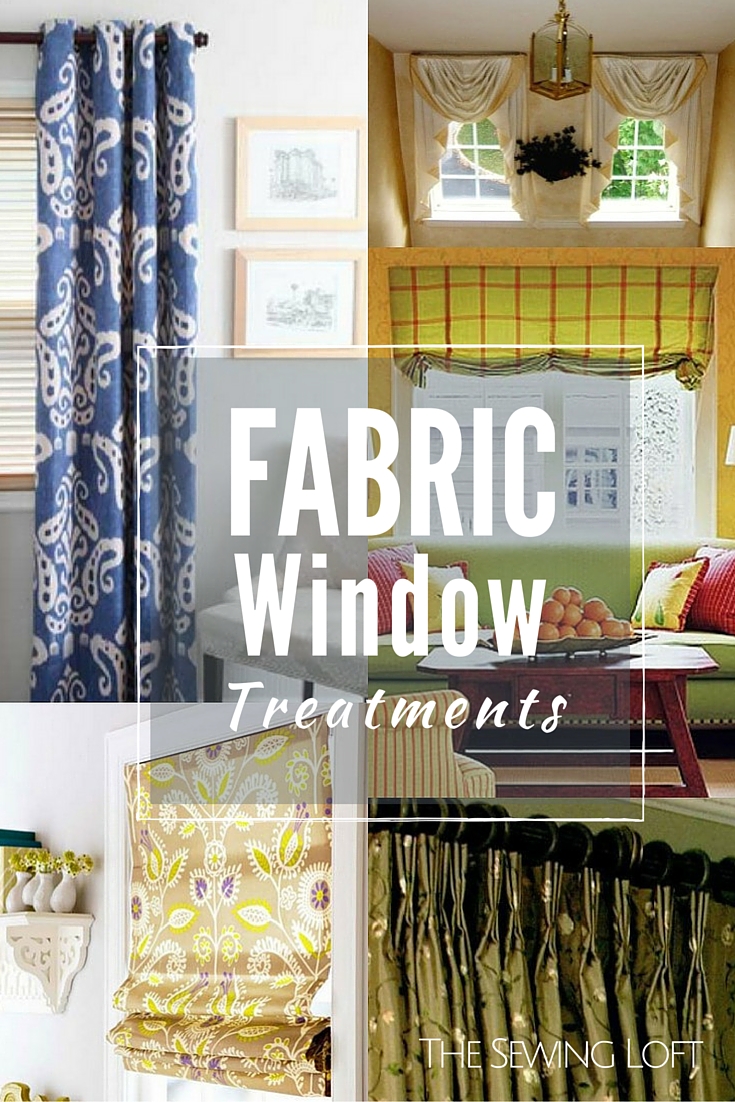 Basically, window decor can be divided into two categories. Hard treatments refer to those made out of hard materials like wood or vinyl. Soft treatments are made of soft materials like fabric. A window treatment can also describe what you put around a window like a valance or molding. It even describes treatments you apply directly to the window like frosted glass or stained glass.
Fabric Window Treatments
Not sure which to choose? Here's a descriptive list of some basic types of window treatments (that you can make) to help get you started.
Curtains
These are the most common and popular type of window covering. They're available in various styles, patterns, and colors that offer lots of function and options. They're typically made of a lighter type of fabric and available in packages with two panels. They're usually hung using a rod or curtain rings that are attached to a rod mounted immediately above the window frame. To fit the different sizes of windows, curtains come in many different lengths and also different methods to hang them up and tie back the panels. Some common ways include cascading, right or left tie back, and puddling the panel on the floor. Often, curtains are installed with sheers, featherweight window coverings. When the weather is warm but you need some light to enter your room, you can use the sheers; and when it's cold and you want increased privacy, you simply use both the sheers and the curtains.
Shades
Shades are fabric cut to a window frame's shape that is pulled up and down by a string through a roll-up sprocket system or a pulley-type mechanism. They are also a popular type of window treatment because just like curtains, they allow you to regulate light, and offer many elegant aesthetic options. There are many different styles and materials of shades: roller, Roman, solar, pleated, cellular (translucent), balloon, and more.
Valances
These are treatments for the top part of the window frame used with curtains, drapes, or shades. They enhance the appeal of the main window treatment used and at the same time conceal the hardware used to mount the window covering. They are swaddles of fabric hung around the top of a window frame that could be arched, pleated, flat or gathered, shaped or straight, and installed on poles, boards, or rods.
When used on its own, a valance is a great way to pull together the look of a casual space. When it is hung with drapes, curtains, shades, blinds or other types of window treatments, it adds pattern, texture, color, and a more formal appeal to areas like dining rooms and bedrooms.
Which Window Treatment is Best for You?
Although I only mentioned those window treatments that would be fairly simple to sew up with your favorite fabrics, don't forget that installing treatments with hard materials like wood is totally doable if you don't mind a few tools and a little bit of elbow grease.
Choosing a window treatment is all about your style, budget and personal preference. Here are some additional resources to move you in the right direction.
Resources
My biggest piece of advice is don't be afraid to try. With a little practice, patience and proper measuring, fabric window treatments are easy to make!

Hello! Are you new here?

Do you want to learn more about sewing? If so, be sure to sign up for our newsletter HERE and never miss a stitch! Daily Sewing Tips, Everyday Projects and Fantastic Inspiration delivered straight to your mailbox!

Bonus– free download with newsletter sign up.

Feel free to connect with me on Facebook, Pinterest, or Instagram.  I look forward to getting to know you and stitching up a storm together!