Easter is right around the corner and I have an easy, yet totally adorable, free bunny pattern for you! This floppy-eared fellow will hop straight into the heart of your kiddos, and be a beloved friend for life.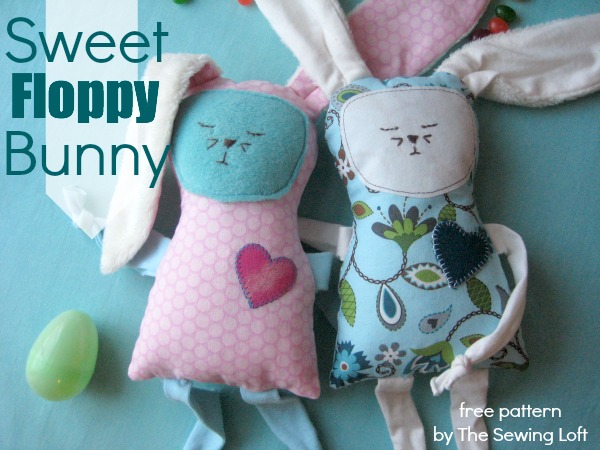 This project is for all levels.
Skill Level- 1 Button
Supplies:
1 fat quarter of printed cotton fabric
fleece scrap 9″ x 7″
felt scrap 6″ square
knit scrap 6″ x 10″
embroidery thread
polyfil
*Small piece of double-sided fusible is optional.
Tools:
sewing machine
small embroidery hoop
ruler
Basic Instructions:
Cut out the fabric as directed on the pattern. Please remember that cutting counts on the smaller pieces. They will be appliquéd directly to the bunny.
Place the face 1 ¼" below the top edge of the body.  Be sure to center from side to side and pin in place. All around machine straight stitch.  *Be sure to use small stitches per inch here. This will help you achieve a nice smooth curve along the pattern piece.
Position the heart in place on the body. *Note if using fusible, iron in place according to package instructions.  Set machine to Blanket Stitch, reduce length and width slightly and stitch all around the heart shape. (This stitch is found under

decorative stitches

.) Stitch all around the heart shape.
Stack the tail pieces and attach them to the bottom back of the body.
Position bunny face in the embroidery hoop.  With embroidery thread and needle use small simple back stitches to create the face details.  If needed, draw guidelines with a heat-erasing pen.
Match the ears, wrong sides together and straight stitch all around. Clip and turn the ears right side out. Lightly press. Be sure to pull out the points of ears with a pin if needed.  Fold ears in half and with a straight stitch, stitch down the center of ear starting at the bottom for 1".
To create the arms and legs; fold your knit fabric strip (long side to long side) in half. Tie a knot close to the end. Repeat to all 4 limbs.
Position and pin ears and limbs in place.  Be sure to turn towards the body of the bunny. Stitch the legs with ¼" seam allowance to the bottom face of the bunny. Sandwich the front and back body of the bunny with right sides together; pin to keep in place.  Straight stitch all around. 
Clip all curves and corners.  Turn bunny right side out, lightly press and fill with stuffing.

Slip stitch

the opening closed with needle and thread.
*This blog post has been converted to an optional PDF that's optimized for printing and ad-free. Find more here. The blog post is totally free to read, print, and sew! The PDF tutorial & download for $2 is totally optional.
How cute is that!  Need a few ideas on what to do with your Floppy Bunny Pattern? How about swapping out that chocolate bunny for a stuffed one? Or make your bunny out of velveteen and pair it with a copy of The Velveteen Rabbit for a gift that leaves a lasting impression.  This would be great for those trying to cut back on candy.
Free Bunny Pattern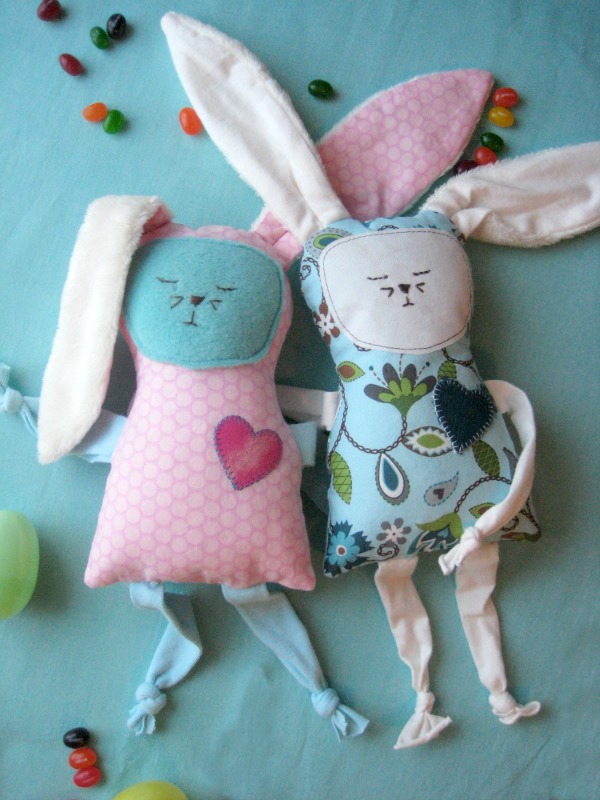 What ideas do you have for using the adorable free bunny pattern for Easter or any other gift-giving event? We'd love to hear them – share in the comments below! If you make a bunny of your own, post a photo in The Sewing Loft Community Flickr pool so we can all see your gorgeous work!