A few weeks ago I shared my Seam Ripper sewing printables. It is part of a larger collection of printable sewing art that I think would be super fun hanging in my studio space. Today's installment is all about the value of handmade.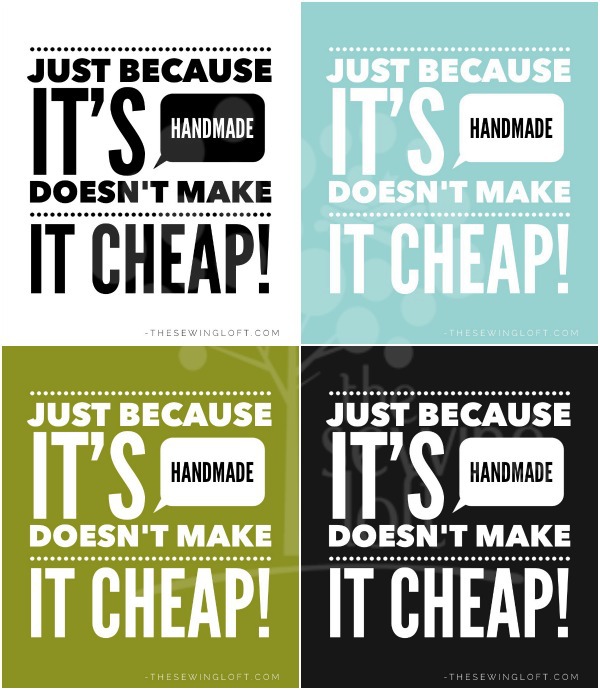 You know the drill, we all spend countless hours stitching our hearts out to create each project but have you ever put a real value to your work? If you have, you will agree with today's image 200%. Truth be told we make because we love the craft, the act of creating. Molli Sparkles wrote an interesting article on placing a value on your quilts. It is truly eye-opening and well worth the read.
So, even if we only valued our time and skill set at a minimum wage, I think we can all agree that this graphic is crazy true!
Before you hit the download button, I kindly ask that you consider sharing on Pinterest or with a friend. This way, we can keep the good sewing karma flowing!
A few printing tips-
Load the file onto a usb/flash drive and head to your local printing or photo place.
Print on card stock or photo paper.
Image is sized and centered to fit on 8 1/2″ x 11″ paper. You are welcome to reduce the size with your computer.
Images will print free of main watermark.
Please remember, these printables are for Personal Use Only, not for distribution or can not be used in any way monetary purposes.

Stay tuned more free sewing printables are on the way.

Hello! Are you new to The Sewing Loft?

If so, I'm glad you stopped by and hope that something has inspired you to keep your needle moving!  Don't miss a single project and subscribe via email HERE! Bonus- free embroidery pattern with newsletter sign up. Another great way to connect with me is via Facebook, Pinterest, Twitter, Google+ or Follow my blog with Bloglovin.  I'm looking forward to getting to know you and creating together!