In just a few short weeks, I will be stitching with today's special guest in Salt Lake City at The Sewing Summit.  I just love that she is sharing a fun tool that is tucked away in most kitchen drawers- freezer paper!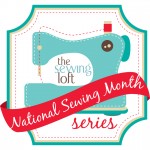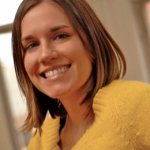 Hi, I'm Lindsay Conner, an editor, writer and crafter based in Indianapolis. I've been crafting for as long as I can remember. As a kid, I saved my dollar bills for trips with my mom to Jo-Ann Fabrics, where I'd find new floss for friendship bracelets or mini cross-stitch kits.
I started sewing stuffed toys and custom creations for friends and family, some from patterns and others from scratch. My love shifted to designing modern quilts, accessories and apparel. By day, I work as a writer, editor and crafter. In my free time, I love to travel with my husband Matt and spend quality time with our loveable cats, Murph and Chloe.
Freezer Paper Patterns
Freezer paper: I've never used it once for cooking (although it is sold in most grocery stores), but I use it all the time for sewing. In fact, it's one of my favorite little sewing tools, and I'm excited to visit today and share what I've learned!
What is freezer paper? Think of wax paper that's only coated on one side. When you iron freezer paper to fabric, it temporarily sticks, which is why it's great for making stencils or patterns for sewing and quilting.
The brown tissue paper that many patterns come printed on is not very durable. Transferring a pattern to freezer paper before cutting out is so helpful!
Roll out freezer paper to completely cover your printed sewing pattern. With the shiny side of the freezer paper facing down, use a pencil and ruler to trace the outline of your pattern on the freezer paper. Drawing on the matte (non-shiny) side, you will be able to faintly see the pattern lines through the freezer paper.
For tips on running a handmade business and even more fun tutorials from Lindsay, be sure to stop her blog Craft Buds.  You will not be disappointed!
On tap for tomorrow is no stranger to sewing tutorials- Caroline is stopping by from Sew Can She.