By now I think it's pretty clear that I enjoy making pillows, they are easy to make projects and can be finished in one sitting.  So, when Amy from Amy's Creative Side asked me to take part in the Pillow Collective, I was all in.
Plus, since the girls have been home from school due to snow, I have been totally distracted.  I found myself checking out and sketching our newly rescued French Bulldog, Chewie.  You see, even though only 1″ of "white gold" fell in this part of the world, it all but shut us down.  Clearly, the south is not snow friendly!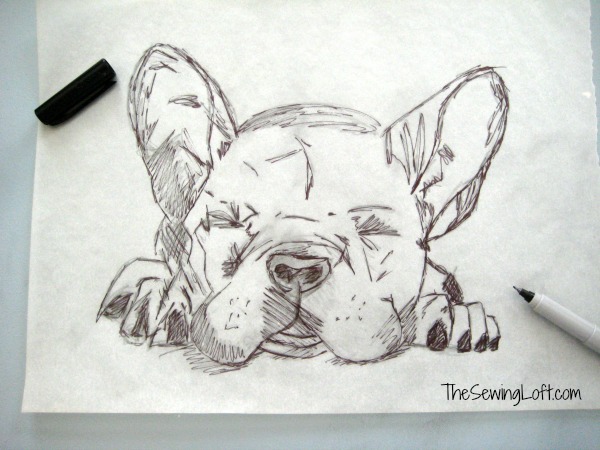 Here's a quick picture of my scribbles for the day.  The trick was going to be turning it into something stitched. (insert free motion sewing)  For some reason, I was super intimated about this but after asking around, I just decided to dive right in!  Now, I think I'm hooked!
French Bulldog Pillow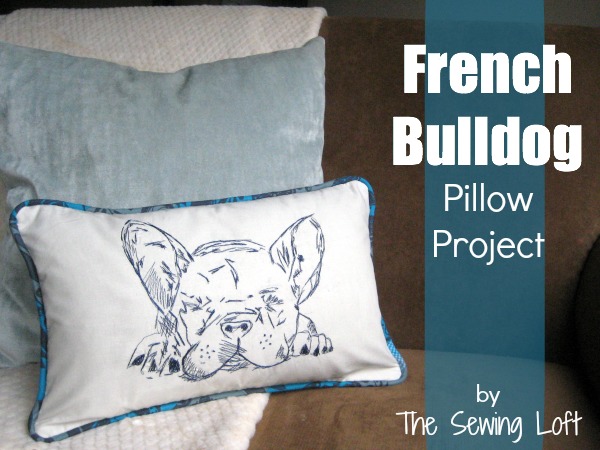 This project is for all levels.
Skill Level- 1 1/2 Buttons

Materials:
Fabric to cover pillow (I raided my stash)
Tools:
Sewing Machine
Free Motion Open Toe Foot or Free Motion Foot
Iron/Ironing Board
Basic sewing supplies
Basic Instructions:
Trace your design onto water-soluble stabilizer with a sharpie marker and position on the front of your fabric.  I secured in place with washi tape.  (

Yet another great way to use with sewing!

)
Switch out your standard sewing foot for your free motion open toe foot. (Foot "O" for my Babylock.) Depending on the make and model of your machine, you will need to adjust/drop your feed-dogs.  My machine has a special button for free motion stitching so be sure to refer to your manual.
Then let the games begin.  I suggest starting slow with a small sample 1st before moving on to your project.

Here was my test piece

.  Stitch slow and steady, moving your fabric as needed.  Don't worry, take your time and you will find a rhythm.
Trim your loose threads or any long tails and dip/wash your fabric as per stabilizer instructions. Set aside to dry.
Pick your pillow construction, add piping and insert your form.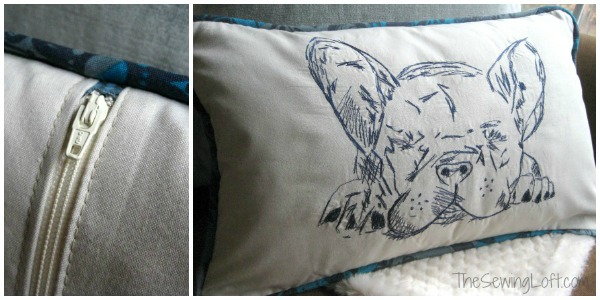 This type of pillow can be made with any design that comes to mind.  From doodles to clip art let your imagination run free!
Some additional points worth mention about free motion stitching:
Quilting gloves would come in handy for this type of sewing. They will give you a better grip on the fabric and prevent any oils from transferring onto your project.
Practice, Practice, Practice
Work in sections and take breaks to look at the design on a whole.  You may want to add more or wish you didn't add those last stitches.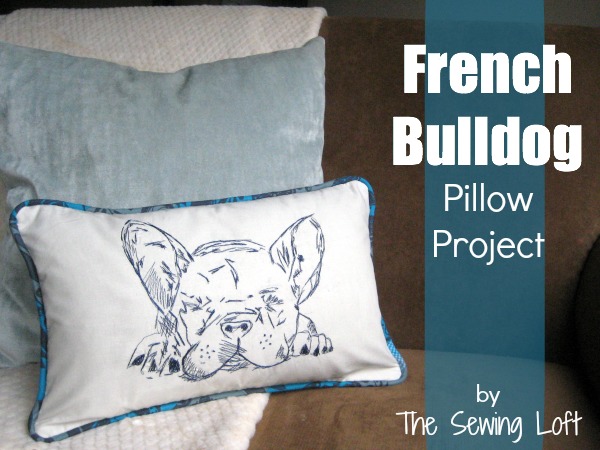 I hope you enjoyed my French Bulldog design.  Be sure to stop by and check out the rest of the amazing pillows shared during the Pillow Collective this week.

ps- Interested in learning more about free motion stitching? Leave me comment and I can share more than just my French Bulldog embroidery.
Hello! Are you new to The Sewing Loft?

If so, I'm glad you stopped by and hope that something has inspired you to keep your needle moving!  Don't miss a single project and subscribe via email HERE! Bonus- free embroidery pattern with newsletter sign up.

Another great way to connect with me is via Facebook, Pinterest, Twitter, Google+ or Follow my blog with Bloglovin.  I'm looking forward to getting to know you and creating together!