Before we get started with today's project, I wanted to say thank you to Plaid Crafts and the Martha Stewart team for sending me a box-load of their new product line: Martha Stewart Decoupage.   The formulas come in a variety of colors, finishes and can be used on all surfaces. (i.e. glass, wood, fabric, paper, metal).  Wait, what?  Did I just say fabric?? Yes, I did indeed.  That's why I was so interested in the product. To be upfront, I never really thought that decoupage and fabric went together but these Halloween Treat Tote bags but the product to the test.
Halloween Treat Tote Bags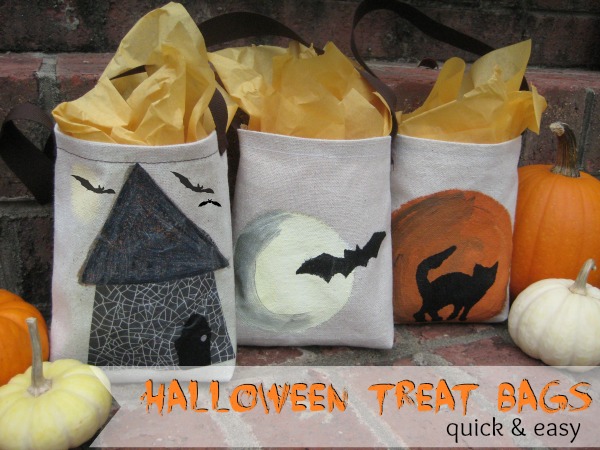 This project is for all levels.
Skill Level- 1 Button

Materials: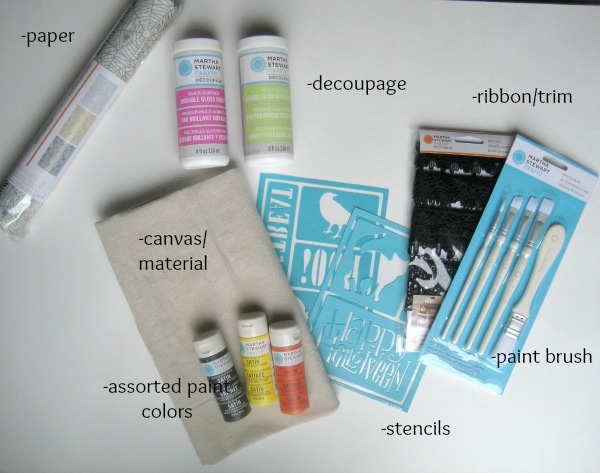 Prep Work:
Cut canvas 7″ wide x 17″ long for goodie bag.  If making several bags it is best to cut them all out now.
Create your design on the front with Martha Stewart Adhesive Stencils and Martha Stewart Crafts Paints.  To achieve my final outlook, I layered each paint color and even played with blending. *Tip:  Trace a glass to create a smooth circle.
To create the house, I cut the paper to shape and applied it with the multi surface decoupage as per instructions on container. (It was super easy!)
Cut ribbon 14″ long for handle.
Bag Assembly:
Fold over 1/2″ of top edge towards wrong and single need top stitch; repeat to other side.
Fold bag lengthwise; right sides together and straight stitch along each side.
Miter each corner by matching side seam to bottom seam.  This will form a triangle.  Measure 3/4″ from the point and straight stitch. Clip excess fabric away and repeat to opposite side. Turn bag right side out.
Create handle with ribbon by turning under each raw edge and machine stitch in place at side seam.  Consider stitching two rows for reinforcement.
Fill with candy and get set to BOO your neighbors!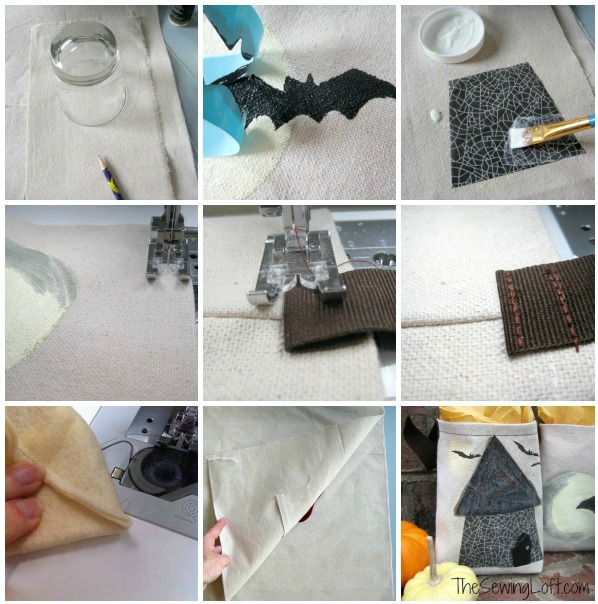 What do you think? Cute right! Want to create your own? Well, all Martha Stewart Decoupage products are available at a Michael's Store near you!  Remember, the decoupage can be used on any surface such as glass, fabric, paper, metal and wood to create a lustrous finish.  My favorite is the glow in the dark.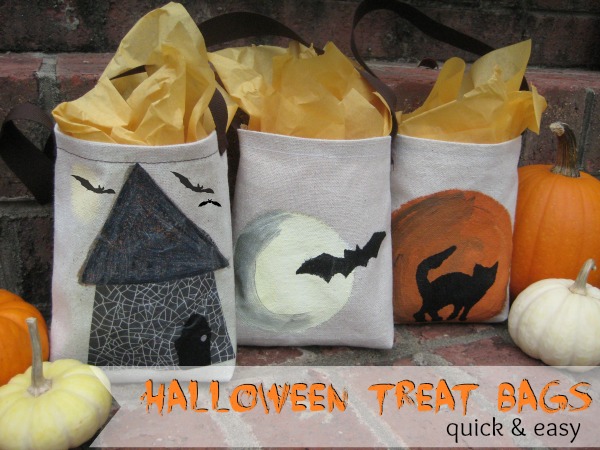 Be sure to check out Plaid's Facebook Page and Pinterest Boards for Halloween inspired ideas from fellow crafters.

*Again, special thanks to Plaid Crafts and the Martha Stewart Team for supplying the materials used in this sponsored post.
Hello! Are you new to The Sewing Loft?

If so, I'm glad you stopped by and hope that something has inspired you to keep your needle moving!  Don't miss a single project and subscribe via email HERE! Bonus- free embroidery pattern with newsletter sign up.

Another great way to connect with me is via Facebook, Pinterest, Twitter , Google + or Follow my blog with Bloglovin.  I'm looking forward to getting to know you and creating together!