After getting about half way done with the hand embroidery on today's work in progress, I needed to set it aside and complete a few other projects with deadlines. (I'm sure you've been there!) Luckily, I planned ahead and brought it with me on my trip.  I just knew there would be some down time and I was able to finish it on the plane ride to quilt market.
Dangerous With Scissors Hand Embroidery WIP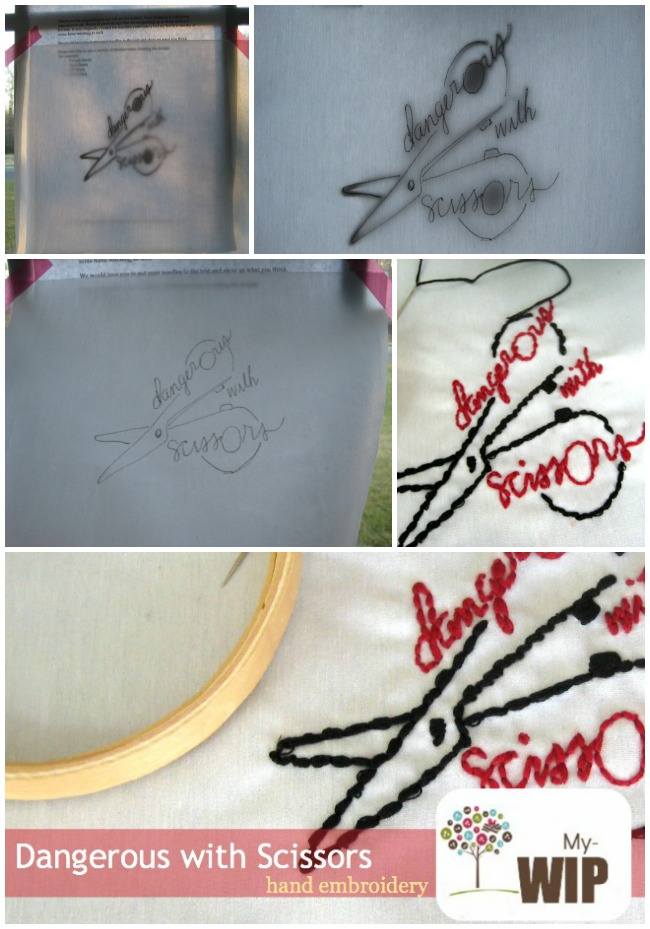 To transfer the design to fabric, I taped the embroidery template to a window and traced the design directly onto my fabric with pencil. Using just a simple backstitch, I was able to create this design in a snap. I love how quickly it came together.  The bonus, is that the project is travel friendly and requires just a few basic supplies.  (Just an embroidery hoop, 2 thread colors and needle.)
By the way, if you're new to our sewing circle, the Dangerous with Scissors design is formatted for both machine and hand embroidery stitching.  I like to use the design to create fun projects from time to time. Check out our Flickr group for more inspiration on how to use the design.  Plus, here is an easy pattern for a zipper bag using the design.
Stay tuned and I'll show you what I created with this hand embroidery version of the Dangerous with Scissors design early next week.