Summer is winding down and the kids will be back to school in a flash.  To help send them off in style I thought it would be fun to make a quick book cover for a few of their composition books.  (Or as I recently found out – "Cow"- books)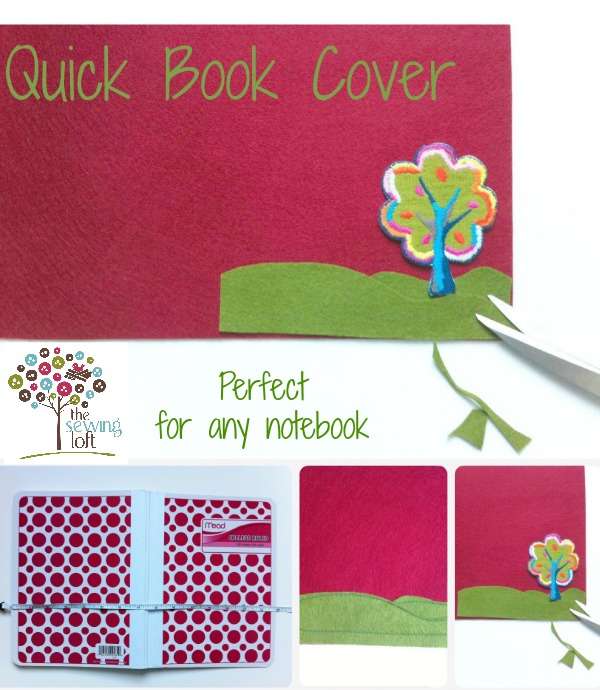 This project is for all levels.
Skill Level- 1 Button
Materials:
2 pieces of 12″ x 18″ felt
notebook
fun trims
**Since I know that many of you like to print out a hard copy of the article to use as a reference while sewing, I have created an optional PDF that's optimized for printing and ad-free. Find more here. The blog post and video are totally free to read, print, and sew! The PDF tutorial & download for $2 is totally optional.
Basic Instructions:
Measure your notebook height and then open it up and measure from end to end.  And 1/2″ for seam allowance to both numbers.  So, my notebook measures 9 3/4″ h x 15″ w and my cut piece of felt is 10 1/4″ h x 15 1/2″ wide.  This gives me a small 1/4″ seam allowance all around.
To create the side pockets for the cover to slip into, I cut 2 pieces of felt 10 1/4″ h x 4″ w.
Decorate the front of your cover as you wish with fun trims or maybe even ruffles. I cut up a few bits of felt and layered on an old appliqué.
Then pin the side pockets in place and stitch all around the 4 sides.
Slip your notebook in place and you are done!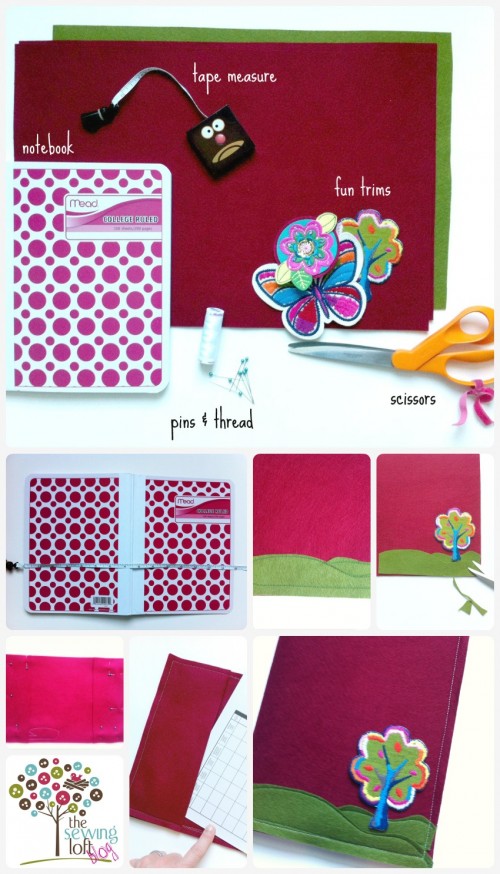 Additional ideas for your book cover:
Add a ribbon bookmark
Cut the edges of felt with pinking shears
Add a closure