To avoid the "I'm Bored" blues during the summer, I like to have a few fun things in my bag of tricks for the kiddos!
Stitch cards are my solution!  They are easy to pack, low cost and kid friendly.
Stitch Cards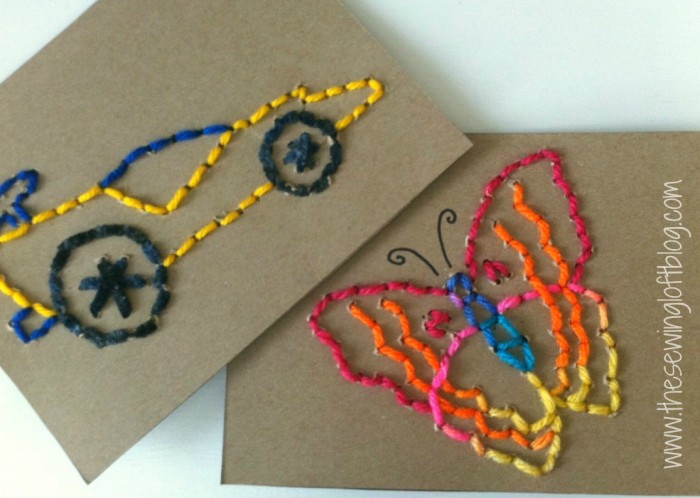 This project is for all levels.
Skill Level- 1 Button
Materials:
Tools:
embroidery needle
scissors
hammer & nail
Basic Instructions:
Okay, so it may seem funny to see Hammer & Nail on the "tool" list but I promise, it is super easy!
After you have polished off your cereal, open up the box and cut out cardboard to size.  I suggest 5″ x 7″.  It is easy to fill and can be placed in a frame to give to Grandma.
Then draw a simple design on the card- or better yet, enlist the little ones.
With hammer and nail, punch holes all along the drawing.  I suggest about every 1/4″ to 3/8″.  Think of connect the dots!  *Tip- have something underneath it to protect your work surface.  I just used an old cardboard box.
Now, pull out your colored yarn and thread up your embroidery needle. (My girls are using a plastic one.  It has a large eye for them to thread.)
Tie a knot at the end and start stitching from the back of the card.
These are sure to keep the girls busy on the long ride back to NJ this summer!
Do you have any fun summer craft ideas?  If so, please share.  The car ride to NJ is very long and the girls only get 3 free "Are we there yet?" passes!

Hello! Are you new to The Sewing Loft?

If so, I'm glad you stopped by and hope that something has inspired you to keep your needle moving!  Don't miss a single project and subscribe via email HERE! Bonus- free embroidery pattern with sign up.

Another great way to connect with me is via Facebook, Pinterest, Twitter and Google +.  I'm looking forward to getting to know you and creating together!