Guest Post #3
Well, the scrap basket is full again and that means it is time to clean house.  So, I thought I would create something for the tree.
For anyone who sews this "quilt as you go" technique will be super simple.  And you will have a bunch made in a jiffy!
Quilted Trees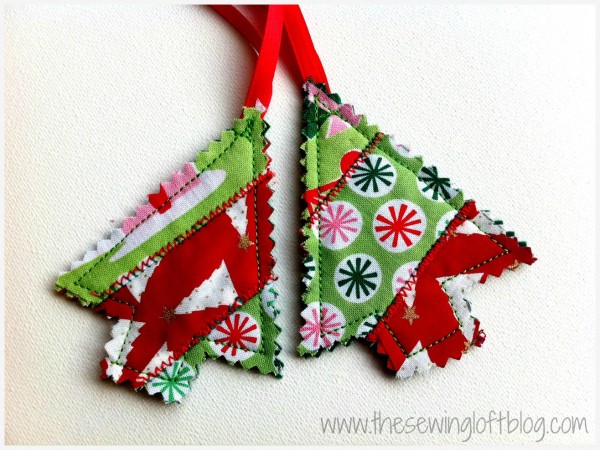 This project is for sewers of all levels.
Skill Level- 1  Button
Materials:
fabric scraps
felt square
10″ ribbon
* For this project it is best to use woven scraps. And if you press them ahead of time, it will make things easier.
**Since I know that many of you like to print out a hard copy of the article to use as a reference while sewing, I have created an optional PDF that's optimized for printing and ad-free. Find more here. The blog post and video are totally free to read, print, and sew! The PDF tutorial & download for $2 is totally optional.
Basic Instructions:
Your felt square will be your backer. Place your 1st scrap face up. (the wrong side down.) Line up your second scrap face down. The two scraps will be right sides together.
Straight stitch in place. Turn the 2nd piece over and flat. (I used my fingers for "pressing". ) Repeat the process until you have a large enough patchwork for your shape. This is now your mini quilt.
If you would like to add a decorative stitch to your mini quilt, now is the time.  I added a few for photos. 
Trace and cut out your shape. (I used pinking sheers.)
Fold your ribbon in half and insert at the top edge between the backer and scraps.
Straight stitch all around to keep ribbon and fabric in place.

These are really a great way to use up scraps and create something fun for the holidays.
ps- they look really cute on packages.
Click here for more of the No Ugly Ornaments Challenge. A new ornament will be posted every weekday during the month of November.
Now, if you love making Christmas Ornaments, you will want to click here and see my Mega Christmas Ornament round-up. There you will find tons of free ornaments to celebrate the season and make with your family.