Let's face it, these ruffle totes are all over the place right now.  And honestly, my girls love them!! (secretly, I do too.)

My tote bag is on the small side so, I am going to use it as a gift bag when finished. I just dipped into the fabric stash and created this super cute tote bag in a snap. Really, it is super simple. It took me less that 1/2hr from start to finish. That includes gathering up my supplies and setting up the ironing board!  If you can stitch a straight line, this project is calling you!!
Let's not stop here. I have these drawstring bags with advertising on them that would make the perfect summer bag. (I'm thinking towels, sunscreen and bike riding!)

Ruffle Tote Bag Makeover
This project is for sewers of all levels.
Skill Level- 1 Button
Materials:
Tote bag
Strips of fabric (I used two patterns)
Basic Instructions-
Determine what direction you would like your ruffles to go in and how many ruffles you would like. I am creating mine vertical and will be using 2 different ruffles.   Since my tote bag is small (11″ tall x 8″ wide) you may need to adjust your ruffle sizing. (note- if I did it again, I would do them smaller.)
Rip your larger ruffle  4 1/2″ wide x 22″ long. Rip your smaller ruffle 2 1/2″ wide x 21″ long. (Ruffle length is roughly double the length of the bag.)
Fold under about 1/2″ the top edge of your ruffle strips for a clean edge, pin in place at top and bottom.  **Note- it is important to pin at the bottom. At first I did not and my ruffle curved towards the center. I needed to rip out a few stitches, pin in place and restitch.
Using your machine on a standard straight stitch, stitch down the center of the ruffle. As you are stitching with needle in the down position, lift up your presser foot and bunch up fabric into ruffle.  This is very free form, if you are looking for something more uniform, pin your ruffles in place. Just be sure not to stitch through your pins.  😉
When you come to the bottom of your ruffle, turn under about 1/2″ of each ruffle for a clean edge. Be sure to back stitch at top and bottom.
You are finished!! I added a

zipper flower pin

for a fun embellishment.
My older daughter loves to hang with me while I sew and tonight was no different.  During the process of making this bag she brought me this generic nylon drawstring bag.  Everyone at school received it as a gift to use as their gym bag.  She is not a fan of having what the "masses" have so, she asked me to "pretty" it up.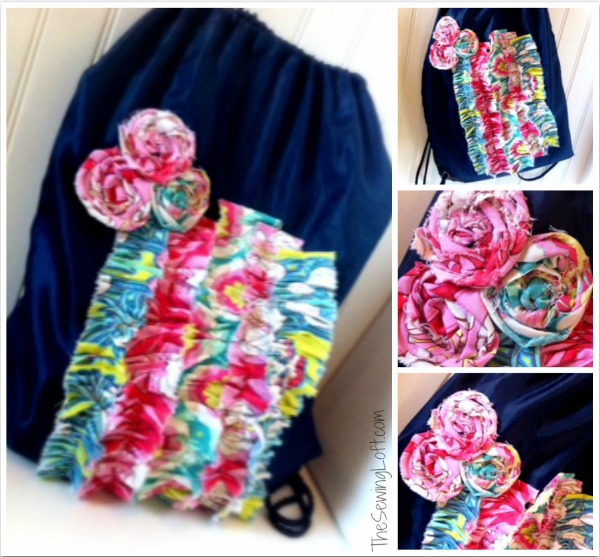 These bags could make the perfect gift for so many on your list. Think teachers, coaches, friend next door…. the list is endless.  Please remember, I so would love to see your creations.  Be sure to share photos on my
facebook
page!

Hello! Are you new to The Sewing Loft?

If so, I'm glad you stopped by and hope that something has inspired you to keep your needle moving!  Don't miss a single project and subscribe via email HERE! Bonus- free embroidery pattern with newsletter sign up.  Another great way to connect with me is via Facebook, Pinterest, Twitter, Google+ or Follow my blog with Bloglovin.  I'm looking forward to getting to know you and creating together!