Now that you know how to "Knock off" your favorite knit skirt, the question is how do you put it together??
No worries, I have you covered!  Like I said, my skirt was super simple.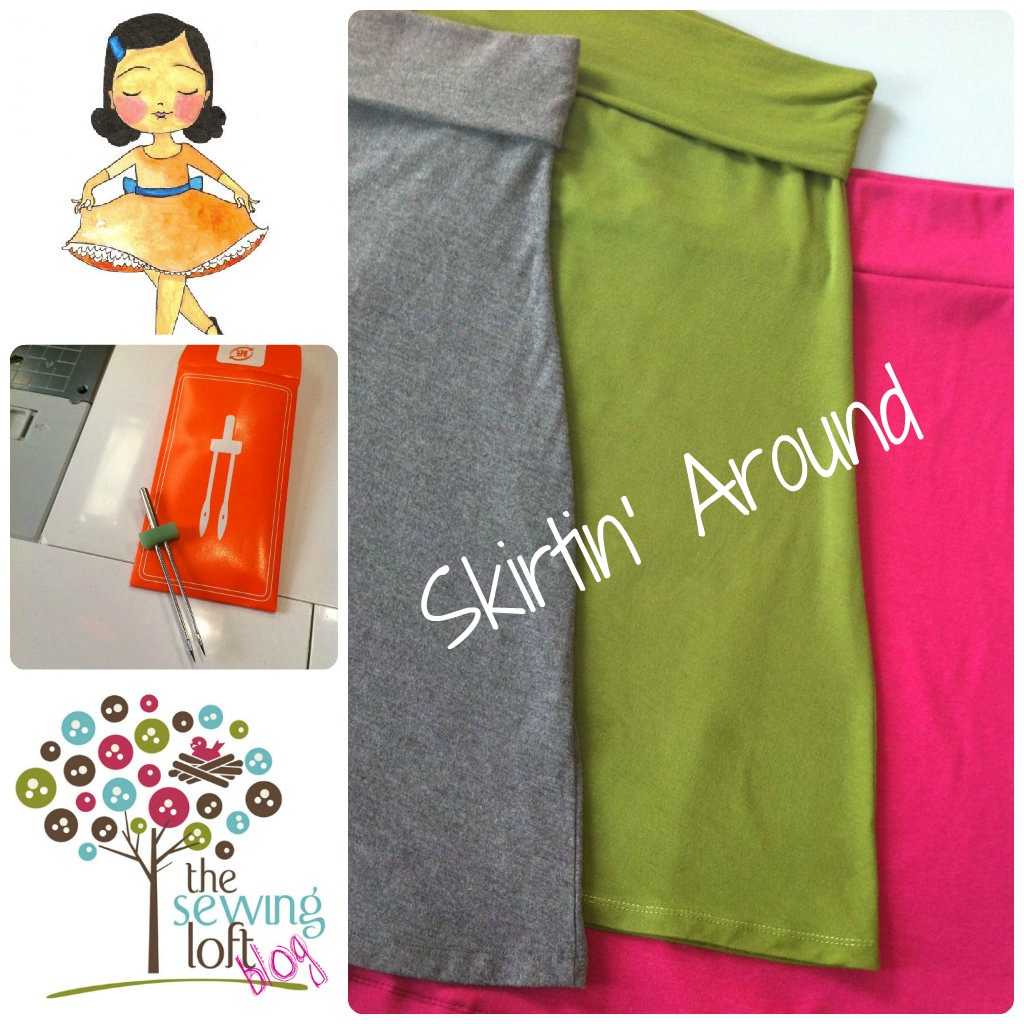 ~Knit fabric
~Front
~Back
&
~Waistband
This project is for all levels.
Skill Level- 1 Button
Materials:
Tools:
Sewing machine (serger or standard)
Scissors
Straight pins
double needle
Basic Instructions:**This how to is focused around using a serger. But do not worry- you can use a standard machine set to a stretch stitch.  Refer to your owner's manual.
To start the process- Pin and cut your pattern.  Remember to line up your grain line.  Cutting the fabric is super important so, please take your time!
To create the waistband: match right sides together; pin and join sides.  *Note that I inserted my label at the side just for kicks!
Match the front and back of skirt with right sides together; stitch side seams.
Fold your waistband in half wrong sides together; match side seams and pin to right side of skirt front & back.  Be sure to pin at each side and evenly distribute any extra fullness.  The waistband should be slightly stretched when stitching to match the skirt.
Hem time- I give my hem a quick spin around the machine for a clean finish. (not needed but a nice touch)  Fold up and press your seam allowance for hem.
Now, the fun part…. You know that envelope with the double needle that you have NEVER used?  Well, grab it and let's go!  Please check your owner's manual for double needle set up.  (if you have issues…. leave me a comment.  I will create a post on how to use.  I LOVE it!!) Quick tip- instead of purchasing an extra spool of thread for the double needle set up, I wound an extra bobbin.  Then stitch away.  It is that simple!
Now, I have 3 skirts based off my original and I think I will make a long one next.  I just love them.
**Remember, I love seeing your finished projects.  Be sure to share photos on the 
Facebook
 wall!

Hello! Are you new to The Sewing Loft?

If so, I'm glad you stopped by and hope that something has inspired you to keep your needle moving!  Don't miss a single project and subscribe via email HERE! Bonus- free download with newsletter sign up.

Another great way to connect with me is via Facebook, Pinterest, Twitter, Google + or Follow my blog with Bloglovin.  I'm looking forward to getting to know you and creating together!
**A special Thank You to Slovly.  They make the most amazing prints, greeting cards and paper dolls. Please visit and let them know how much I adore them!!  psst- they also have a blog…. love it!!