Spring flowers are starting to bloom and I am in the mood to make some "girlie garnish"! (aka Ponytail Holders) So, today's craft is sweet and simple.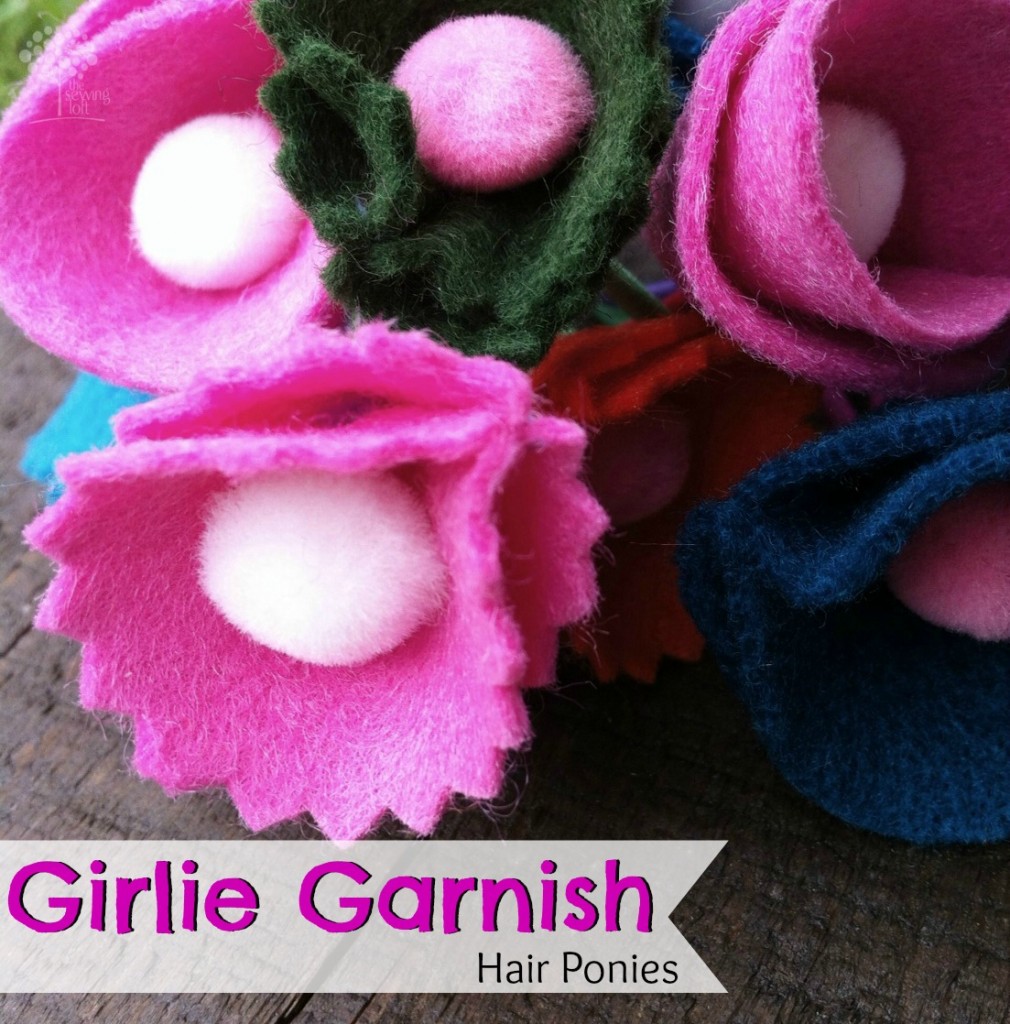 This project is for all levels.
Skill Level- 1 Button

MY LATEST VIDEOS
Materials:
hair elastic
felt
pom pom
Tools:
Basic Instructions:
Cut your felt into a circle with a 2 1/4″ circumference.  (You can see, I cut a few!)
Fold circle in half and stitch down the center. Be sure to back stitch at start and stop.
To attach your pony: fold pony in half and place about 3/16″ from the folded edge.  Machine stitch in place.  Go back and forth a few times to secure in place.  Tip- Keep the pony tight together.
This step is optional.  If you have pinking sheers and would like a detailed edge, now is the time to cut around the outside of circle.
Trim the short edge of pony.
Fold circle into quarters and trim the point off the center.  Open back up; slip pony through the hole.
Turn up the felt and over towards other side.  This will clean finish the raw edge of pony and hide all of your stitches.
Shape flower center with your fingers; add a dab of clear drying glue to the center and drop in pom pom.   Let dry and you are all set.
These pretty ponytail holders are the perfect way to add a little be of girlie garnish to your day!
[youtube http://www.youtube.com/watch?v=N-ivLjADGMg&w=480&h=360]
Like the craft but don't have time to create them?  No worries, I made a few extra and added them to the
shop
. **Update- sorry, the hair ponies are all sold out.

Hello! Are you new to The Sewing Loft?

If so, I'm glad you stopped by and hope that something has inspired you to keep your needle moving!  Don't miss a single project and subscribe via email HERE! Bonus- free download with newsletter sign up.  Another great way to connect with me is via Facebook, Pinterest, Google+ or follow on Instagram.  I'm looking forward to getting to know you and creating together!