Some times I am not sure what's the best part of Summer…
Lazy days, visits with friends, fun travel or trips to the mailbox!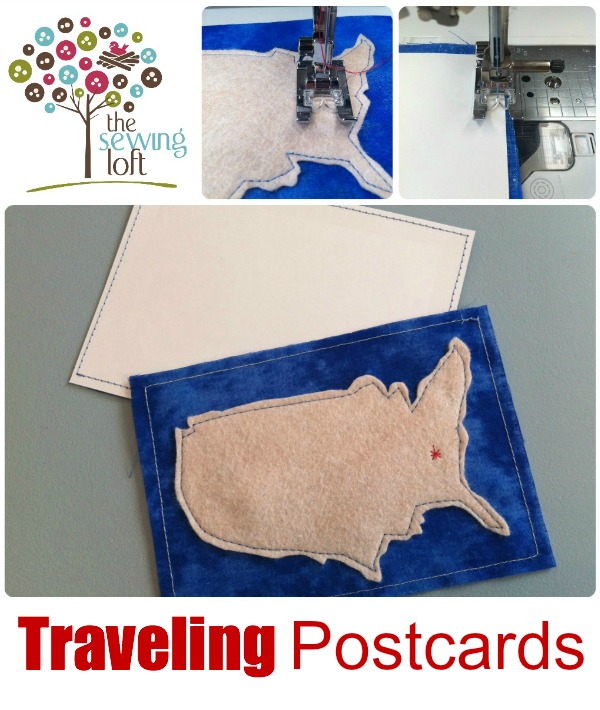 To be fair, my 2nd grader loves to receive mail.  Watching her skip to the mail box each day hoping for something special always makes me smile.  Today's how to is all about adding something fun to those unexpected greetings….
This project is for all levels.

MY LATEST VIDEOS
Skill Level- 1 Button
Mail is pretty restrictive on size so, be sure when making this project you keep within the maximum size measurements of 4 1/4″ x 6″  by 1/4″ thick for a standard postcard.
Materials:
Tools:
Basic Instructions:
Cut your card stock to 4 1/4″ tall x 6″ wide.  Since I like to make a few at a time, I cut a bunch. A rotary cutter will make quick work of this step.   *Remember- size matters here.
Now the fun part! A few of my post cards will be going over seas so, I thought it would be fun to put an image of the USA on them.  I traced my image onto the paper side of freezer paper and ironed the shiny side to my fabric with a low temp setting.  (no steam here)
To create the background on my postcard I cut a piece of fabric slightly larger than my card stock.  Center your image and pin it in place.  With a straight stitch; stitch all around the edge.  To show where we live, I added a fun decorative stitch in a contrast color.
Center your card stock on the wrong side of fabric and all around edge stitch through all layers.  Trim away the excess fabric.  *Tip- Use a piece of double stitch tape or roll out glue to help prevent the fabric from slipping on the card stock.  See video.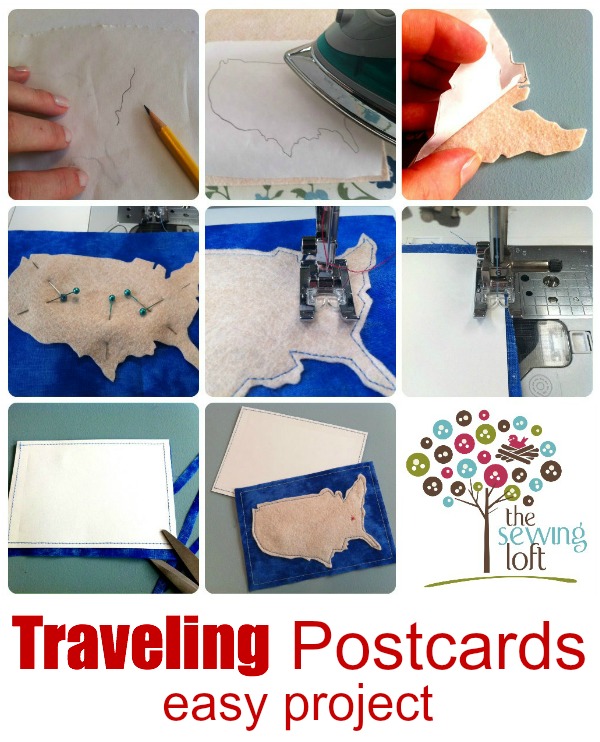 I promise you, even the mailman will get a smile!
Here is a video "how to" from my 
Cool2Craft TV
 feature.  Stop by and join us for the live stream chat and full "Around the World" episode on June 25th.
[youtube http://www.youtube.com/watch?v=COEJEll9e8M&w=480&h=360]

Hello! Are you new to The Sewing Loft?

If so, I'm glad you stopped by and hope that something has inspired you to keep your needle moving!  Don't miss a single project and subscribe via email HERE! Bonus- free embroidery pattern with newsletter sign up.  Another great way to connect with me is via Facebook, Pinterest, Twitter, Google+ or Follow my blog with Bloglovin.  I'm looking forward to getting to know you and creating together!