My kids are notorious for leaving a trail of half filled glasses all around the house.  So, to help solve this problem I am creating a few coffee cozy bands for them to use.  My plan is for them to use one glass all day!  Plus, my scrap basket is jam-packed and needs to be cleaned out!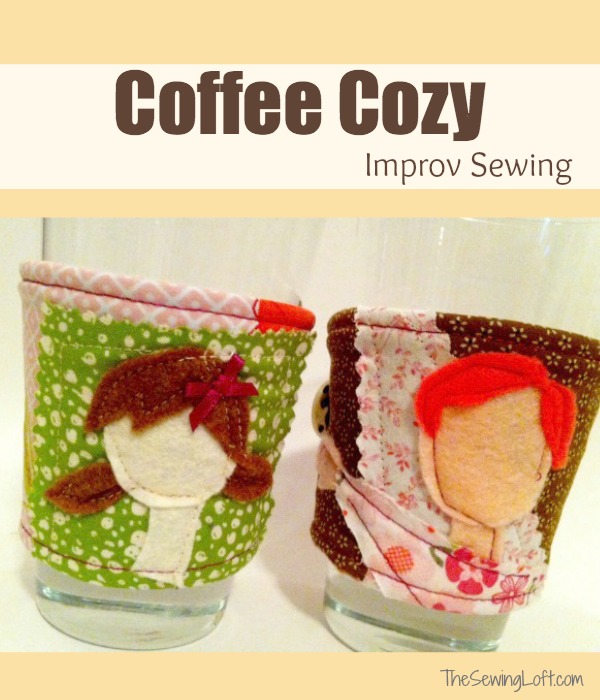 Keepin' It Super Simple!
This project is for sewers of with basic skills.
Skill Level- 1 Button
Materials:
fabric
batting  (side note- I used a piece of fleece, remember clean out time!)
hair pony
button
Tools:
Basic Instructions:
Since these posts are all about "Keepin' it Super Simple", I am not going to reinvent the wheel and create a new pattern.   
House On Hill Road
blog has this easy to follow the pattern.  Click
here
for the direct link.
To be fair, I wanted more room to "play" and get creative on my cozy.  So, I increased the height by 1/4″.  Then I outlined my pattern directly onto the face of my fabric.  This is now my "canvas".
I wanted to create a fun abstract figure.  So, after a quick sketch,  I began cutting and layering everything up until I was happy with the outlook. This is improv sewing at its best!
Then over to the machine to stitch everything in place with a straight stitch.  This is where you should have fun!  Consider using contrast thread or even a decorative stitch.
Then return back to the directions from House On Hill Road and you are all set.
With just a few scraps and a simple sketch, this improv sewing project turned out really cute!
This coffee cozy idea is perfect for a quick gift. Just add a few boxes of flavored tea and you have a super simple yet personalized gift!
Remember, Keep It, Super Simple!!
Hello! Are you new to The Sewing Loft?

If so, I'm glad you stopped by and hope that something has inspired you to keep your needle moving!  Don't miss a single project and subscribe via email HERE! Bonus- free embroidery pattern with newsletter sign up.  Another great way to connect with me is via Facebook, Pinterest, Twitter, Google+ or Follow my blog with Bloglovin.  I'm looking forward to getting to know you and creating together!