Sorry to start off with the Mommy Dearest reference but it was perfect for the post! These easy to make fabric covered hangers are perfect for so many spaces. 
With all this cleaning and putting things away, I realized that my daughters closet is not that pretty.  So, I thought it was time  to add a splash of "girlie garnish" to the space.
Fabric Covered Hangers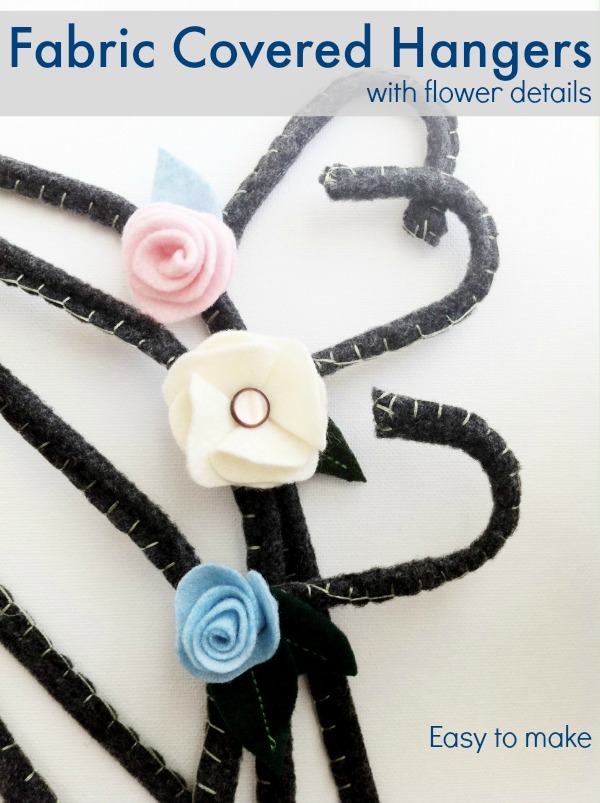 This project is for all levels.
Skill Level- 1 Button
Materials:
old wire hangers
tape
felt or polar fleece
needle & thread
So grab those wire dry cleaner hangers and let's get stitching!
Basic Instructions:
Starting with two wire hangers, tape them together in a couple of places. This is just to keep them stable while you are covering them later.
Then cut a strip of felt 1″ wide by the length of your hanger. *Be sure to measure all along the outside of your hanger and around the curve. Mine measured 42″ but yours might be different.
Starting at the inside edge, wrap the felt around and blanket stitch in place. Continue to pinch and stitch all the way around. Clip end into a point, fold back and stitch the end in place. Bury your knot.
To create flowers, I cut circles from the felt. Then, I cute in a spiral pattern; leaving a round circle as the base.
Starting at the long end of spiral, wrap the strip around a pencil and hot glued in place.  Click here for step by step directions from Dozi Designs.
Attach flower to hanger. You can attach with needle and thread or glue gun. Your choice.
Remember, Keep It Super Simple!!
Not clear about how to create the blanket stitch? No worries, I did a quick video for Cool2Craft TV.
[youtube http://www.youtube.com/watch?v=wmL_4vMeYm4&w=420&h=315]
Happy Crafting!
~Heather
ps- if you are looking for something fun and special  for that little princess in your life, why not join me over at The Patchwork Posse for the Princess Dreams party decor workshop.  Click
here
for more info.
Hello! Are you new to The Sewing Loft?

If so, I'm glad you stopped by and hope that something has inspired you to keep your needle moving!  Don't miss a single project and subscribe via email HERE! Bonus- free embroidery pattern with newsletter sign up.  Another great way to connect with me is via Facebook, Pinterest, Twitter, Google+ or Follow my blog with Bloglovin.  I'm looking forward to getting to know you and creating together!