Keepin' It Super Simple!
I love the soft feel of a soft cozie sweater but what do you do when you outgrow it? Or you spill grape juice on it?
Well, I like to ReClaim them and turn them into softies.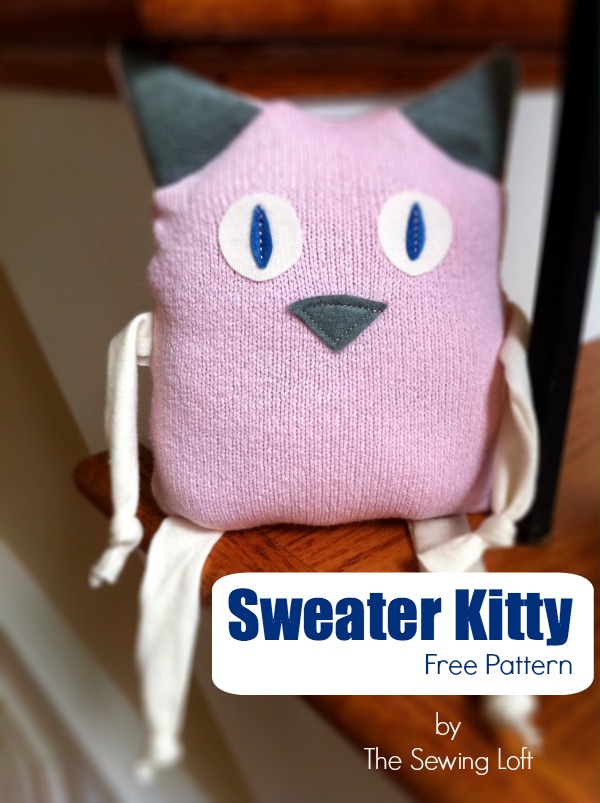 This project is for sewers all levels.
Skill Level- 1 Button
Materials:
Sweater
Tee Shirt
Felt
Double sided fusible
Poly fil
Tools:
Sewing Machine
Needle and Thread
**Since I know that many of you like to print out a hard copy of the article to use as a reference while sewing, I have created an optional PDF that's optimized for printing and ad-free. Find more here. The blog post and video are totally free to read, print, and sew! The PDF tutorial & download for $2 is totally optional.
Pattern:
.
*Note- When working with knits it is best to use a stretch stitch. This will help lock the fabric together and prevent the stitches from popping. Look at your machine manual, most offer this stitch. If you do not have this stitch, no worries. You can zig zag around the seam allowance before turning your body right side out.
.
Basic Instructions:
From sweater; cut 2 bodies & 2 ears. From felt; cut two ears, 1 nose from felt & 2 inner eyes. From tee-shirt; cut 4 strips 6″ long x 2 1/2″ wide. These strips will be the arms and legs.
The eyes and nose will be created from a fabric applique. Click here for the "how to" post. Iron eyes and nose to body. I added all around straight stitch to nose and stitched down the center of the inner eye.
Match the ears, wrong sides together and stitch all around; clip; turn ears out and lightly press. Be sure to pull out the points of ears with a pin if needed.
To create arms and legs; fold your tee-shirt strips in half, then tie a knot close to the end.
To join pieces; pin the ears at the top, arms at the side marking and legs 1/2″ in from corners along bottom edge. Be sure that all parts are on the body and not extending past. Sandwich right sides together with the back side of body. Pin everything in place. *I reduced the arm length 1″ on my Kitty.
Bring to your machine; starting at the bottom edge, straight stitch all around to the other side. Be sure to leave around 2″ open along the bottom edge.
Turn the Kitty right side out and lightly press.
Stuff Kitty with poly fill.
Pin opening together and slip stitch closed with needle and thread.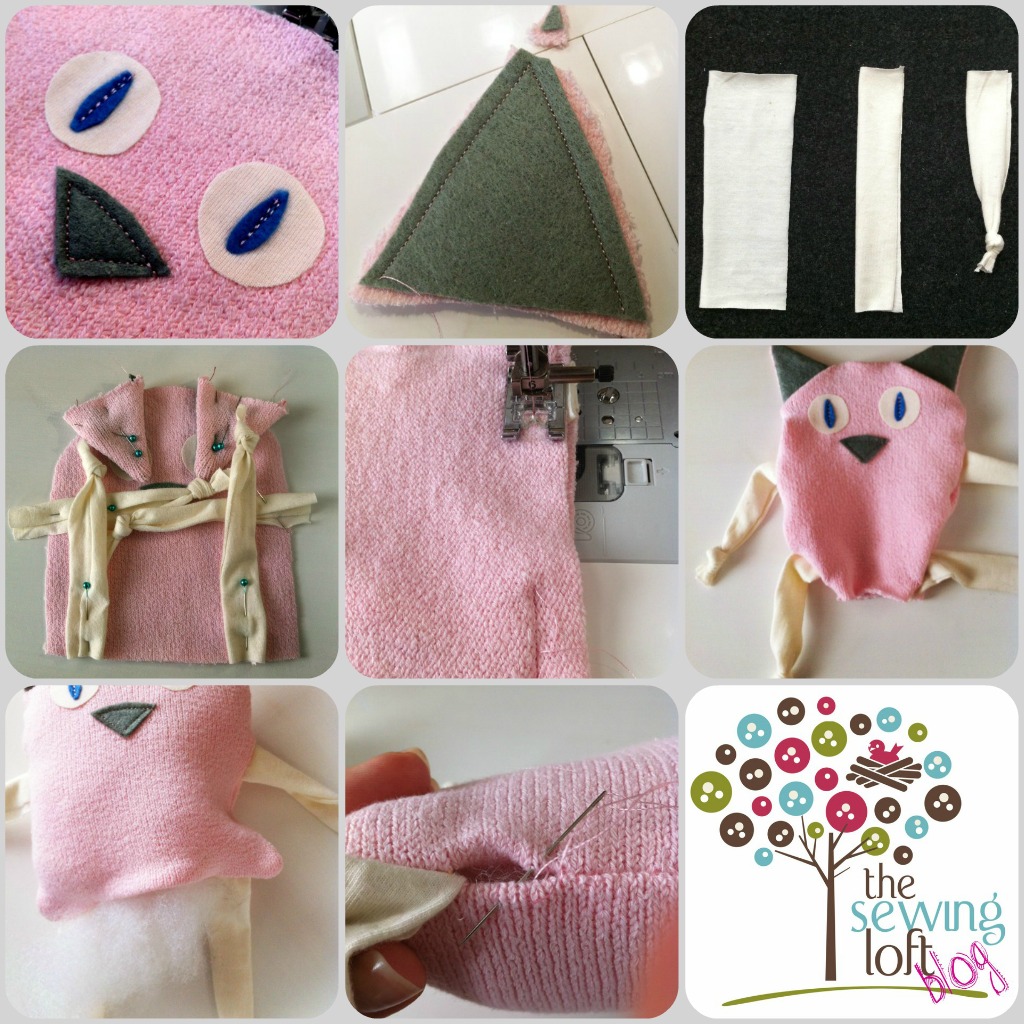 Now, in my materials photo you will see that there is a fun design on the tee-shirt. If yours has something fun, save it. We will use it in another project.
Remember, Keep It Super Simple!!
**Have you made any of my Super Simple Projects or maybe used one of my patterns? If so, than I want to hear from you… Leave me a post below of what you made and I will reach out to you with some fun news..