I like to update my kitchen mat from time to time.  It helps keep things fresh and makes me feel like I have redecorated.  (total fake out!) I originally shared this kitchen mat cover up project during National Serger Month with BabyLock but wanted to remind you that this project is perfect for clearing out smaller fabrics in your stash.
Kitchen Mat Cover Up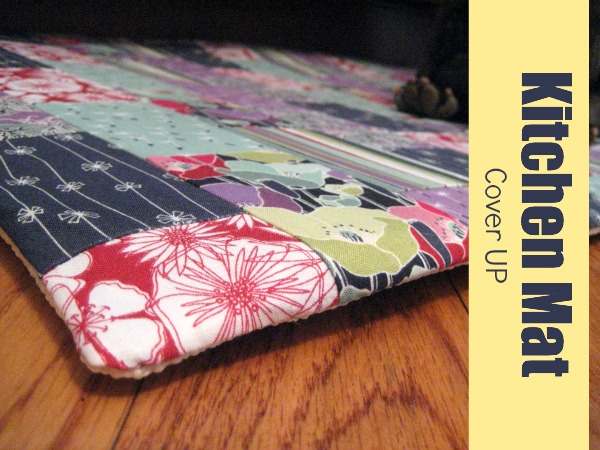 This project is for all levels.
Skill Level- 1 Button
Supplies:
fabric
kitchen mat
1 roll of grip liner
interlining or additional strips of fabric scraps
*Fabric used in project is Meadow from Andover.
Basic Instructions:
Measure your kitchen mat and determine how many rectangles you will need to cover.  My mat measures 21" x 37" and requires 90 rectangles. Cut rectangles 3" x 4.5" in your assorted fabrics.
Create a pattern with your fabrics and start to line them up in rows.  To keep things interesting, I suggest staggering them in a half drop pattern.
Once you have your rows in order, it's time to get stitching.  To make quick work of this process, I used my serger.  Each rectangle was placed right sides together and stitching along the 3″ edge, repeat to create the full vertical row.  Press each seam and repeat for all rows.
Assemble each vertical row together in the same manner.  Sandwich rows right sides together and stitch. Press open and repeat until all rows are connected. 
Trim away overhanging rectangles with a rotary cutter and self-healing mat to meet your final measurement.
Now it's time for the unconventional material…. grab your grip liner and cut it to size.  Two pieces for the length and two pieces for the height.  Pin these strips to the right side of the kitchen mat topper/cover.  They will overlap in each corner.
Since the gripper is rubber, it will not slide through the machine.  You will need to place a 1″ strip of scrap fabric or interlining on top of it.  This will allow your machine to "grab" the materials without getting stuck in place. Stitch all 4 sides.
Turn right side out and slightly press the kitchen mat cover on the fabric side.  **It is extremely important that you DO NOT iron on the gripper.  If you do, it can melt to your iron and you will need to grab your

iron off to clean it

.
This kitchen mat cover up project is an easy way to freshen up your space on a shoestring budget.  So, what did you think of my unconventional material? Have you ever used anything out of the ordinary when sewing? If so, I want to hear about it. Leave me a note in the comments below.

Hello! Are you new to The Sewing Loft?

If so, I'm glad you stopped by and hope that something has inspired you to keep your needle moving!  Don't miss a single project and subscribe via email HERE! Bonus- free embroidery pattern with newsletter sign up.  Another great way to connect with me is via Facebook, Pinterest, Twitter, Google+ or Follow my blog with Bloglovin.  I'm looking forward to getting to know you and creating together!