There is nothing better than being able to sit, sew and complete a project in a day or two. That's why I'm so excited to share this news. I've joined together with an amazing group of 20 designers to bring you the Quick Quilt Pattern Bundle offer.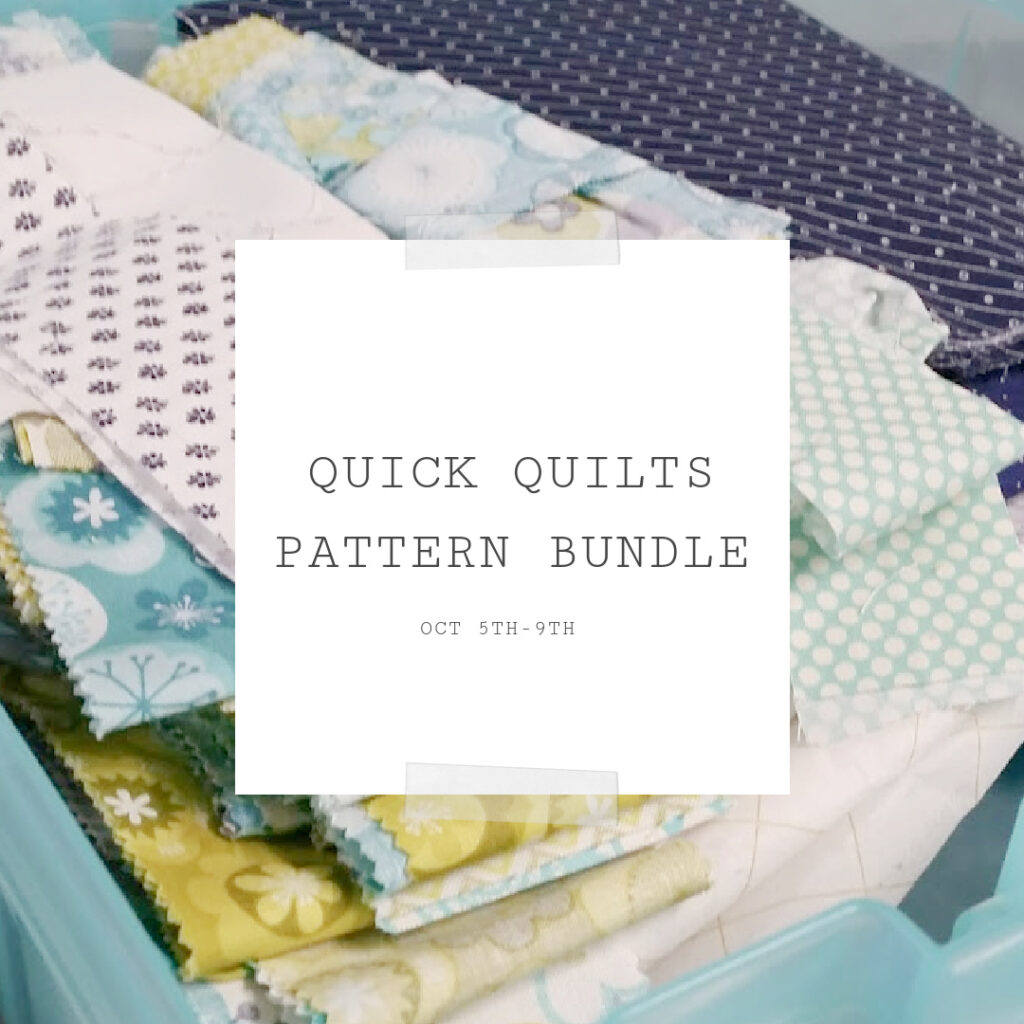 The bundle includes 20 amazing designers and features easy-to-make quick quilt patterns. With the holidays right around the corner, this Quick Quilt Bundle is perfectly timed. The best part… the amazingly low price!
QUICK QUILT PATTERN BUNDLE DETAILS:
This bundle has been specifically curated for all skill levels and includes quilt patterns that can be made from scraps from your fabric bin, pre-cuts, or your favorite yardage. Plus, each one is designed to stitch together quickly. The bundle includes 20 complete patterns in one PDF download for just $19.00. You will receive such an incredible value with this Quick Quilt Pattern Bundle.
A TOTAL VALUE OF MORE THAN $225 IS AVAILABLE AT A ONE-TIME-ONLY LIMITED-TIME PRICE OF $19.00 FOR EVERYTHING.
The Quick Quilt Pattern Bundle is an exclusive offer and is only available for a limited time. So, be sure to grab the patterns while you can and start stitching today! The last day to purchase the bundle is October 9th, 2022. After that, the pattern bundle will be gone for good. With 20 wonderful patterns for just $19.00, I know you won't want to miss out! Let's meet the designers and take a look at each pattern below.
Grove by Laura of Orange Blossom Quilts- This easy-to-make quilt pattern is perfect for highlighting your fabric fabrics! The bonus is that it stitches together fast. Just pick your feature fabrics and get ready to start stitching.
Double Delight by Manon of Mom and Me Quilting Co- This fun pattern is scrap and stash-friendly! You can use your scrap stash, fat quarters, fat eighths, jelly roll strips, or even 1/4 yard cuts of fabric. It's Maker's choice! The pattern includes 3 finished sizes: baby, throw, and double.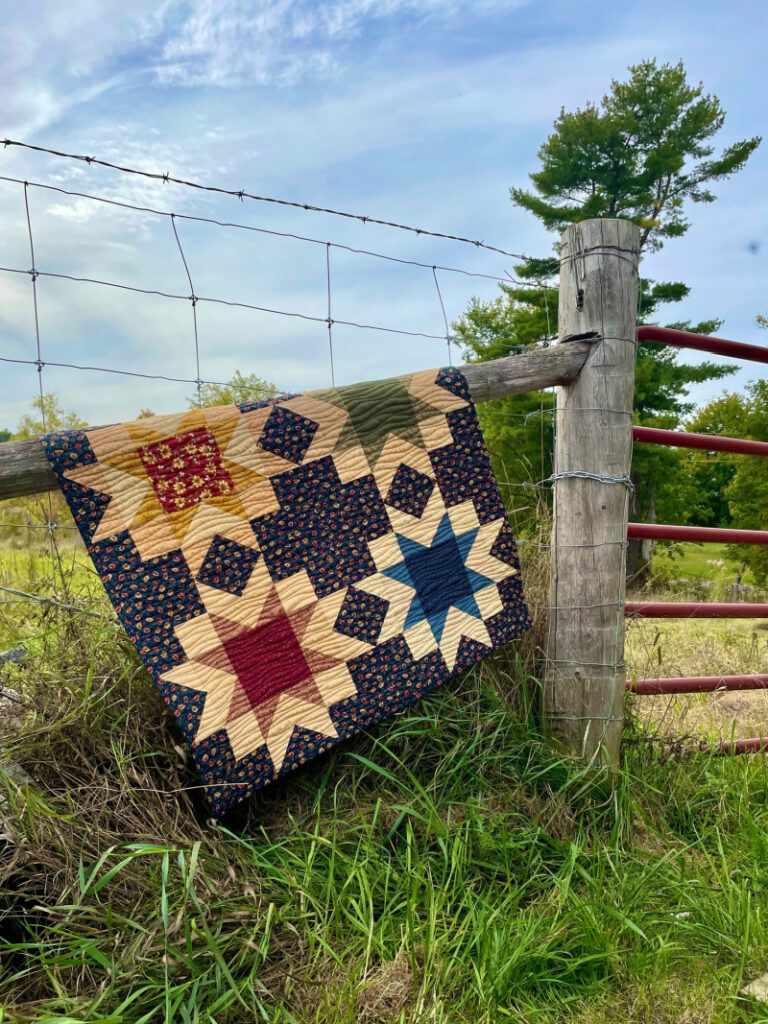 Poppy Seed by yours truly! – The Poppy Seed quilt pattern is a great way to transform your scrap stash or favorite fat quarter collection! The easy-to-make 12″ blocks sew together quickly and creates a wonderful throw size quilt. You can even add an extra layer of borders if you want to make it bigger.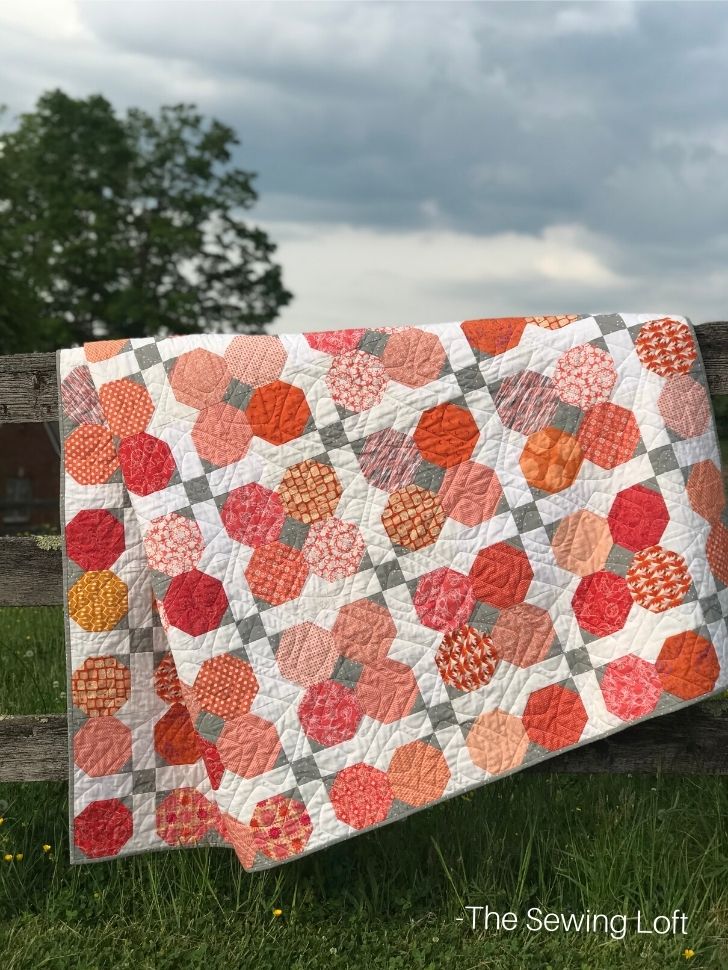 Peacock Proud by Nancy of Master Piece Quilting – Grab your 2 1/2″ strips and coordinating yardage because this quilt top is ready to go! It is easy to make and will showcase your fabrics as the star of the show.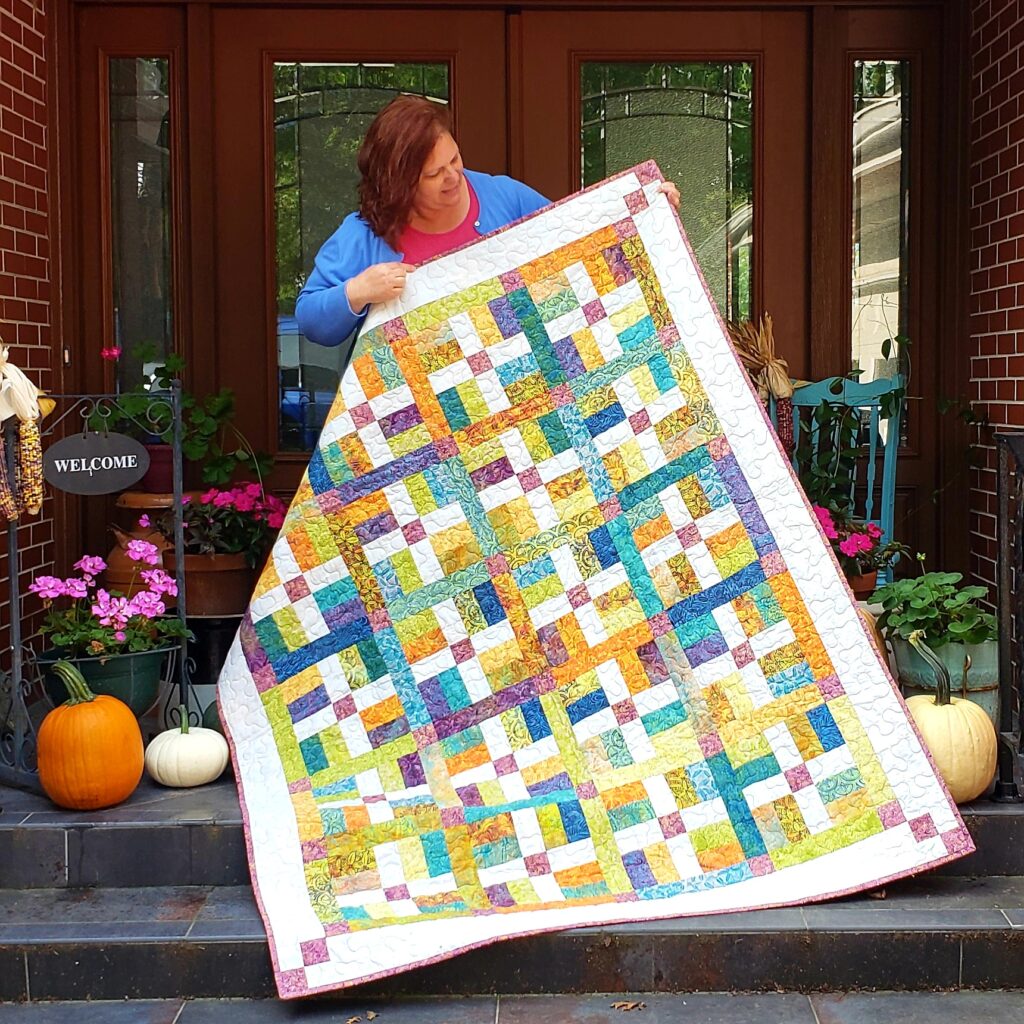 Sea Bound Friends by Raylee of Sunflower Quilt N Stitch – Calling of lovers of the sea! This design showcases several sea animals. Each block finishes 15″ square and uses applique techniques.
Happy Rainbow by Carolina from Always Expect Moore – This mini quilt is great for beginners! The step-by-step illustrated instructions show you how to cut and piece this quilt into sections so that it comes together quickly!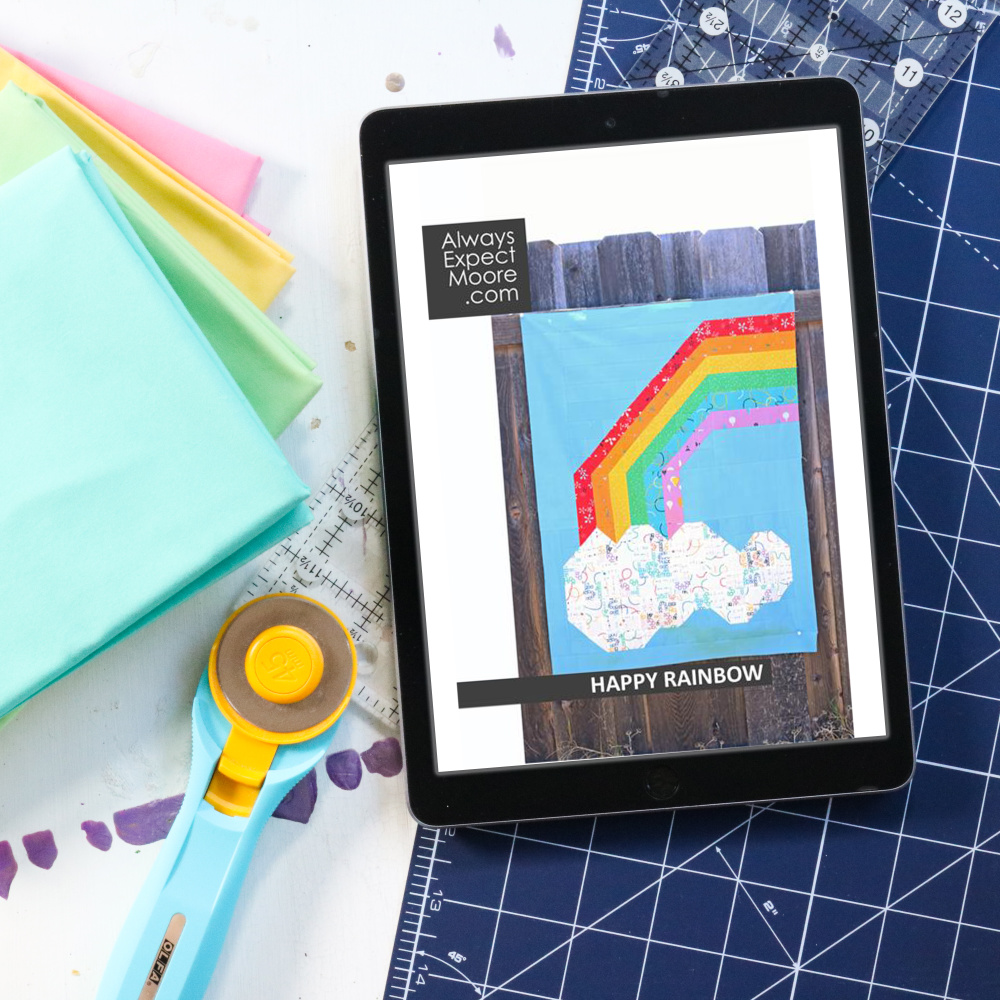 Zoomed in by Leanne of Devoted Quilter – Using raw-edge machine applique and traditional piecing methods, this quilt stitches together quickly. It is perfect for showcasing a few bits of your favorite fabrics. Quilt finishes 48″ x 48″ for a baby or wall quilt.
X My Heart by Christina of Sweet Potato Quilts – A modern spin on an old favorite. This pattern includes directions for piecing a Throw-Size quilt (62″ x 62″).
Scrappy Tiles by Cheryl of Meadow Mist Designs- Scrappy Tiles is a beginner-friendly pattern that can be created using your favorite layer cake or scraps. The finished quilt top appears to be a randomly pieced quilt top but is actually a single 12" x 12" (finished) block design with the blocks rotated randomly within the quilt top. Finished sizes includes baby and lap.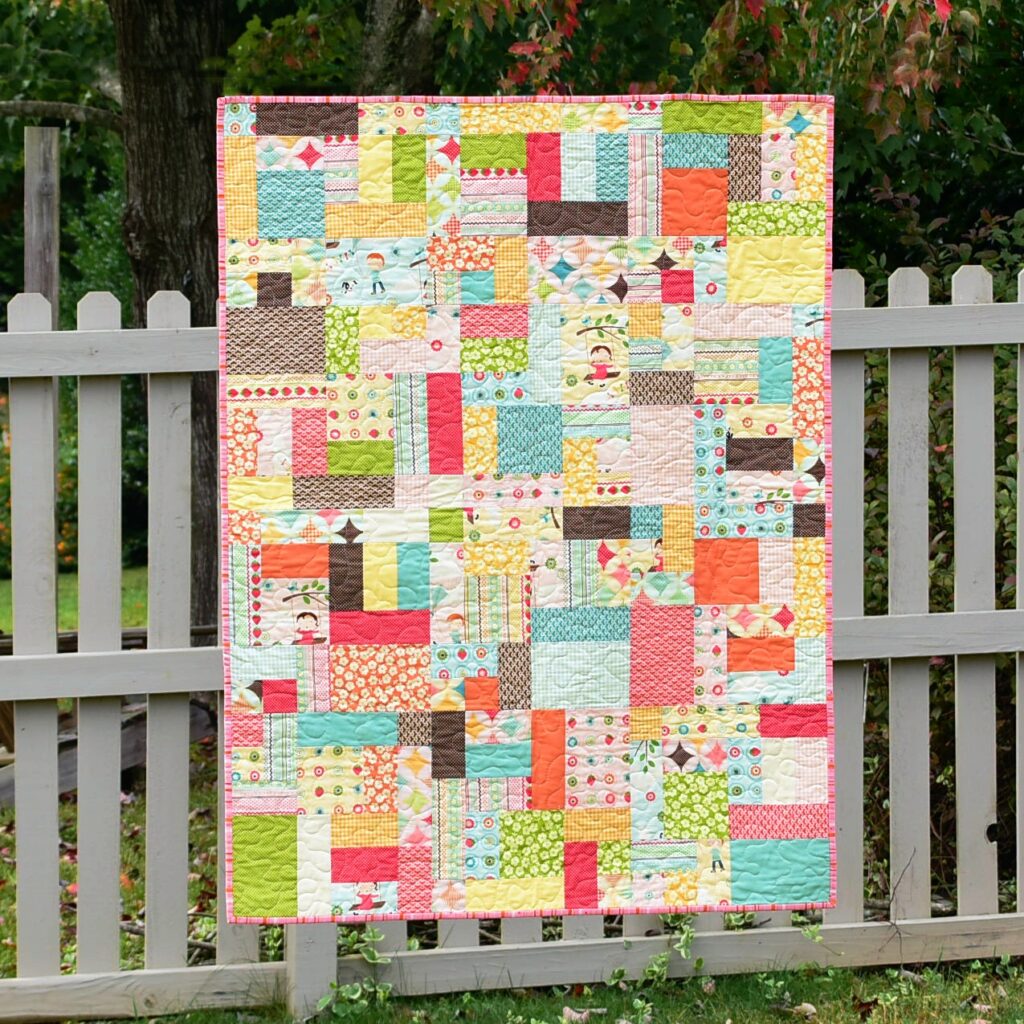 Mirage by Yvonne of Quilting Jetgirl- Mirage uses 6 fat quarters and background yardage to create a stunning modern quilt. The cover quilt color palette was inspired by desert mirage hues where sand and sky blend and blur. The pattern includes instructions for making your own version of the quilt in 5 sizes: baby, lap, large lap, twin, and queen.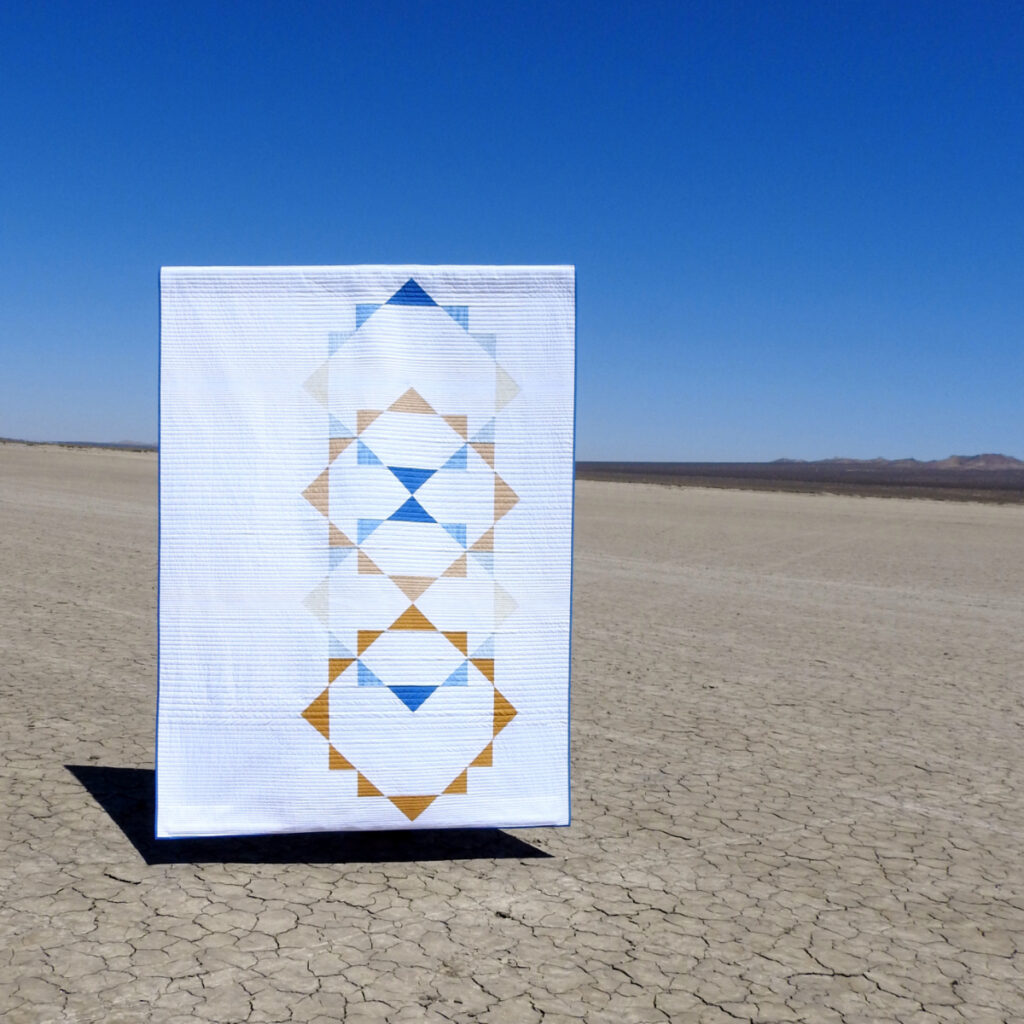 Pumpkin Spice by Phoebe Moon Designs- The Pumpkin Spice Quilt Pattern celebrates the scent of the season! Use a fall or autumn-themed set of 10″ squares to make this happy, scrappy throw quilt. Watch out for those falling leaves! Finishes at 64″ x 72″.
Triangle Falls by Kristy of Bonjour Quilts – Wow, we love a good triangle quilt but sometimes they can be tricky. Luckily, this one is a breeze with the easy construction. We suggest grabbing your smaller scraps for those triangle tips to create a stunning quilt top in just an afternoon.
Lovers Kiss by Pamela Quilts- This is a quick and easy pattern that uses mostly pre-cuts in an eye-catching and straightforward way! When finished the quilt measures 58″ x 74″ to create the perfect lap size snuggle-worthy quilt. Love the design and want to make it larger? Just layer on a border to complete the top to your finished size.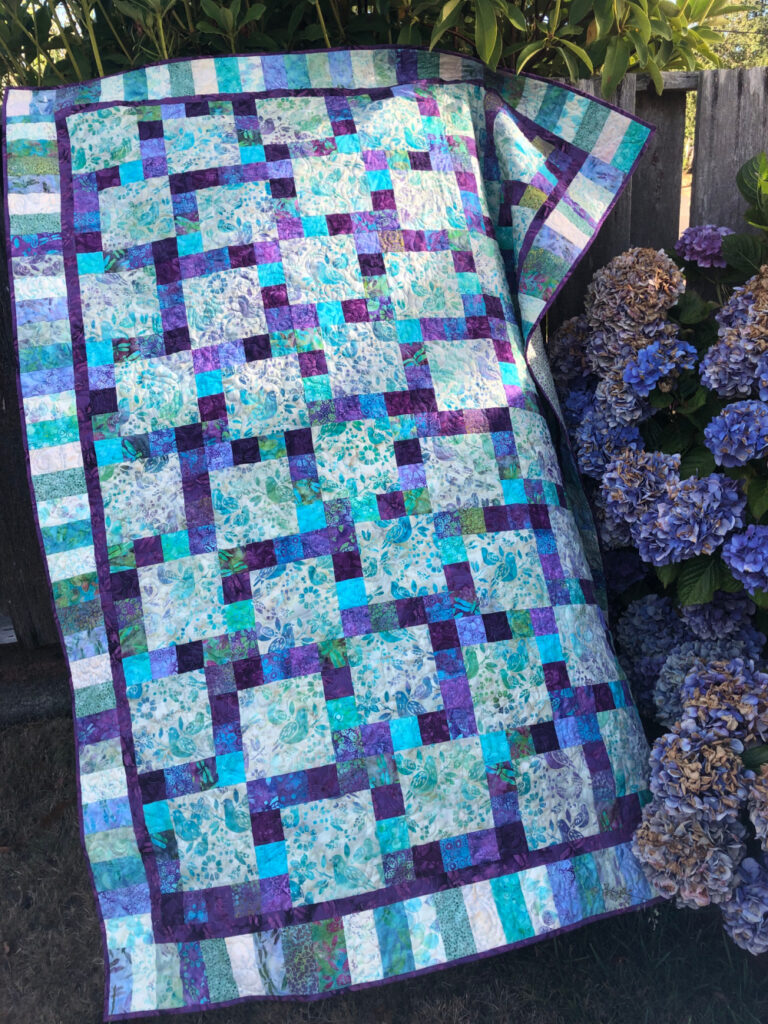 Fox Love from Swan Amity- This quilt features applique and piecing techniques. It finishes 40″ x 45″ making it perfect for lap size or baby quilts. It is perfect for using all of your scrappy bits of leftover fabrics from your stash.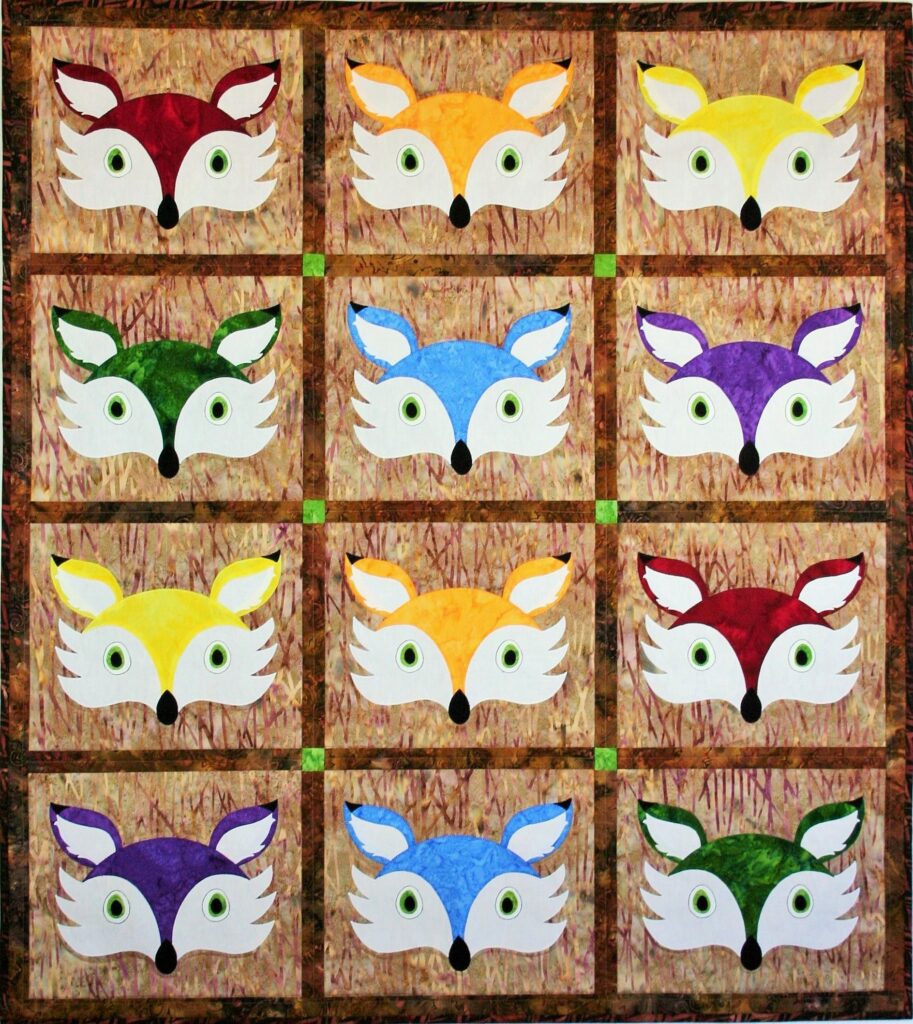 Pretty in Pluses from Michelle of Bolt to Beauty- Pretty in Pluses is a modern spin on the traditional plus sign block. It's a whole-composition design—the throw and twin sizes are created by enlarging the plus signs, not by adding more blocks. Its big, bold design is a great venue for your large-scale prints, and it's a super-quick sew to boot—perfect for beginners or more seasoned quilters who are looking for a fast finish.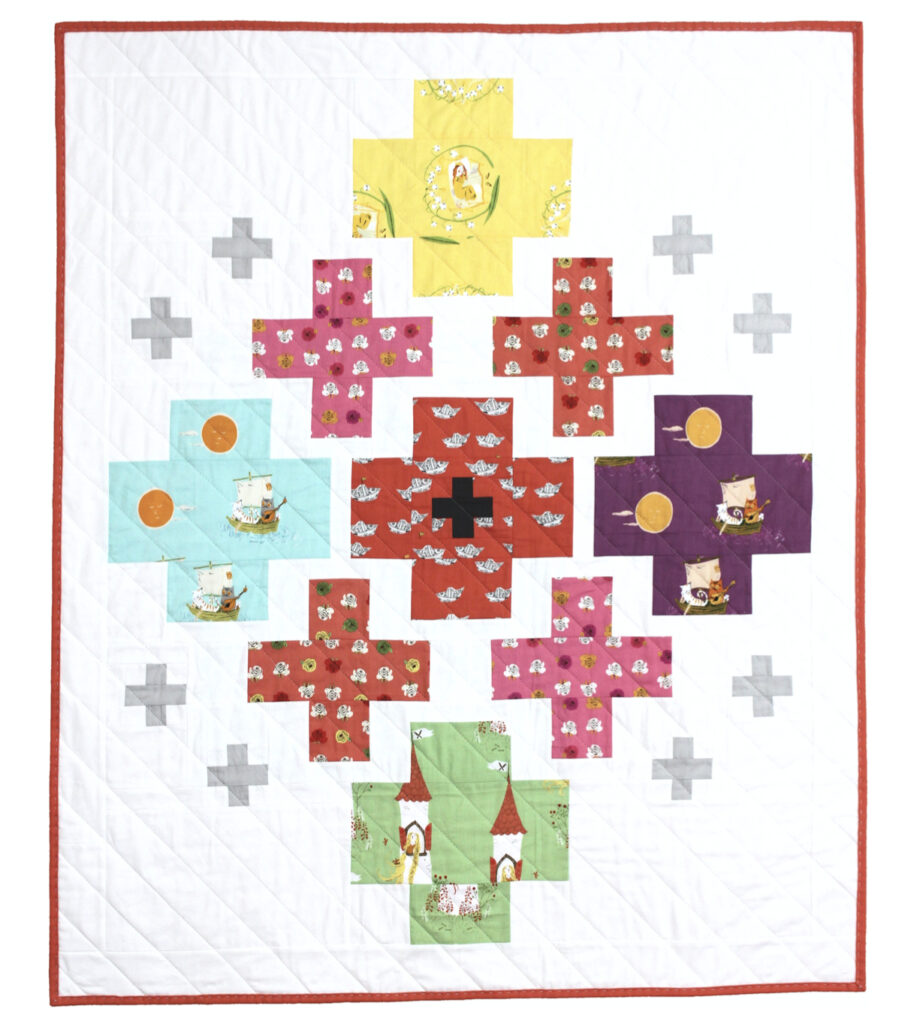 Block by Block by Deb from Quiltblox- This is the perfect beginner quilt pattern. It's simple to make and creates an interesting design by shifting around the placement of the colors.
Easy Lane by Rajai from Quilters Treasure Chest- This pattern is perfect for your special fabrics. The quilt is easy to make, and can be finished in no time flat!  Select six different fabrics and let the fun begin! Pattern instructions will walk you through step-by-step how to make this quilt.  Instructions are included in three sizes:  Baby, Lap, and Twin.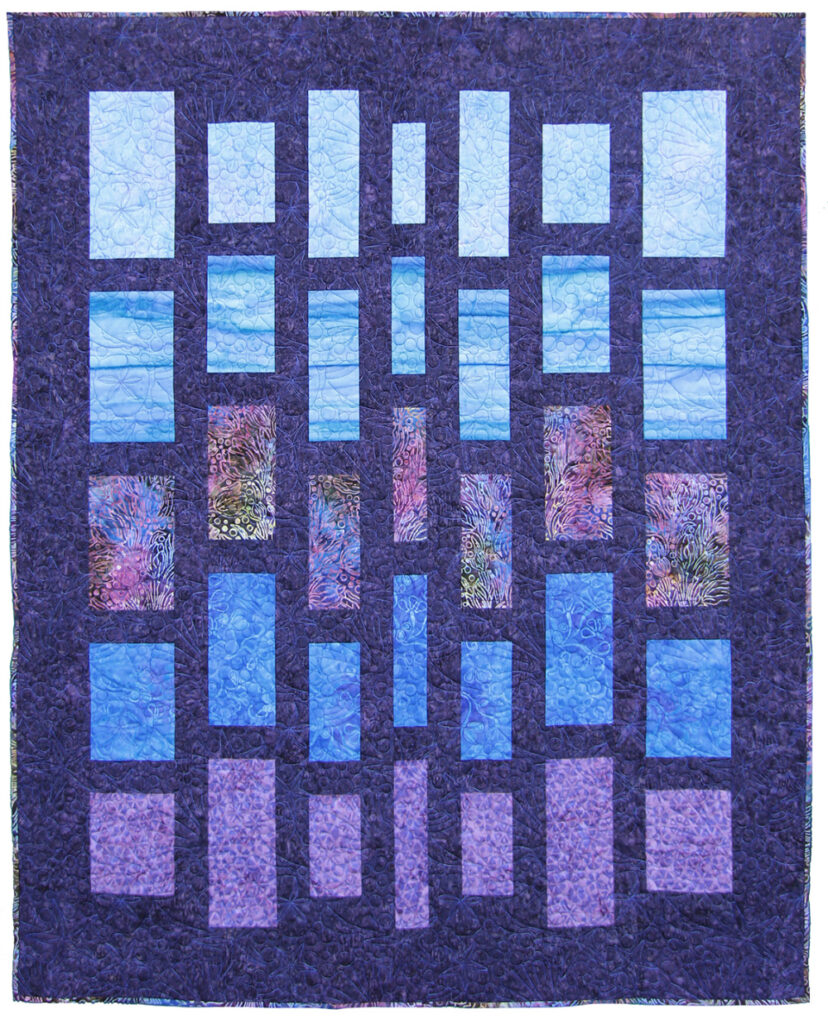 Churning Up A Storm by Create with Claudia – Using the traditional Churn Dash quilt block and reimagining it, this confident beginner-level quilt may look tricky to assemble but it isn't. The Churning Up a Storm quilt pattern comes together quickly and measures 42″ x 42″. Making it a perfect wall hanging or baby quilt.
Gnome Made Apron from Made by Marney- This paper pieced pattern includes 4 adorable holiday Gnome blocks; Christmas, Easter, Fourth of July, and Halloween Gnomes which can all be used to sew the apron. It's such a great gift for your favorite cook!
Garden Path by Becky of Patchwork Posse- This modern quilt is just the right size for your lap. With strip piecing, you can finish the quilt in a weekend.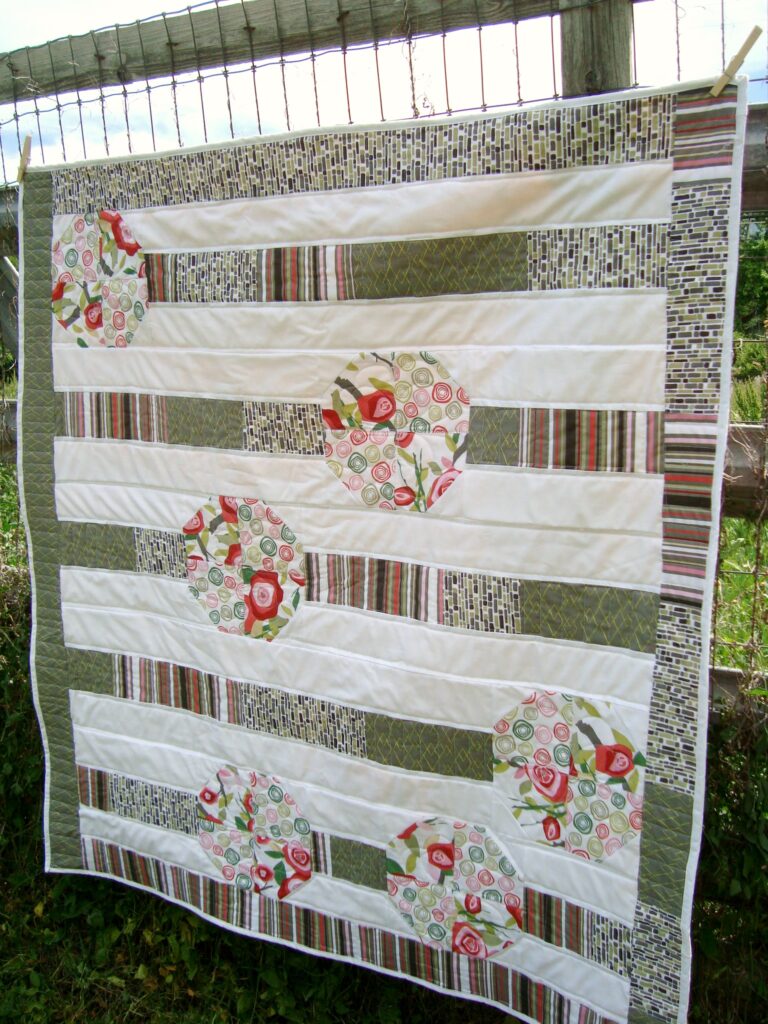 YOU WILL RECEIVE MORE THAN A $225 VALUE OF FANTASTIC QUILTING PATTERNS FOR JUST $19.00. THIS IS ONLY AVAILABLE FOR A LIMITED TIME.
So don't delay, this amazing quilting pattern bundle is only available until Sunday, October 9th and then it will be gone for good!
Terms and conditions of the offer:
* The special bundle pricing is only available from October 5 – 9, 2022. Sorry, no rainchecks.
* This offer is for digital PDF files only. There are NO paper patterns and nothing will be sent to you in the mail. Your patterns must be downloaded and saved to your device.
* As these are digital items, they cannot be 'returned'. Your purchase is final and no refunds can be given, either in full or in part.