Local Quilt Shop
noun
A business specializing in the sale of fabric, thread, sewing notions, patterns, and sewing equipment.
A gathering place for sewing enthusiasts; often the location for education, socialization, & inspiration.
The best resource in your sewing tool kit!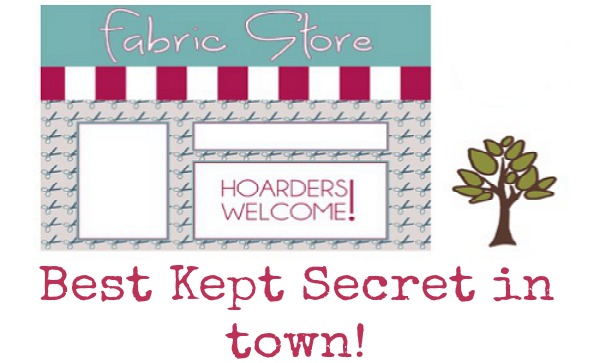 Many times our local shops are overlooked as a valuable resource in our sewing tool chests.  Well, today I want to explore the many reasons why your local quilt shop can be such a valuable resource in the sewing world.
A local quilt shop is so much more than just a brick and mortar place to purchase fabric.  Quilt shops (and their owners/employees) can feed our creativity, guide us on machine purchases and maintenance, provide training, and even invite us to socialize & gather. A good quilt shop is truly the heart of a local sewing community.
When is the last time you explored the quilt shops in your local area? You might be surprised by what you can find there! Here are just a few of the goodies you might see in a local quilt shop.

Local Quilt Shop Offerings:
Clubs – special kits, patterns, or fabrics the shop owners put together every month, just for club members.
Machine training – want to learn the ins and outs of your sewing machine?
Machine repair – even though we all do basic machine maintenance, sometimes things happen and our machines need to be repaired. At times like this your local quilt shop will quickly become your best friend. So, you want to make sure you have an established repair person on speed dial.
Machine rentals – many shops will let you "try before you buy" with a machine, rent one while yours is in the shop, or rent a specialty machine such as a long-arm quilter or an embroidery machine.
Sit & Sew: My local shop provides a friendly place for people to just come in a sew together. This is a great way to meet like-minded people within your community who share the same passion for sewing.
Heck, my local shop even offers in store pick up. That's right, you can preselect all of your fabrics on-line and have them precut and waiting for you by the time you arrive at the shop. Sweet!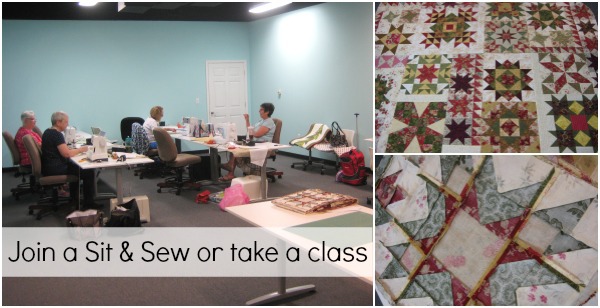 Unfortunately, not all quilt shops were created equally. Some offer a really impressive selection and helpful staff, while others leave a lot of features to be desired. Still, don't let that stop you – if one quilt shop in your area isn't your cup of tea, keep driving a bit until you find one that is. It's usually worth the trip to find a good quilt shop!
If you're new to the world of fabric and quilting shops, here are some tips for finding one that works for you.
Things to look for in a quilt shop:
Established ownership – a quilt shop owner who has been around the block a few times and is still in business is an expert!
Display projects – active quilt shops will have a wide range of display samples to keep your creativity flowing. Some of the samples are made in-house and others might be on a "road trip" direct from the designer.
Variety – a good quilt shop will carry an assortment of fabric lines, including the modern and relevant print collections as well as a good, well-rounded base of solids and blenders. (Just remember, a quilt shop mainly deals in quilting fabrics, not other types such as apparel or home decor weights.)
Active/friendly staff – the people who work in a quilt store should inspire you in your projects and help you whenever you get stuck. The staff and the owners are your direct connection to the pulse of the market. Some even travel to shows such as the International Quilt Show in Houston during the month of October.
Many stores also offer amazing sales that you can only find in person, so even if you think you can always get a better deal at a big-box store or online, that may not be the case!
Examples of quilt shop sales: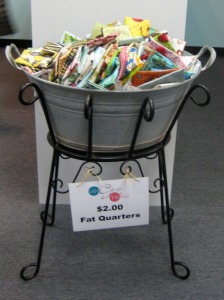 End of bolt sales: Just like the name suggests- this sale is for the smaller bits of fabric towards the end of the bolt. My local shop offers end of bolt sales and they are not to be missed!
Specialty kits: many stores will help with the prep work by offering pattern kits. These are popular patterns and all the fabric required to help you sit down and start stitching.
"Bargain Bin" or Room – some quilt shops have a whole section or even an entire room dedicated to closeout and clearance-priced fabrics, kits, notions, and patterns.
Trade in – Did you know that many shops offer trade in programs? That's right, so the next time you want to upgrade to the newest gadget on the block (like the Baby Lock Destiny), be sure to swing in and visit your local friends. Not only can they help you navigate the waters of new machine ownership but they will be there each step of the way. (That is why I put the emphases on "local"!)
So, the next time you think you can get "that" on-line instead of stopping by your local shop, think twice. Your local quilt shops provide so much more than just fabric and thread.
Our local sewing shops should be considered one of the most important tools in our sewing kit!

A big fat THANK YOU- to my local NC shop We're Sew Creative for always being such a rock star and my NJ fav- Paramus Sewing for always providing such amazing love & support!
Hello! Are you new to The Sewing Loft?

If so, I'm glad you stopped by and hope that something has inspired you to keep your needle moving!  Don't miss a single project and subscribe via email HERE! Bonus- free embroidery pattern with newsletter sign up.  Another great way to connect with me is via Facebook, Pinterest, Twitter, Google+ or Follow my blog with Bloglovin.  I'm looking forward to getting to know you and creating together!