Even though I am at spring market this week, I wanted to share something fun.  Actually, I have 2 bits of news to share. The first is that I am actually posting today on The Shabby Creek Cottage.  That's right, Gina asked if I would share a few projects in her world and how could I resist! So, today you will find me over there, sharing an easy to sew pattern for this mannequin door stop.
Mannequin Door Stop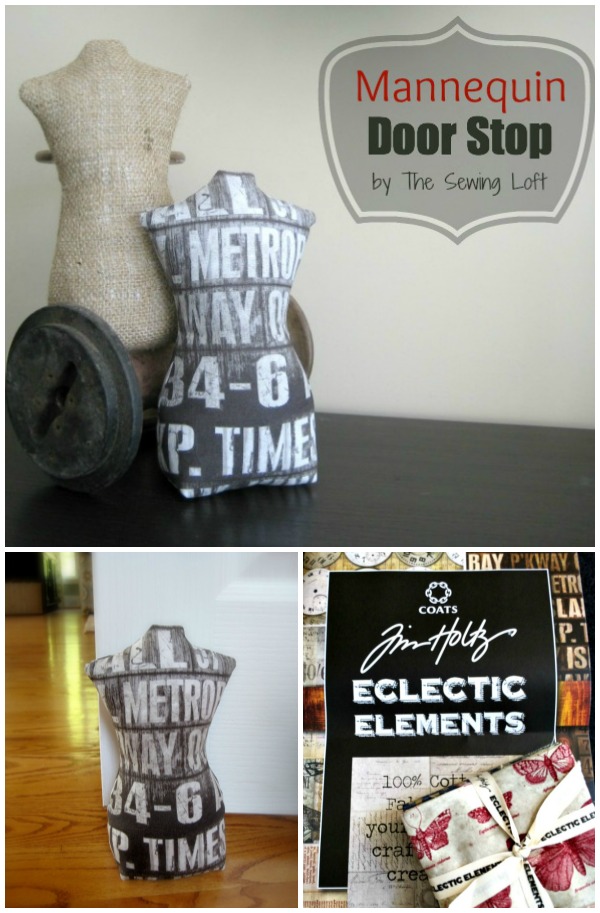 I just love having my windows open during the spring and fall months but that means that my doors tend to slam shut at the wrong moment. (think during a conference call, dead of night or when taping a how to project. You name it, it's happened!) That means door stops are a MUST in my world.
The best is that before I could even finish this little guys Lady A was claiming one.  She says it is perfect for her room and reminds her of the city. Love that she keeps NYC close to the vest! (Secretly, I miss it too.)
And the second bit of goodness, is another sneak peek at this amazing fabric collection Eclectic Elements designed by Tim Holtz.  Love that I am getting to work with it before it actually hits the market!  Keep those eyes peeled , it will start to hit the retail stores mid summer.
So head on over to The Shabby Creek Cottage today and grab this download-able door stop pattern.  It is perfect for any space, even your sewing studio!

In the meantime, if your in the Portland area be sure to stop by the market to say hello.  You will find me at the Coats & Clark booth by booth #2355 and I would love to create a make & take with you!