Handmade ornaments are a long time tradition in my world and for the last two years, I have joined forces with Erin from My Very Educated Mother and participated in the No Ugly Ornaments challenge. I just love thinking up different ways to keep handmade alive during the holidays!
No Ugly Ornaments 2013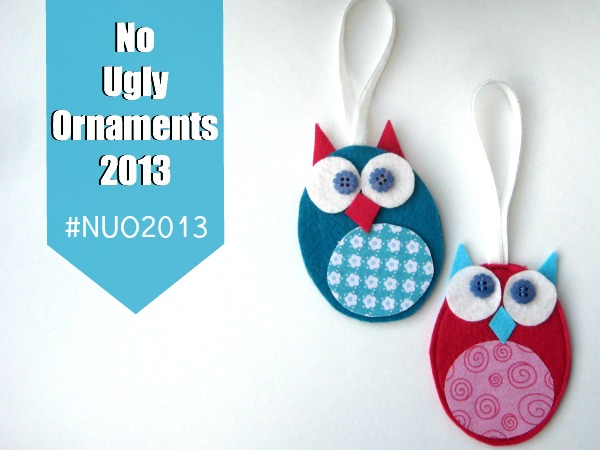 Owl Ornament
Before I dive right into the instructions, I want to let you know I made this ornament 2 ways.  The 1st was machine stitched.  After completing my owl, I thought there was no way that anyone would take the time to create them so, I put my thinking cap on and remembered the fun new product that I worked with at spring market -Phoomph.  It was perfect.  My instructions/supplies are based on my 2nd version.  Totally kid friendly!
This project is for all levels.
Skill Level- 1 Button
Supplies:
Tools:
Basic Instructions:
Print owl template and trace parts onto paper side of Phoomph leaving space between each piece. Cut out pieces leaving 1/4" all around.
Remove paper backer and position on wrong side of fabric.  Flip over and cut out on pattern line. Peel, repeat and sandwich as needed.
Assembly is created in layers.  Peel paper backer off belly of owl and position in place. Repeat for eyes and nose.
Fold ribbon in half; attach to backside; sandwich between front and back layer of owl. Peel and stick ears in place.
Glue button eyes in place.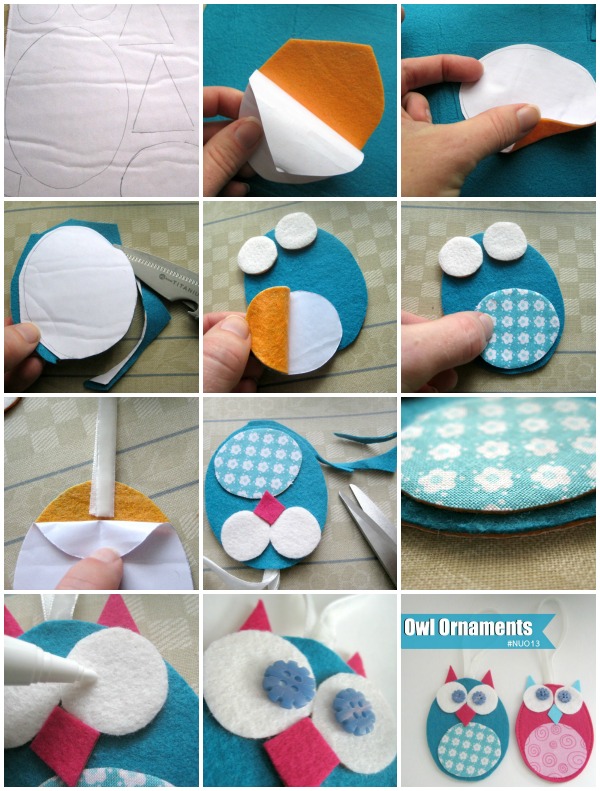 Don't forget to grab your template here.
So, how did I do? Do my Owl Ornaments rise to the No Ugly Ornaments 2013 challenge?  I think so.  For more ideas and to see what everyone has been working on, click the No Ugly Ornaments 2013 button below. Be sure to leave Erin a comment and let her know which ornament is  your favorite.
Hello! Are you new to The Sewing Loft?

If so, I'm glad you stopped by and hope that something has inspired you to keep your needle moving!  Don't miss a single project and subscribe via email HERE! Bonus- free embroidery pattern with newsletter sign up.

Another great way to connect with me is via Facebook, Pinterest, Twitter, Google + or Follow my blog with Bloglovin.  I'm looking forward to getting to know you and creating together!