When it comes to scrap fabrics, Lynn from The Little Red Hen definitely follows the "waste not, want not" philosophy! She explains, "I like to use even the tiniest of fabric pieces. I string piece them into larger shapes or cut them in to tiny squares and sew them into larger blocks that can be incorporated into later projects."
Lynn has a great post on her blog about how she uses tiny scrap squares to make four-patch quilt blocks. Just look at this adorable box full of tiny squares and triangles: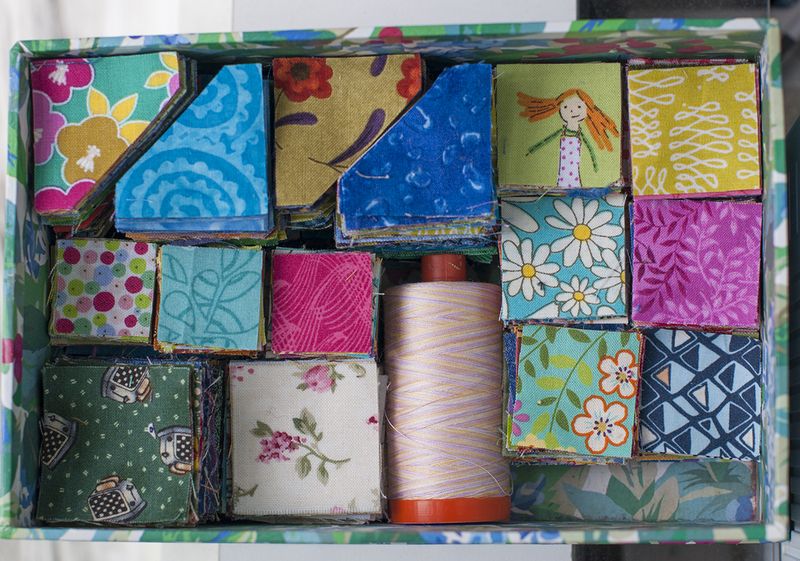 In the post you can also read all about how Lynn uses her Sizzix machine to cut tiny squares out of her scraps. What an efficient way to make use of leftover fabrics!
It should come as no surprise, though, since Lynn is a real pro when it comes to using scraps. She even wrote a book on it, which you can find here in her Etsy shop. And as she says, "My sewing super power is the ability to use even the tiniest of fabric scraps in my quilt. I really do try to use Every Last Piece!"
Want to know more about Lynn and her scrap-tacular projects? Visit her blog for inspiring projects & tips! And don't forget to keep checking back all month long for more scrap stash inspiration here at The Sewing Loft for National Sewing Month!

Hello! Are you new here?

Do you want to learn more about sewing? If so, be sure to sign up for our newsletter HERE and never miss a stitch! Daily Sewing Tips, Everyday Projects and Fantastic Inspiration delivered straight to your mailbox!

Bonus– free download with newsletter sign up.

Feel free to connect with me on Facebook, Pinterest, or Instagram.  I look forward to getting to know you and stitching up a storm together!