Happy Friday! Today we are keeping it real and Gina is bringing glamour to the under appreciated, always utilized and almost dirty little secret that we all hide in the workroom.  And she is doing it in style.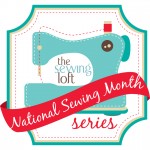 The Hot Glue Gun
Let's face it, we all have one tucked away in a drawer somewhere.  Mine is hidden in the 2nd drawer of the main cabinet and it is so "loved".  Especially around Halloween!  Now, let's check out what Gina has in store for us.
Stitch the ends together, so you have one super long (at least 9 ft.) strip.