In my mind the rotary cutter is a must have in the sewing room and clearly, my creative "Reclaimer" friend Jenelle feels the same way!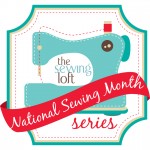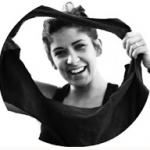 Meet Jenelle Montilone: a creative activist and maker behind TrashN2Tees and instigator of the Create Change Movement.  By 2013 she will have diverted more than 20 tons of clothing from our landfills. (Can you say WOW!)  On November 15th, she is hosting the International Create Change Pledge event encouraging people all over the world to reuse 1 item for 1 day.  (Count me in!)
Ode to the rotary cutter
You save us time
Cut layers like butter
No more snip, snip, snip
Just one straight line
Shears are my favorites
Though, they don't leave time
To enjoy mojitos or wine
I'm sure many of you would agree, the rotary cutter isn't a must have tool
for your crafting needs- but it's certainly nice to have. They're
available with different size blades and can be used for a number of
needs. I typically use my 45mm Rotary Cutter (everyday!) partnered up
with a ginormous self healing mat and 24-inch Non-Slip Ruler to slice
straight edge cuts through layers of jersey knit t-shirts. You'll think
they're dandy too if you are making curtains, garments, quilts, or any
project that requires long straight cuts. I'm excited to share today's
quick and easy tutorial for an eco gift wrap bow- we all know what they
it's better to give than to receive. It's even more fun to give a gift
wrapped in a pretty package!
Rotary cutter
Scissors (optional)
T-shirt
Glue gun
Ruler
Cutting mat
needle/thread (hand stitching optional)
1. Spread tshirt out on table
2. Using rotary cutter, ruler, and cutting mat square up your fabric and cut 3″ wide lengths. You will have
approx. 4 large 'loops'.
3. Take 1 loop and cut to make 1 long strip
4. Fold strip in half, make 1/2″ cuts down the length of the fabric (pssst! I use scissors here, and generally don't measure)
5. Hot glue along the edge & roll as you go continuing to add glue
6. When your finished you should have a pouf that looks similar to this
7. Finish the it off by covering the bottom with felt & hand
sewing. I like to add a pin back that way the gift topper can be reused
as a brooch or a flower for head band.
Now I'm ready to pour a glass a wine, and one for you as well- so pull up a
stool and tell me what crafting tool saves you the most time! Cheers to
National Sewing Month & Heather for inviting me to drop by for the
celebration.
WOW, Jenlle!  You have me looking at those out grown tees in a totally new way!  This little gem of a "how to" is sure to be put to good use this  holiday season.
The 
LizzieBCre8ive
 girls are stopping by tomorrow to wrap up the week.  I can not wait to see what creative goodness they have in store.