Since Kitchen Stitches officially hit the stores last week, a few of the designers from the book thought it would be fun to mix things up.  We each decided to tackle another designers project in the book.  This was an easy one for me since a few weeks ago my daughter grabbed the hot pan handle. OUCH! Insert Kim's pan handle holders to the rescue!
Pan Handle Holders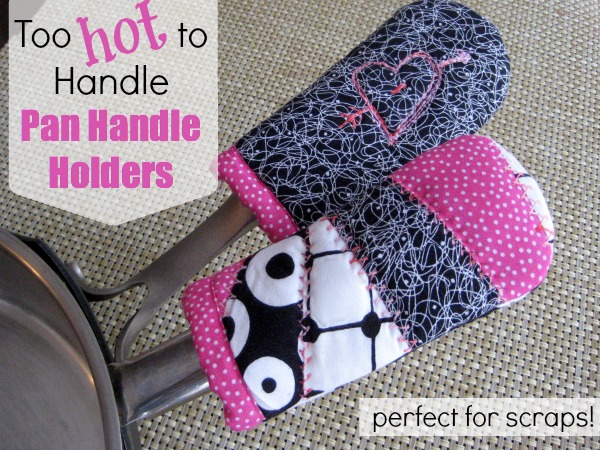 Since Valentine's Day is right around the corner, I selected black & white prints, mixed with a splash of pink.
Here are a few snap shots of my project in the making.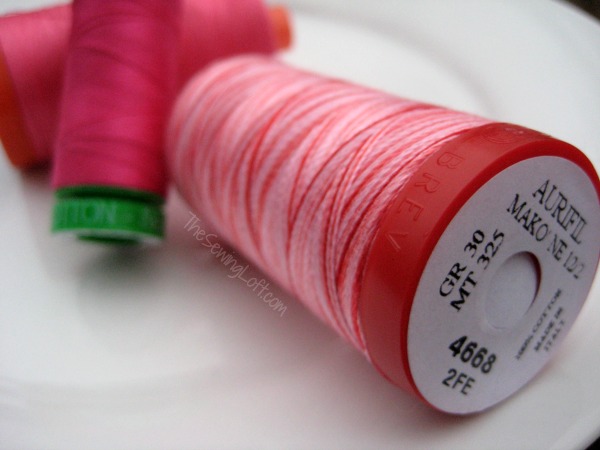 I used this amazing variegated top stitching thread by Aurifil.  When using thicker thread needle size matters!!  For 12wt weight thread I used a 100/16 sized needle.  It worked like a charm with no hiccups along the way.  That is unless you don't count my self threader not working.  For this one, I needed to manually thread my needle and since you know I love to stitch late at night, my glasses were a must!
To keep things fun, I played with the fabric and added on my favorite decorative stitches.  I love they way they look in this thicker weight thread!
Taking the time to attach my walking foot made allowed me to stitch through the thick layers effortlessly and the binding along the edge made finishing these babies a breeze!
Check out this video where Kim shares easy tips and tricks to make this project stitch like a dream.  Heck, I even had a front row seat to her taping session at quilt market.  She handled it like a pro!

These handle holders are just one of the many fun patterns included in the Kitchen Stitches book.  The book can be found at stores in your local area and on-line at shopmartingale.com.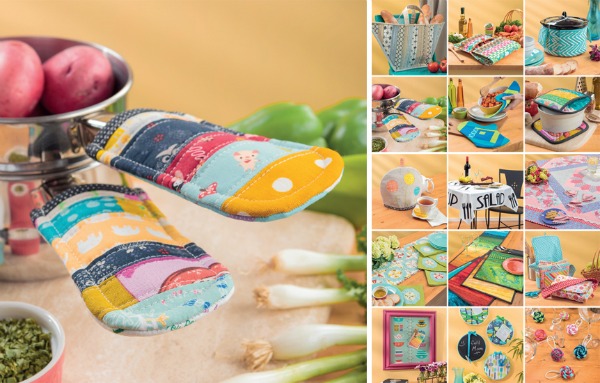 Easy projects like this are perfect to keep in mind around the holidays.  They are quick to sew, require minimal supplies and will let the recipient know how much you care.  I know that I will be stitching up a bunch to tuck away for the perfect hostess gift!
This book is jam-packed with such talented designers and amazing projects.  Just take a peak at the line up!
Natalie Barnes
Lindsay Conner
Melissa Corry
Jennifer Dick
Amy Ellis
Linda Turner Griepentrog
Kim Niedzwiecki
Kari Ramsay
Missy Shelper
Rebecca Silbaugh
Amy Struckmeyer
Jackie White
Our little "mix up" is making the following stops this week.  Be sure to stop by and say hello!
2/4   Becky at the Patchwork Posse 
Kim at My Go-Go life
2/5   Amy at FormWork Designs
Deby at So Sew Easy
2/6  Rebecca at Ruby Blue Quilts
Jackie at Jabot Quilts
2/7  Melissa at Happy Melissa Quilting
2/8 Kari at Fresh Cut Quilts

ps- did you "spy" the free motion stitching on the backside of my pan handle holder? It was SO easy!! More is coming on that soon!
Hello! Are you new to The Sewing Loft?  If so, I'm glad you stopped by and hope that something has inspired you to keep your needle moving!  Don't miss a single project and subscribe via email HERE! Bonus- free embroidery pattern with newsletter sign up. Another great way to connect with me is via Facebook, Pinterest, Twitter, Google+ or Follow my blog with Bloglovin.  I'm looking forward to getting to know you and creating together!
Fabric credit– Black & Whites are from the Night & Day Collection designed by Kim Schafer for Andover Fabrics. Pink Dots is from Michelle Miller Garden Pindot.