Home is where the heart is and today's edition of the Quiltologie Mini Mania summer series is all about the Dwellings quilt design. Since I'm heading up north to visit the folks in a few weeks the time is perfect!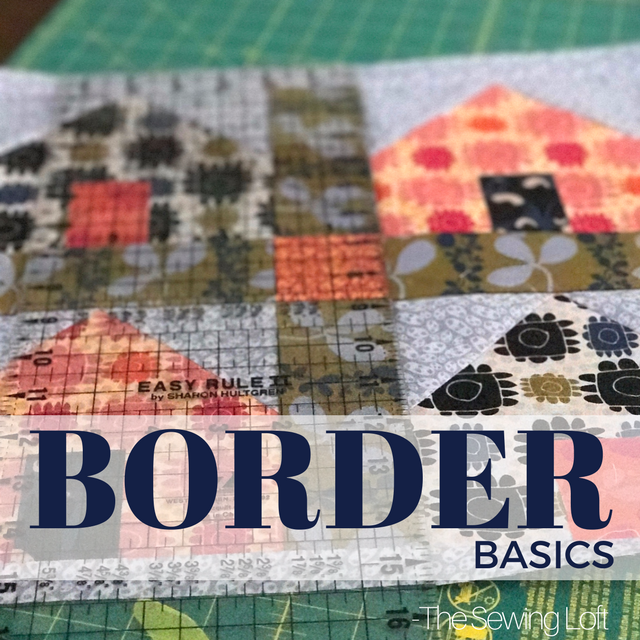 The Quiltologie Mini Mania Dwellings quilt kit is made by Fabric Editions and comes complete with all fabrics.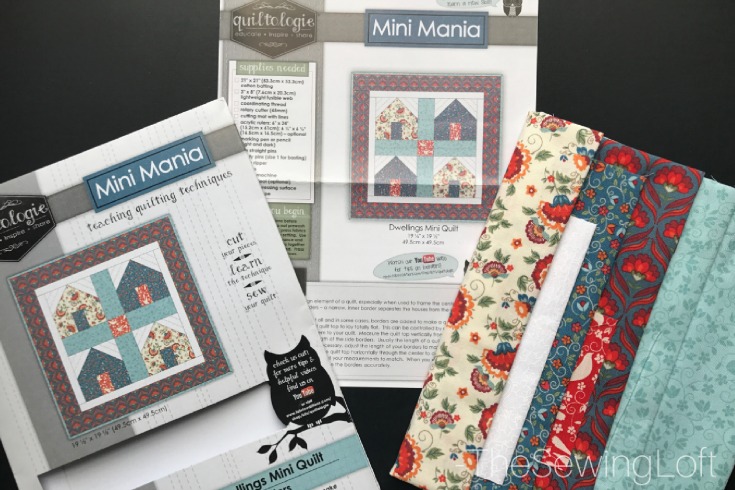 Including:
white on white print for ground
cream, red & blue floral prints
fabric for background & binding
Additional Supplies Needed:
cotton batting
rotary cutter & cutting mat
quilting ruler
removable marking tool
fine pins
sewing machine
iron & ironing board
The Dwellings mini quilt finishes at  19 1/2″ x 19 1/2″.  The repetition of this simple block is a fun way to expand your quilt knowledge with the addition of borders. It is designed to help you practice border application and I even have a great tip to show you how!
But let's not stop there. Since the kit features traditional floral prints, I went in a completely different direction and reached for this stack of eye catching prints my friend Tracey Wirth designed.
It is so fun to work on fabric designed by friends. Now, let's take a look at how it turned out.
My Dwellings Quilt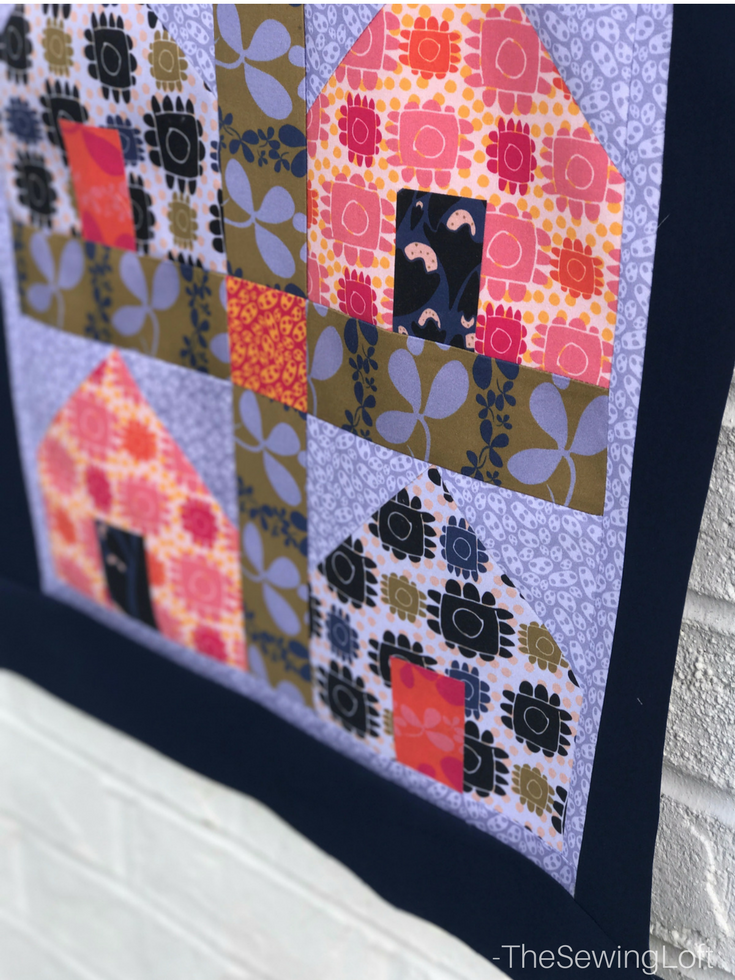 I just love the way the patterns play off each other.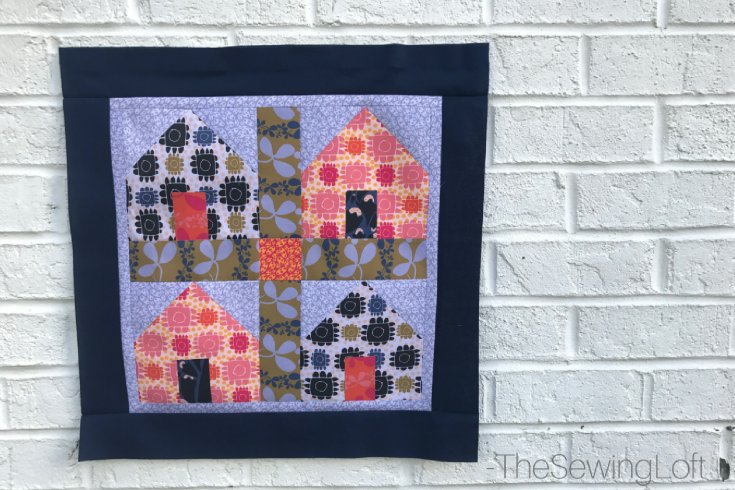 I'm saving the Super Blooms in pink for the binding and think it will really pop off the dark border of Kona Storm.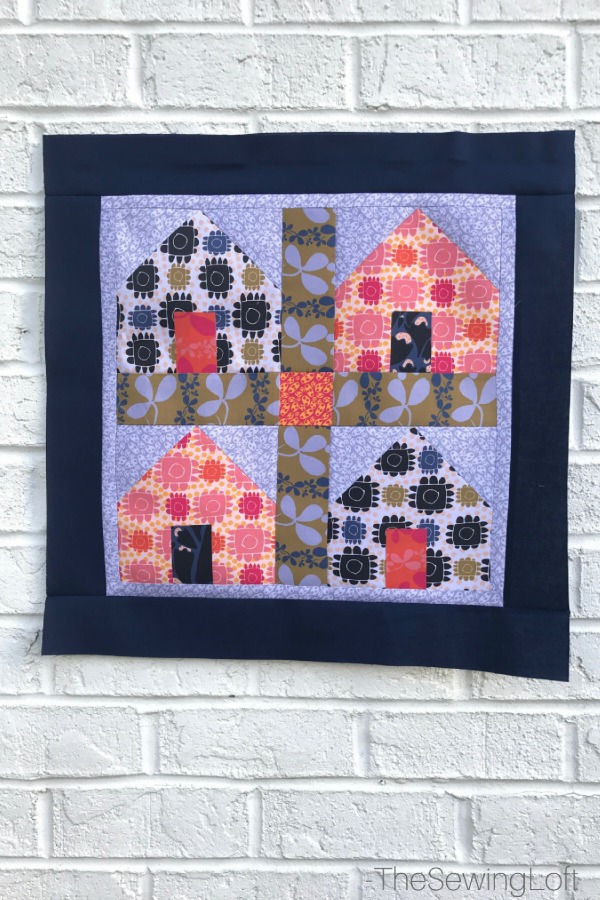 In the end, I just love the way it turned out and can not wait to see it hanging on the wall with the rest of the collection.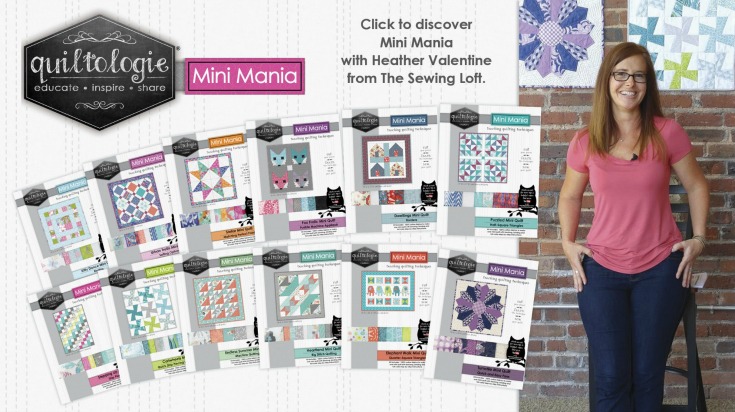 Remember, you can find all of the Quiltologie Mini Mania quilt kits by Fabric Editions at your local Jo-Ann Fabric Store and Craft Stores. Special thanks to my friend Tracey for sending that fabulous package of happy mail my way. Be sure to check out her latest collections here.

Hello! Are you new here?

Do you want to learn more about sewing? If so, be sure to sign up for our newsletter HERE and never miss a stitch! Daily Sewing Tips, Everyday Projects and Fantastic Inspiration delivered straight to your mailbox!

Bonus– free download with newsletter sign up.

Feel free to connect with me on Facebook, Pinterest, or Instagram.  I look forward to getting to know you and stitching up a storm!