During a recent "What are you working on's", Allison shared this amazing Rockabilly headband and so many of you wanted to learn more!  So, I asked Allison to join us today and share her process.
Rockabilly Headband Tutorial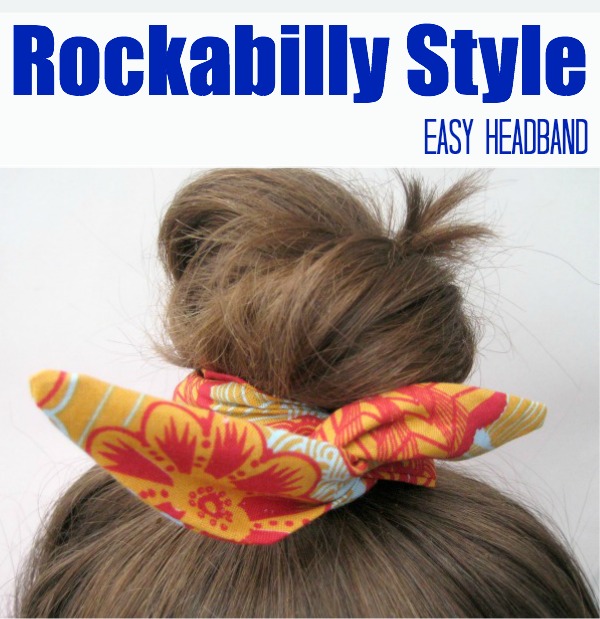 This project is for all levels.
Skill Level- 1 Button

Supplies:
Fabric
Wire
Electrical Tape
*Note: A wire coat hanger can be used, although Allison prefers a thinner wire from her local hardware store.
Tools:
Sewing machine
Knitting needle or chopstick
Basic sewing supplies
Basic Instructions:
Cut a piece of fabric measuring 32″ x 4″.  Fold in half to create a 32″ x 2″ rectangle, right sides facing; iron along fold.
Fold end over to create a point, press and cut along fold line.
Sew along fabric from end to end, leaving a gap in the middle for inserting wire. (I left 2 1/2″ for easy turning and clipped corners to reduce bulk.)
Turn headband right side out, and gently use knitting needle to push corners out. Press.
Cut wire 5″ longer fabric at point. Twist each end to create a loop and secure in place with electrical tape.
Slip wire in place, and sew opening closed.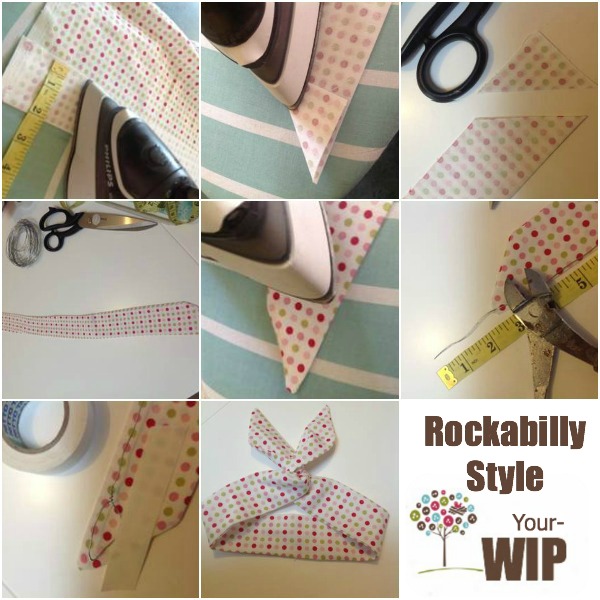 Since Lady A likes to wear her hair in a high bun we made our headband smaller.  We cut our fabric 16″ x 4″.  This is long enough to wrap around your bun once and twist like the main picture.  This project is extremely easy to make and a great way to use up scraps. The smaller size that we made is perfectly sized for fat quarters.
A big THANK  YOU to Allison Coulson for sharing her Rockabilly headband tutorial with us.  I created the headband featured for Lady A in just a few minutes.

ps- The fabric is direct from my stash and was made in Anna Maria Horner's True Colors Collection.
Hello! Are you new to The Sewing Loft? 

If so, I'm glad you stopped by and hope that something has inspired you to keep your needle moving!  Don't miss a single project and subscribe via email HERE! Bonus- free embroidery pattern with newsletter sign up. Another great way to connect with me is via Facebook, Pinterest, Twitter, Google + or Follow my blog with Bloglovin.  I'm looking forward to getting to know you and creating together!